Category:
Golf
Title:
The New Four Magic Moves To Winning Golf
Author:
Andy Anderson
Description:
"Discover The Four Secret Magic Moves PGA Pros Don't Want You to Know & How To Use Them To Halve Your Handicap - Plus Add At Least 27 Yards!"
Inside You'll learn...
How to perfect he short pitch from thirty yards down, the green-side trap shot, the chip from the fringe, and the putt.
How to dramatically cut 7-12 strokes off your handicap using 4 simple moves - starting today
How to naturally hit the perfect inside-out swing - as if you were born with it - imagine seeing your ball still rising whilst your opponent's is dropping!
How to use the natural torque in your pivot to blow right through the ball with power just like Rory McIlroy!
How to prevent any disastrous "power leaks" - And unload on the ball like an atomic explosion!
How To Stay Out Of Your Own Way, So You Can Allow Your Swing To Follow The Scientific Principles Of "Conservation of Angular Momentum" - preventing any disasterous "power leaks".
Amaze Your Buddies By Adding An Extra 35 Yards To Your Drive - and more importantly WITHOUT spending loads on the latest "hyped up" driver from your pro shop!
Discover The Four Simple Moves Only 1% Of Golfers Are Aware Of For Less Than The Price Of A PGA Pro Lesson! - Immediately gain confidence from knowing the many years of frustration are over
How To Unload on the Ball like an Atomic Explosion When You Drive - and with the pinpoint finesse of an artist
...
Click here to read the full description!

Rating:
Category:
Golf, How To, Sports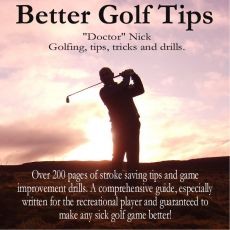 Buy this ebook here
Add to Wish List
+$1
Reviews:Reviewed by Richard Clarke on 2011-03-15
My Rate
5
What a great book. Finally a book that today's golfer can relate to. Full of practical tips & solutions to everyday situations.
Reviewed by Chris Wright on 2011-03-15
My Rate
5
Great value, loads of tips that work. Saved me shots
Leave a review and rating!
Title:
Better Golf Tips
Description:
Revealed at last! Now you to can learn the greatest secrets about the golf swing, and how to score better. This excellent ebook contains hunderds of tips and practice drills that will help golfers of all ages and ability to play better. Nick has been teaching golf to professional and recreational golfers, for over 30 years. Better Golf Tips, reveals many of Nick's favourite teaching secrets for the first time.

Rating: (5 after 2 votes)
Category:
Golf
Title:
Golf Performance Tracking Software
Description:
"State of the Art"
I wish I had come across this software when I first started keeping track of my handicap, saves, greens in regulation, fairways, putts, etc....it is a real time-saver and spits out tons of data on your rounds and general progress as a player.

It helps you keep track of over 40 statistics, including:
actual handicap
personalized score card
different courses played
your best games
games played
fairways and greens hit
eagles, birdies, pars, bogies
par saves
This software will put you head and shoulders above the competition because you'll have more than a pile of old scorecards in your drawer.....you'll have a complete software application designed to do one thing....lower your handicap.
Bonus to the "Ultimate Women's Golf Guide"

Rating:
Category:
Golf
Title:
How To Drop Seven Shots In Seven Days
Author:
Jack Moorehouse
Description:
For those of you who know Jack and have been reading his newsletters or bought some of his products, you know how much he loves this game and enjoys helping people go low. He put in some long hours documenting the exact things he taught Michael over this seven day period and and you get to "ride along" as he helps him prepare for a tournament with his boss that not only helped his golf game...but saved his career as well.

In this ebook you will receive:
Exactly he laid out for this man...even the exact drills we used
A "cheat sheet" you can read, print out and then take the course of practice range with you for reference
The "no-frills" bottom line on how to drop shots fast
A holistic game plan that covers thing such as pre-round strategies, mental techniques, driving, chipping, putting and sand play
Bonus to the "Ultimate Women's Golf Guide"

Rating:
Category:
Golf
Title:
Before Getting to the First Tee
Author:
Sean Cochran
Description:
Elite PGA Pros know that the game actually starts before you get to the first tee. The 9th hole is NOT the time to run out of gas. Sean Cochran will show you the techniques that the pros use to start AND finish 18 holes strong.

Bonus to the "Renegade Mental Golf"

Rating:
Category:
Golf
Title:
The Top Ten Golf Fitness Exercises
Description:
Superior conditioning is one reason why my students consistently crush it on the course. My students can blast cruise missiles off the tee all day long AND have the fine motor control to drill perfect iron shots.
My secret weapon is an arsenal of specialized Fitness exercises pioneered by Susan Hill. You'll get to see for yourself why Susan is one of the most sought-after golf fitness coaches in the country.

Bonus to the "Renegade Mental Golf"

Rating:
Category:
Golf
Title:
Improve Your Golf Game While Traveling
Description:
Special Ebook - "Getting the Most Out Of Your Golf Game While Traveling"
Golf, like any sport, requires some constant practice to keep your edge. But what do you do if your travel schedule keeps you off the range? No problem! I got Sean to write a quick guide with easy drills to keep you sharp on the road.

Bonus to the "Renegade Mental Golf"

Rating:
Category:
Golf
Title:
The Secret To Golf Cardio
Description:
Special Ebook - "How Traditional Cardio Exercises is Making You 'Golf Stupid' and Crippling Your Shots Off the Tee - and What to Do Instead.
If you are peddling away for 30 minutes on a stationary bike or jogging 12 miles per week in hopes of improving your golf game - you are wasting your time! Find out the secret to golf cardio that actually increases your power (both physical and mental) AND is incredibly time efficient (less than 13 minutes per session).

Bonus to the "Renegade Mental Golf"

Rating:
Category:
Golf
Title:
Play Better Golf
Description:
Special Ebook - "How to Improve Your Game WITHOUT Practice - By Craig Sigl
Whoa - this ebook is pure dynamite. But I respect Craig Sigl and his no-practice techniques are pure gold. If you don't have time to slave over buckets of balls at the range then you'll love this controversial little manifesto!

Bonus to the "Renegade Mental Golf"

Rating:
Golf Package!
15 Golf ebooks Click here to see the full list of these ebooks
(total value $103.65)
Buy Now
just for $20.95
$82
off
Mistake found?
Select spelling error with your mouse and press Esc