Getting Social Security Disability: Your 9 Step Individual Action Plan Ebook
Getting Social Security Disability: Your 9 Step Individual Action Plan
Category:
Self Help
Title:
Getting Social Security Disability: Your 9 Step Individual Action Plan
Description:
"Are you sure you know all you need to know about the Social Security Disability and SSI Claims process to get the best decision in the least amount of time? If not, you stand to potentially be denied thousands or even hundreds of thousands of dollars in benefits you are entitled to!"

With your 9 Steps to Getting Social Security Disability Action Plan, you can:
Know who to turn to for help in appealing and winning your claim if you are denied.
Know whether you have a realistic chance of winning your claim.
Understand the clues found in your approval (or denial) letter that will help you determine your next best course of action.
Go through the disability determination process prepared for anything.
Describe your disability using the same words and terms your disability examiner and medical consultants use.
Get a quicker decision by knowing when to check on your claim at just the right time.
Here are just some of the tips and techniques you will discover using this 9 Step guide:
You will know the right time to check the status of your application so your claim stays at the top of the disability examiner's stack of claims. The information in Step 3, when applied, leads you to getting a quicker decision on your claim.
Should you try to work while awaiting a decision on your claim application? The answer in Step 7 is probably not the one that you will ever hear from your claims examiner.
The exact terms to use when you describe your "functional limitations" that you are experiencing as a result of your impairment. In Step 2 you will learn the language of function and how to best describe your past work history so that it is most telling.
There are clues in your "Notice of Decision" letter that SSA sends to you after your claim is decided. Showing you how to proceed if you are approved for benefits or are denied is all a part of what Step 8 walks you through.
How to prepare yourself mentally as you enter the disability determination process. Step 1 gives you an introduction to the process, together with resources you might elect to take advantage of when your $$ is low.
"This little disability resource offers peace of mind..."

Getting Social Security Disability: Your 9 Step Individual Action Plan will guide you step-by-step to:
Become familiar and comfortable with the disability process so you are not intimidated by it.
Get an accurate decision by knowing how to present your documents, and prompting other third parties to the claim to do the same.
Complete your application with a focus on function. Determining your functional limitations is what the examiner and medical consultants will be focusing on.
You will soon know how to read the clues found in your approval or denial letter so you know how to best proceed. This Plan spills the beans on what your chances for success really are if you decide to pursue an appeal.
Get a quicker decision by knowing when to follow-up on the status of your claim.
Who benefits from the information in this 9 Step Action Plan?
Disability Advocates, Claimant Representatives, Disability Paralegals, and Disability Attorneys who want to familiarize themselves with the internal Disability Determination Services process so they can better assist their clients;
Disabled persons who are thinking about applying for disability benefits. You will know what to do going into the process, what to expect, and how to proceed coming out of the process;
Anyone who wants the most accurate Social Security Disability or SSI decision in the least amount of time!
Friends and relatives of persons who are applying for disability benefits;
Anyone who assists persons with disabilities or wants to know more about the vocational and medical aspect of getting Social Security disability benefits; and
In addition to all of the above, the 9 Step Guide:
Shows you how to list medications the right way on your initial application
Gives you a list of several medical conditions that will automatically qualify you for expedited benefits or a quick claim approval, and
Lets you determine the best time to report any new medical information to your examiner so that it does not slow down processing of your claim
Helps you become aware of when your claim will be assessed for a mental impairment, even if you do not allege a mental disability
You will know what it really means when you are asked to attend a Consultative Exam (CE)
Gives you five proven stress busters to use while you await a decision on your claim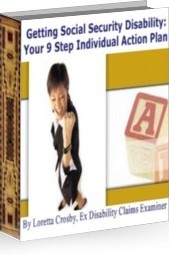 Rating:
Site owner:
Put the rating form on your site!
Listing wrong or need to be updated?
Modify it.
Mistake found?
Select spelling error with your mouse and press Esc