German Shepherd HandBook Ebook
German Shepherd Training Tips
Category:
Dogs
Title:
German Shepherd HandBook
Author:
Michael Tapscott
Description:
"This Information-Packed eBook Will Be Your Complete 'Bible' To Choosing, Understanding, Training & Caring For Your German Shepherd - You'll Learn How To Get That 'Best Friend' Relationship With Your German Shepherd, That Most Dog Owners Can Only Dream Of Having"
Here's a small sample of things that you'll discover in the German Shepherd Handbook, chapter by chapter:
Why the German Shepherd Dog were once called the "Alsatian Wolf Dog"
When should you switch from "puppy food" to "adult food"?
What's the breed standard? (See pages 10-11)
What's the best supplements for your dog? Are they really necessary?
What to think about if you're planning to adopt a German Shepherd
What are the 5 most important vaccinations that your German Shepherd must get?
Top training tips made specifically for your German Shepherd Dog!
Top tips for training your dog to obey commands!
Tired of your German Shepherd biting? Here's how to stop biting problems forever and force your dog to grow out of its puppy behaviour before it's too late!
Things to think about of you're importing a German Shepherd
The one place you should never buy a German Shepherd Dog from!
The foolproof step-by-step way that guarantees that you find the perfect German Shepherd puppy
The fascinating development of the breed and how the different coats evolved
The dog treat that's healthy for your German Shepherd.
The controversial "Last Resort technique" to test if you've tried everything, but your dog still isn't learning to obey your commands
The best kind of dog bones - And which to avoid!
The best kind of diet for your German Shepherd
The amazing history of the German Shepherd and how they came to be
The 3 required qualities you must have for raising a dog
Should you get a male or a female dog? Which is better?
Never give this treat to your dog - It can cause fatal seizures!
How to minimize separation anxiety of your German Shepherd
How to make sure your dog is happy and healthy all the time.
How to introduce your new German Shepherd to your home and the first steps to safety in your home
How to find the best food for you dog
How to find and choose the right German Shepherd for you. Learn everything from selecting the best breeder or shelter, to how to specifically point out the dog that's perfect for you
How to easily find and choose an adult German Shepherd Dog, and the things you should ask about before deciding
How to deal with ear problems in German Shepherds
How to act towards the dog just after you've brought it home.
How old should your dog be before you can get its hip X-rayed for Hip Dysplasia?
All about bloat and what you can do to prevent your German Shepherd from vomiting and getting gastric torsion
A quick introduction to the breed and how it all started.
9 plants that are harmful to your dog (You better get rid of these now if you truly value your friend)
4 natural treatments (which you probably already have at home) that you can use to prevent diarrhea, treat bee stings, burns and cuts + other first aid tips
4 important things you must do before bringing your German Shepherd home (Most people miss at least one of these!)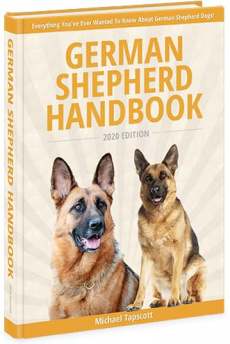 Rating:
Site owner:
Put the rating form on your site!
Listing wrong or need to be updated?
Modify it.
Mistake found?
Select spelling error with your mouse and press Esc