Friendship is a Verb Ebook
Category:
Relationships
Title:
Friendship is a Verb
Author:
Stuart Wood
Description:
How To Love People Enough To Involve Them In Your Dreams and Future
Have you ever felt lost and alone? Do you sometimes find yourself drowning amongst a sea of words around you, only to find the comfort you need elusive?
You need a friend.
Discover the importance of communicating with others. And understand why having the opportunity to share triumphs, failures, fears and ambitions is so important for fulfillment in life.
You will always need people. Success in life is a collection of relationships and that success is dependent upon the degree you succeed with people. Friendship Is A Verb teaches you how to do that.
You need a friend.
Friendship Is A Verb presents a practical manual to recognizing the importance of relationships in our daily lives and how to share that knowledge with others.
In the words of the author, "God designed us for relationship; otherwise He would only have made Adam!
You need a friend.
Discover why everyone you meet has something different to give. Learn that even when some friends analyze and critique you, these types of friends are also necessary.
Learn how many kinds of personalities involved in your life teach and strengthen you.
Relationship skills can be learned, and Friendship Is A Verb is the first step to identify those skills and empower yourself to fall in love with people and people fall in love with you. You need a friend.
Contents
Preface
Acknowledgements
Introduction
CHAPTER 1 Friendship & Relationship
Friendship
Insecurity
Injustice & Abuse
CHAPTER 2 God
Showing God
Knowing God
Seeing God
CHAPTER 3 Sin
Forgiveness
Judging Others
CHAPTER 4 Family
APPENDIX Rebecca's Poems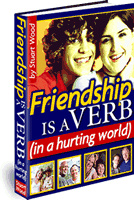 Add to Cart
Add to Wish List
P.S. This is a "hurting world" and we need as many friends as possible. You do need a friend.
P.S. This is a "hurting world" and we need as many friends as possible. You do need a friend.
Site owner:
Put the rating form on your site!
Listing wrong or need to be updated?
Modify it.
Mistake found?
Select spelling error with your mouse and press Esc