EzyMagic Shows Ebook
Category:
Children
,
Entertainment
Title:
EzyMagic Shows
Author:
John Williams
Description:
Amazing Guide Teaches You Everything You Need To Know To Create, Produce and Star in Your Very Own EzyMagic Show!
YOU Can Be A Star!
Okay, so maybe we can't all win a Hollywood Oscar, or star on a London stage. But, if you have ever had that little tickle in the back of your mind asking yourself, ". . .I wonder if I could. . . .?
What if...
...someone had ACTUALLY performed professionally and had answer to that question?
What if...
...there really WAS a way to learn how to create, produce and perform in your own magic show?
What if...
....there was a simple and easy guide that you could follow that would continue to teach you as you master the craft?
And what if...
...YOU had complete access to learning those "magical" secrets that astound audiences the world over?
Well hang on because here is your chance!
John Williams did it and he is here to teach you how! John covers everything from start to finish.
What props you will need
How to develop your stage presence
How to dress - natural or "in character"
Amateur or Pro?
Everything you say and do. . .and why
Secret of "the list"
Insider magic secrets
It's all here, wrapped up in one neat package. Can you do it? We think you can!
Will it happen overnight? No. Are there any guarantees? Of course not. However, if you have a sincere desire to perform and have the drive to work at it, you can learn to create, produce and star in your very own magic show.
If you learn nothing else from EzyMagic Shows, you will gain priceless knowledge in the art of "fun and laughter!"
So what are you waiting for?
Contents
Introduction
Amateur or Professional?
Magic - the Next Step
Everything you Say and Do
More Secrets
First Time on Stage
Microphones
Insurance
Photographs
Building Your "Ezy Magic" Show
Press
Clothing
Group Performance
First Aid Kit
Your List
Tables
Accessories
Card Table
Case Tables
Music Stands
Pilot Case Table
Wands
Handkerchiefs
Also Starring
Assistants
Animals
Children
Volunteers
Family
Magician, Clown or Magic Clown?
Size of Tricks
The "Ezy Magic" Magician
Costume
Flip Down Production Box
Boxes
Collapsible Box Production
Paper Tricks
Castle Production
Torn and Restored "Whatever"
Rope Tricks
Variations on the Basic Trick
Cut the Rope!
No Cut or Restore!
Cut and Quick Restoration
Mini Indian Rope Trick
Handkerchief Tricks
Handkerchief from Rope
Vanishing Handkerchief
The "Ezy Magic" Clown
Handkerchief Vanisher and Producer
Make-up
Equipment
Costume
Big/Small Gloves
Tricks and Props
Tube Glove
The Swatter
Vanishing Biscuit
Nosey Insects
Feather Duster
Umbrella Wand
Bang Wand
Bottomless Bag
Egg-stra!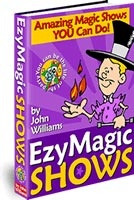 Site owner:
Put the rating form on your site!
Listing wrong or need to be updated?
Modify it.
Mistake found?
Select spelling error with your mouse and press Esc