Ezy Magic Fun Book Ebook
Category:
Children
,
Entertainment
,
Games
Title:
Ezy Magic Fun Book
Author:
John Williams
Description:
Who Said Fun Is Just For Kids? . . .Full of Fun For The Whole Family
If you thought Ezy Magic was filled with fun, here is John's ebook for 2003, Ezy Magic Fun Ebook!
It's full of fun tricks, puzzles and projects. There is definitely something inside for every member of your family!
. . .Sssh, you could keep all these secrets to yourself and absolutely amaze everyone! But, isn't it better to share the fun?

How about this fun-filled lineup:
FUN GAGS
Simple juggling, jokes and other stunts that get laughs from everyone.
FUN PICTURES
Bring the classic entertainment, chalk-talking, up to date and find crafty bugs in your friends' names.
FUN PUPPETS
Build your own puppet theatre and make puppets. Some full-size and some you can carry in your pocket.
FUN PUZZLES
Use matches, coins, a bottle and straw and some cups to baffle your friends!
FUN MAGIC TRICKS
Tricks to amaze and amuse with everything from cards to eggs.

You can be the hit of your next party! Headline at the kids' school talent show! Enjoy hours of quality time with your family!

Get Ezy Magic Fun Ebook to make the occasion fun! Add this to your library or make it a favored gift, today!
Content
SEE THIS FIRST ...
ABOUT THE AUTHOR ...
FUN GAGS ...
SCARF JUGGLING
BALL AND UMBRELLA JUGGLING
BEWARE THE BLURT!
NOTE EBOOK WITH REAL NOTES
BILL ROLL
FUN PICTURES ...
YOUR NAME HAS A BUG IN IT!
CHANGE THE PICTURE
FUN PUPPETS ...
SOCK IT TO THEM
YOUR PUPPET THEATER
MR & MRS BALL
MAKE OLD TOYS INTO PUPPETS
FUN PUZZLES ...
TWO ROWS OF FOUR
TINY SQUARE
BEND TO THE TASK.
OPTIMISTS AND PESSIMISTS
FUN TRICKS ...
ANY CARD YOU MAKE THEM TAKE
52 CARDS AND THOUSANDS OF TRICKS
DIAMONDS ARE A MAGICIAN'S BEST FRIEND TOO
MIND READING CARDS
THE CARDS TELL YOU
QUICK CARD REVELATION
DO IT BACKWARDS
ONE IN 52
A SPECTATOR READS YOUR MIND!
CUP OF PLENTY
BALLOON POWER
HANG(ER) UP!
HANK THE HEN
THE FLOATING CUP
HYPNOTIZED COIN
AND NOW IT'S GONE!
INSTANT HANDKERCHIEF
PAINLESS PENETRATION
YARN
TEAR A TISSUE
INVISIBLE SERPENT SERVANT
CREEPY CRAWLIES
MY EYE TEST
THREE LESS ONE EQUALS THREE
MORE FOR YOU ...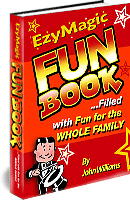 Add to Cart
Add to Wish List
P.S.
Remember, Sometimes we should do things just for fun! Order Ezy Magic Fun Ebook... it's time to have FUN!
P.S.
Remember, Sometimes we should do things just for fun! Order Ezy Magic Fun Ebook... it's time to have FUN!
Site owner:
Put the rating form on your site!
Listing wrong or need to be updated?
Modify it.
Mistake found?
Select spelling error with your mouse and press Esc