Ezy-Internet Safety Guide Ebook
Ezy-Internet Safety Guide
Category:
Computers
,
Internet
Title:
Ezy-Internet Safety Guide
Author:
John Williams
Description:
The BEST Secret Tool to Have Next to YOUR Computer!
What "THEY" Say...

Some say that you aren't truly indoctrinated to the Internet until you have totally crashed a computer and lost all your data! Let's hope you never have to test that theory!

It's a good bet that if you are reading this, you at least have a basic grasp of how to operate your computer. And, if you are a techno-geek you don't need to be here.

If, however, you are just beginning your online odyssey or have already tread the murky waters and stepped on a snapping turtle, read on.

How to Have a "Safe" Trip

Navigating the Internet is simple and easy. Navigating the Internet SAFELY is another matter.

There are tons of resources where you can go to learn about firewalls, anti-virus programs, malware and so on. BUT, try and find just ONE resource that covers it all and you'll run smack dab up against a brick wall! Until now, that is.

The Ezy-Internet Safety Guide is written specifically for you and is designed to be your "one-stop-shop" for internet safety. In fact, it is guaranteed to make your online experience a positive one!

Want to learn The Truth About Web Safety? John has laid out the perfect blueprint to make your Internet experience a pleasant one at minimum cost and absolutely zero stress!

When FREE isn't FREE at all. . .

Got a question about that new whiz bang security software you saw the other day? Find out if it's what you really need. John "tells it like it is" and maybe that costly program isn't the best answer to your situation.

You can also learn when "FREE" really isn't the great deal it seems to be. Remember, you get what you pay for and John shows you just how to stay out of that trap and learn when "FREE" really isn't "FREE" at all! In fact, you might just end up saving yourself from a very costly mistake!

Okay, What Else?
How about a full plate of resources and tools. Take a look:
Nasty Stuff - all about spyware, malware, viruses, worms and trojans
Safety Software - what works, updates, scans and suppliers
Making your computer safer - backups, files and passwords
And, as if that weren't enough do you have any idea of just how dangerous that email message from your best buddy can be?

You will also discover just how easy it can be for good people to be scammed and what you can do about it.

All in all you will find that The Ezy-Internet Safety Guide is a jam-packed resource that you will definitely keep right on your desktop in easy reach because you will refer to it time and again.

Don't wait grab your copy now and see how well you measure up to the safety guidelines. You'll be glad you did!


About The Author John Williams
I try to explain how to use computers and the Internet as clearly and simply as possible without special terms or too much detail..
I have been using the Internet and writing about its benefits and perils for about four years.
I have concentrated on giving you, as far as possible the latest available information about the threats which we must be aware of on the Internet.
I hope this book will help to guide you through the hype and sensationalism which is written about this very important subject.
Contents:
About the Author
The Truth about Web Safety
The Biggest Problem
Make Your Computer Safer!
It's Best to Back-up
Keep Your Programs Up to Date
Check EVERY File
Tips for Better Passwords
Passwords
No More Passwords Lists on Paper
Safer Surfing
Don't Expose Your Friend's Addresses to Other Friends
Identity Theft
Click Here for Your Private Information
Quick Tips to Reduce the Risks
All Websites have Rules
Your Information will not be Distributed
Using Other People's Material on Your Web Site
Security Software
Updates and Scans
Find Something Good and Stick to it!
Pep Up Your Computer
Web Browser Add-Ons
Suppliers of Security Programs
Anti-virus Programs
Anti-spyware Programs
Firewall
Anti-malware Programs
More Ways to Reduce Spam
Anti-spam programs
Your Email Program
PocoMail
Email Programs
Pegasus Mail
Protecting the Family
Protecting Your Original Work on the Internet
"Free" can be EXPENSIVE!
Seeking Just Friends and Fun
"Save Money and Live Longer"
The Enemy - Software
Worms
Viruses
Spyware
Email Hazards
Trojans
Attachments
Links
Web Site Dangers
Check Your Spelling
Please Verify Your Account Details
Check Their Spelling too!
Under New Ownership
Phishing Sites
Scams Exposed

Forward Packages - High Pay - Even Higher Risk!
Work at Home Offers
Easy Money Straight into Your Account
Other Old Scams in New Clothes
Training for a Guaranteed Job
The Nigerian Scam:
Bargain Travel Scam
Lotteries or Inheritance Scams
Email Scams
You can Help, but ....!
Resources
Castle Cops
Helpful Websites
Phishtank
Bank Safe Online (U.K.)
Keep Safe - Keep Informed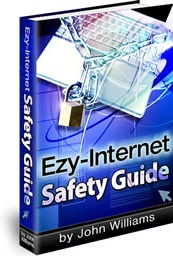 Add to Cart
Add to Wish List
P.S. The only person who doesn't need this little manual is someone who doesn't own a computer. That can't be you because you're reading this. Get your copy right now!
P.S. The only person who doesn't need this little manual is someone who doesn't own a computer. That can't be you because you're reading this. Get your copy right now!
Price: $

17.00
Ebook Type:
PDF
Rating:
Site owner:
Put the rating form on your site!
Listing wrong or need to be updated?
Modify it.
Mistake found?
Select spelling error with your mouse and press Esc