Ezine Resource Guide Ebook
Category:
E-Business
Title:
Ezine Resource Guide
Author:
Jimmy Brown
Description:
Free and Low-Cost Resources....
....EVERY Publisher Needs to Use
218 Free and Low-Cost Resources for Ezine Publishers (like YOU!)...
Dear Ezine Publisher:
Let me make your life as an ezine publisher easier. (And earn you some extra income in the process :o)
I've asked Laurie Rogers (who is an absolute resource pack-rat and can't bear the thought of deleting any link from her bookmarks!) to put together a resource manual especially for folks just like yourself.
And she has assembled one of the most complete resource manuals available anywhere on the subject of publishing an email newsletter.
In the Ezine Resource Manual, you'll learn things like...
19 hot spots for obtaining FREE ezine content for any newsletter. You'll have a ready-made database of thousands of high-quality articles you can publish inyour own newsletter. HINT: And if you write articles yourself, you can add your own material to these databases and allow other publishers to publish YOUR materials!
An all-in-one submission page for quick and easy access to the top 37 ezine directories. With this handy submission page, you can strategically submit your ezine, description and subscribe details to the top FREE directories online.
16 content lists that regularly send you the latest articles from well known publishers, allowing you to provide your readers with fresh, up-to-the-minute articles.
6 simple ways to swap advertising space via email -- increase your subscribers as much as 300%.
10 secret sources for building your subscriber lists through classified ad swaps. Instantly access hundreds of publishers ready to trade ads with YOU.
9 great resources for selling out your ad space in each of your issues. Not selling enough classified ads for your ezine? Don't worry, these great resources will sell the ads for you!
Numerous distribution resources (software, servers, and systems) for automatic publishing of your newsletter, including 5 100% FREE services!
A little-known service that allows you to launch your own affiliate program for your email list to gain even more subscribers!
5 superior resources sites that *really* increase your subscriber numbers with TARGETED readers no matter what subject your ezine focuses on.
28 newsletter announcement lists that will post ads promoting YOUR ezine for FREE. NOTE: Many of them will allow you to resubmit your ezine on a regular basis.
13 high-profile sites that will build your opt-in newsletter list at NO COST TO YOU. I have *literally* been able to see thousands of extra subscribers come from these services! (And you can too -- I GUARANTEE IT)
Dozens of sites designed especially to boost your ezine subscribers and give you more exposure -- without spending a penny!
Much, much more -- just too much to list here!
50 of the top ezine publishers spill their guts for YOU...
In addition to the resources, my good friend Dirk Dupon has graciously allowed us to include INTERVIEWS that he conducted with 50 of the top ezine publishers online. Included in the Ezine Resource Manual are interviews with publishers such as...
Dirk Dupon, from "SmartPromotion Newsletter"
Jimmy D. Brown, from "Advantage Marketing Strategies"
Phil Wiley, from "All The Secrets"
Eva Almeida, from "e-Books N' Bytes Informer"
Paul Hancox, from "The Mouthpiece"
Harmony Major, from "Straight From the Horse's Mouth"
Shelley Lowery, from "Etips"
Chayden A. Bates, from "The Effect!"
Frank Garon, from "InternetCash PlanetGram"
Harvey Segal, from "SuperTips Ezine"
Kerri Reeves, from "A1 Home Business News"
Marc & Terry Goldman, from "The Marketers Resource Weekly"
These and 38 more high-profile ezine publishers answer such questions as...
Describe an average business day. Which tasks do you do first, and which take up the most time?
In your opinion, what are the best tools to grow your list?
What tools do you use to make your publishing life easier?
What was the most important thing you learned since you started publishing on the Internet?
Do you think ezine lists need a web site? Why?
If you could start all over, would you do it again, and what would you NEVER do again?
What is the best advice you would give to someone who just started publishing an ezine list?
Tap into the publishing experience of the top publishers as they share quick tips on ezine publishing.
Not only will you access this information, you'll PROFIT from it yourself!...
You'll also be able turn the Ezine Resource Manual into your own profit machine! When you purchase the Ezine Resource Manual for $14.97 (yeah, I know, it's RIDICULOUSLY inexpensive) then you will also obtain...
Backend commissions! Insert YOUR affiliate link to numerous backend products that earn you 50% commission on any sales generated. There are a dozen or so links within the resource manual to other products offered by 123webmarketing.com. When you purchase the Ezine Resource Manual, you'll be able to insert YOUR affiliate link for each of these products. If anyone makes a purchase of one (or more!) of these products from your copy of the manual, then you'll receive 50% commission!
100% royalty-free reprint rights! A reprint rights license is included with your copy - sell the Ezine Resource Manual for $14.97 and keep every penny! Comes with a ready-made webpage and sales letter just like this one. NOTE: You can sell the manual for $14.97, include it in a package deal, offer it as a freebie - use it in any way you like. (as long as its legal :o)
Sponsorship advertising! Brand EACH PAGE of the Ezine Resource Manual with a classified ad of YOUR CHOICE. Promote your website, an affiliate program, your own ezine -- whatever you want. Yep, you can actually insert a 40-50 word classified at at the TOP of each page, prominently displayed for all readers of your customized copy of the manual.
Table of contents:
Ezine Promotion
All-In-One Submission Page
Ezine Resources
Article Submission by Email
Article Submission and Content
Ad Swapping Services
Sell Your Advertising Space
Ad Swap Groups by Email
Start an Ezine Affiliate Program
Free List Servers
List Servers
Autoresponders
Free List Builders
List Builders
Free List Builders by Email
Text Editors
Other Resources
Ezine Interviews
50 Publishers Spill the Beans
Ezine Handbook
*Everything* You Need To Earn A Guaranteed Monthly Income From Your Newsletter
Promotion Tools
How to PROMOTE Any Product Or Service with 100% FREE Advertising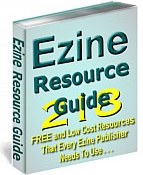 Site owner:
Put the rating form on your site!
Listing wrong or need to be updated?
Modify it.
E-Business Package!
455 E-Business ebooks Click here to see the full list of these ebooks
(total value $4723.45)
Buy Now
just for $49.95
$4673
off
Silver Package!
Any 100 ebooks from 2000+ titles Click here to see the full list of these ebooks
Buy Now
just for $29.95
Gold Package!
Get full access to 2000+ ebooks Click here to see the full list of these ebooks
Buy Now
just for $49.95
Mistake found?
Select spelling error with your mouse and press Esc