Everything You Ever Wanted To Know About Chronic Headaches Ebook
Everything You Ever Wanted To Know About Chronic Headaches
Category:
Health
Title:
Everything You Ever Wanted To Know About Chronic Headaches
Author:
Douglas Hanna
Description:
How to Deal With Debilitating Chronic Headaches Once and for All!

It begins again. It's always the same. One minute you are feeling just fine, dealing with everyday activities. Maybe you're a little bit stressed. Maybe you aren't. You've never been able to figure out the "why" aspect of the equation.

No matter how it begins it's just a prelude to what you know will be the "main course." It floats at the back of your consciousness like the boogeyman in the closet. You know it's there. And you hope it won't burst forth until you have a chance to deal with it.

Call it whatever you want. It's a headache. Seems like such a small word compared to what it does. It can sneak up on you as we described above. Or, it can barrel down on you faster than a freight train and completely take you down in a heartbeat.

As the saying goes, it's "different strokes for different folks." There are actually quite a few different types of headache. Migraine headaches are particularly nasty. The you have cluster, tension and rebound. Whatever type you have they share one common denominator. Pain!

We could go on and on about the pain and how bad it is. Or we could play the game that "my headaches are worse than yours!" Childs play. What you need is answers and hopefully a CURE!

Well, we've got the answer for you. FINALLY, a definitive guide on headaches, why you get them, what kind they are and how to end or diminish the pain! With over 100 jam-packed pages, "About Chronic Headaches" has just what you need.
Learn what triggers contribute to your headaches.
First off is a discussion on the different types and their symptoms.
Discover how to get the right diagnosis.
Can you stop a migraine? How?
NSAIDS, Alpha Blockers, MAOIs, what do they mean?
Is it possible to prevent headache?
What are some alternative methods and do they work?
"About Chronic Headaches" focuses on the most common types of chronic headaches and provides you the necessary detail to determine what type you have. Learn what triggers your headaches and how to involve your doctor.

Not only does "About Chronic Headaches" deal with symptoms and possible cures, it also washes away many misconceptions about headaches. Not all headaches are the same and stress is NOT always the cause.

Some people are led to believe that headaches are "all in their head" or imaginary. Tell that to someone who feels like their head is going to explode! Headaches are a major condition like any other and need to be dealt with properly.

Get the questions and the answers you need. Don't wait another minute and don't risk another headache. We can help!
About The Author
Douglas Hanna
Douglas Hanna is a retired advertising and marketing executive. He lives in a suburb of Denver , Colorado with his wife and two dogs.
Douglas has written more than 225 articles on a variety of subjects. He has done extensive research on chronic headaches as he has been a headache sufferer since his teen years.
Douglas knows from personal experience the profound and disabling effect that chronic headaches can have on your life as he had them since he was a teenager.
Sometimes, these headaches were so severe that he couldn't even function and had to spend hours sitting in a dark room. Or, he would try to sleep, hoping that he would feel better when he woke up.
Today, he rarely experiences headaches that debilitating. Instead, his headaches are usually on the milder side; just serious enough to put a damper on his day, or to make it difficult to sleep.
He saw several different doctors about his headaches but could never get a definitive diagnosis. The closest he came was one doctor who said that his chronic headaches were in the "migraine family."
Given these experiences, he decided to learn everything he could about chronic headaches; what they were and how to best prevent or treat them.
His book is dedicated to all of those of you who live with chronic headaches like Douglas used to.
Table of ContentsIntroduction
What You will Learn from this Book
1 Facts about Headaches
2 General Information about Headaches
One New Theory
What Causes Headaches?
Headaches and Hormones
3 Types of Headaches and Their Symptoms
Major Types of Headaches and Their Symptoms
Non-chronic types of Headache
Migraine Headaches
Chronic Daily Headaches
Cluster headaches
Tension-type Headache
Rebound Headaches
4 Headache Triggers
Environmental Factors
Eating and Sleeping Patterns
Vision
Physical Exertion
Medications
Diet and Foods
Nitrites
Tyramine
Monosodium Glutamate
Non-food Headache Triggers
Other Foods
5 Getting the Right Diagnosis
The Initial Visit
A Headache Diary
Questions You Need to Answer
Other Diagnostic Tools
The Physical Examination
6 Coping with Migraines
N.S.A.I.Ds
Choosing a Treatment
Prescription Drugs
Antidepressants
Cardiovascular Drugs
SSRIs
Alpha Blockers
MAOI's
Techniques for Treating Specific Types of Migraine
Migraine Headaches with Tension-type Headaches
Prolonged Migraine
Hormonal Headaches
Pregnancy
PMS Headaches
Breast-feeding
Relieving or Stopping a Migraine
Menopause
The Triptans
DHE (Dihydroergotamine Mysylate)
Ergotamine Tartrate
Isometheptene Mucate
Phenothiazines
Nonsteroidal anti-inflammatory drugs (NSAIDs)
Intranasal Lidocaine
Narcotic Analgesics
Over-the-counter Analgesics
Anti-emetics (Anti-nauseants)
Cold Packs
7 Coping with Cluster Headaches
Stopping the cluster headache after it has started
Preventing Cluster Headaches
Other First-line Treatments for Cluster Headaches
Dihydroergotamine
Triptan drugs
Sumitriptan
Cold Showers
Lidocaine
8: How to Fight Chronic Daily Headaches
Antidepressants
Preventive Medications
SSRIs
Anti-seizure Drugs
Beta-blockers
Muscle Relaxers
Cox-2 Inhibitors
NSAIDs (Nonsteroidal anti-inflammatory agents)
Others
9 Treating Tension-type Headaches
Chronic tension-type headaches
Episodic Tension-type Headaches
Preventing Tension-type Headaches
Managing Stress
Regular Exercise
Preventive Medications
Treating Tension-type Headaches
Tricyclic Antidepressants
10 Alternative Treatments and Self-help Techniques
Alternative Treatments
Alternative Treatments Chart
Oxygen Therapy
Detoxification Therapy
Acupuncture
Colon Therapy
Enemas
Chelation Therapy
Fasting
Herbal Bowel Cleansers
Hyperthermia
Environmental Medicine
Naturopathy
Ayurvedic Medicine
Hypnosis
Energy Medicine
Herbal Medicine
Imagery
Behavior Therapy
Guided Imagery
Light Therapy
Reflexology
Cold Laser Therapy
Neural Therapy
Osteopathy
Chiropractic
Psycho/Emotional Therapies
Biofeedback
Magnetic Field Therapy
Homeopathic Medicine
Aromatherapy
Flower Essence Therapy
Self-help Treatments
Relaxed Breathing
Relaxation Exercises
Deep Breathing
20-cycle Breath
Three-part Breath
Wu Breathing Exercise
Progressive Muscle Relaxation
Pulse Breathing
Lifestyle Changes
Carotid Artery Massage
Self Massage
Neck and Shoulder Massage
Ice and Heat
Sinus Massage
Meditation
More Tips for Reducing Food-Related Headaches
Nutritional Therapy and Diet
Compresses and Steams
11 Using Supplements to Treat Your Headaches
Who takes Supplements?
What are Natural Supplements?
Cluster Headaches
Chronic Daily Headache
Migraines
Tension-type Headaches
Headaches in General
12 Online Resources
Websites
Forums
Newsgroups and Groups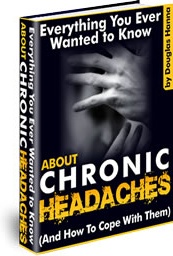 Add to Cart
Add to Wish List
P.S. Tic Toc, Tic Toc, when will your next headache strike? Don't wait until you are once again suffering through another painful episode. Get the answers now!
P.S. Tic Toc, Tic Toc, when will your next headache strike? Don't wait until you are once again suffering through another painful episode. Get the answers now!
Price: $

17.00
Ebook Type:
PDF
Rating:
Site owner:
Put the rating form on your site!
Listing wrong or need to be updated?
Modify it.
Mistake found?
Select spelling error with your mouse and press Esc