Erectile Dysfunction Ebook
Category:
Health
Title:
Erectile Dysfunction
Description:
ERECTILE DYSFUNCTION... contains 160+ POTENT pages of outstanding information - illustrations, graphs, charts, tables, and occasional doses of humor - all presented in clear, consise, easy to understand explanations and solutions for ED sufferers.
This eBook is a great read, full of interesting info. It will tell you:
What exactly is ED?
Twenty-two sexual myths - many widely believed - that can cause undue anxiety and ED.
Treatments - much, much, more than the big three - Viagra, Levitra, and Cialis.
Think you have ED? Perform a self-assessment.
The sexual response cycle - what's supposed to happen and when?
The prostate - how does this important gland affect sexual function?
Risk factors - the effect of smoking, drinking, prescription drugs, recreational drugs, illicit drugs, and much more.
Is it physical or psychological?
Is ED a normal consequence of aging? NO!
Important questions to ask your doctor.
How common or uncommon is it?
How an erection works.
Counterfeit, generic, soft tabs, melttabs, and dissolvable oral ED meds - Viagra, Levitra, and Cialis knockoffs - What you NEED to know.
Do you ride a bicycle? You'll definitely want to read this.
Could ED be a symptom of more serious health problems? YES. Find out more.
Injections, pumps, and implants are all discussed and illustrated.
ALL NATURAL treatments:
Magnetic field therapy and its purported theraputic affects for ED.
How about acupuncture?
How about PC exercises? No, they don't involve your computer.
Facts about over-the-counter supplements - herbs, vitamins, minerals, and more.
Can hypnosis help? Find out.
Aromatherapy? Are you kidding me? Find out!
And what's the deal with those 'male enhancement' products? Great info.
Learn about the effects of general exercise and weight loss on ED. You'll be quite surprised.
This great eBook is further enhanced by an excellent listing of resources:
Website resources - handy links to authoritative sites, featuring:
Viagra Humor - a collection of funnies - remember, laughter is the best medicine.
Top dating sites - for when you get your mojo back!
The the most trusted ED medical information on the web.
Sites with the most complete selections of 'male enhancement' formulas.
Marketplace - links to valuable, top-quality resources:
Internet video - interviews with doctors, surgeries, lectures, and more.
Herbal, vitamin, mineral, etc. supplement providers.
Glossary of ED terms.
Books for further reading.
An extensive summary table of current, alternative, and future treatments that brings it all together.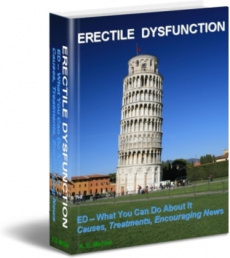 Reviewed by

William

on 2009-07-25
My Rate
5
Just what I was looking for, clearly explained.
Reviewed by

William

on 2009-07-25
My Rate
5
Just what I was looking for, clearly explained.
Site owner:
Put the rating form on your site!
Listing wrong or need to be updated?
Modify it.
Mistake found?
Select spelling error with your mouse and press Esc