Economic Collapse Investing Ebook
Economic Collapse Investing
Category:
Investing
Title:
Economic Collapse Investing
Author:
MN Gordon
Description:
This letter was difficult to write. But I had to do it. Because I fear the worst economic collapse of modern times is upon us.

I wish this weren't so. But I can't wish away the facts...
Our education system stinks to high heaven. We spend more than most of the world on education -- $115,000 per student -- yet we rank 36th in math, reading, and science...far below our Asian competitors who are eager to eat our lunch on the international stage.
Our American government is massively in debt. The national debt is now over $18 trillion. A third of this is owned by foreign nations, namely Japan and China.
Our homes are open to government intrusions. Police can crash through your door for hardly a reason at all. They also have radars that allow them to peer through the walls of your home. Who knows what they are actually looking for?
Our republic was lost long ago. The U.S. now operates as a corporate oligarchy, where our elected officials represent the interests of the ultra wealthy and powerful corporations...not the average citizen.
Our prisons house the largest number of inmates in the world. What's more, they're operated as money-making enterprises for private corporations.
Our health care system stinks even worse than our education system...yet it costs way more than other western, industrialized nations. Obamacare is only exacerbating the problem of both high cost and poor quality.
An astounding 27 percent of elected officials cannot name even one right or freedom guaranteed by the First Amendment. On top of that, 54 percent of them do not know the Constitution gives Congress - not the President - the power to declare war.
Over 63,000 bridges -- one out of every 10 bridges in the country -- are in urgent need of repair. All the while, enormous amounts of money are supposedly being spent on infrastructure. Where could all this money really be going?
Over one in five American children live in poverty. This ranks us among the worst in the developed world.
Inside this unique manual you'll discover and benefit from the many opportunities to secure lasting wealth that the final financial blowout has to offer. For instance, Economic Collapse Investing will show you...
Big government and the pursuit of the final financial blowup. After years of reckless actions the final end game could come quick. You'll want to be prepared for it in advance.
The one destructive bad idea that's paving the road to economic collapse...and what you can do about it.
The Federal Reserve's money games and how their "wise and humane" policies destroy your wealth. This is nothing short of larceny on a grand scale.
Unstable money and cycles of boom and bust. Once you understand this you'll be able to use the Fed's money games to your favor.
How the Federal Reserve works to spoil your retirement...and how they also steal your life. Understanding what you are up against, and why, will make your blood boil.
How to position your assets to take advantage of the final financial blowout as it plays out. Never has it been more important to take unconventional action to protect and build your wealth.
How to retire a decade early. When it comes down to it, you really don't have a choice but to follow this path.
How to seize the day with the mother of all speculations. These are interesting times we live in. You need to make the most out of every opportunity out there.
How to uncover opportunities that others have overlooked. Before long you're mind will be trained to discover the diamonds in the rough.
A simple way to effectively short the dollar. The simple elegance of this strategy will reward you for 30-years -- or more.
Profiting from mean reversion -- how to identify buy low sell high opportunities.
How to build your wealth funnel and grow rich over time. The key to safe reliable investments that churn out profits like a cash cow.
Two safe and proven ways to preserve wealth and profit during periods of inflation. The best antidotes for protecting wealth from the government's hidden confiscation.
One investment that offers two primary sources of profits. Exploit the long trend of limited supply and increasing demand with this one investment.
How to profit from rising farmland values and increasing food prices without buying a farm or planting one seed. The perfect investment for the armchair farmer.
Why inflation will dramatically rise over the next decade and how to position yourself so your wealth inflates with it. This is a must for anyone who wants to retire in comfort.
And much, Much, MORE!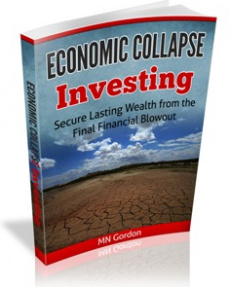 Ebook Type: PDF
Rating:
Site owner:
Put the rating form on your site!
Listing wrong or need to be updated?
Modify it.
Mistake found?
Select spelling error with your mouse and press Esc