Dynamic Web Marketing Secrets Ebook
Dynamic Web Marketing Secrets
Category:
E-Marketing
,
Internet
Title:
Dynamic Web Marketing Secrets
Author:
MATT MAN
Description:
Introducing
"Dynamic Web Marketing Secrets: Insider Secrets To Drive Tons Of High Quality Targeted Traffic To Your Web Site Daily!"
This program contains all the information you'll ever need to help you drive tons of quality targeted web site visitors to your site daily.
Here's Just a Small Sample of What You'll Learn When You Download Your Copy of Dynamic Web Marketing Secrets Today:
Why this "almost magical" combination of Pay Per Click campaign creation will have you outperforming your competitors in click-throughs and conversions.
Why there is so much conflicting advice on Internet Marketing - and how you can save money by learning to instantly recognize marketing hype, false advertising, phony claims and B.S.
Why it's impossible to successfully optimize your web site for the search engines unless you know this one simple, but amazingly effective trick!
Why Flash web sites are not optimal for search engine optimization.
Why 95% of all internet marketers fail...and the secrets you must implement to be in the successful 5% (and stay there!)
What you must do in every one of your blog posts to increase the quality traffic sent to your e-commerce site.
What time of the day and what day of the week is the best time to send your marketing e-mails to your customer lists for the highest open and click-through rates.
What one thing you should add to your marketing e-mail to increase your open rate by more than 10%
What is essential to know about META Tags, what are they and why do are they vital to my web site.
The truth about how much you really need to spend to effectively market your web site.
The one thing you should never do to avoid becoming blacklisted by the search engines.
The one thing you should do immediately to increase your search engine ranking in the top search engines.
The internet marketers secret weapon to increase your search engine placement of your landing pages.
The cardinal sin of search engine submission that you should never commit... EVER!
The #1 most effective way to get a high ranking in the major search engines.
The "overlooked" place to submit your site to increase quality targeted web site visitors.
How to keep from getting listed as a "spammer" while legally marketing by e-mail
How to get your internet marketing campaign to generate tons of quality targeted web traffic to your site around the clock.
How to crank up your quality web site traffic through a fun enjoyable weekly exercise.
How internet marketers are getting away with murder by lying to you on their web site claiming to send you tons of unique visitors....don't ignore this one.
How a "unique new spin" on you business model released in the right place will generate tons of high quality targeted web site visitors
An important lesson you can learn from one of my clients who wouldn't listen to me and got black listed by the search engines.
A simple method to increase your Pay Per Click conversions by 3 - 5 %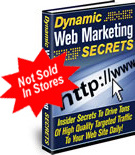 Rating:
Site owner:
Put the rating form on your site!
Listing wrong or need to be updated?
Modify it.
Mistake found?
Select spelling error with your mouse and press Esc