Drawing Animals in Pencil Ebook
Drawing Animals in Pencil
Category:
Arts
Title:
Drawing Animals in Pencil
Description:
Anyone can do it. If you can hold a pencil you can draw animals.
Drawing Animals in Pencil is the E-book that shows how You can be the artist you want to be. Let me show you how to draw animals with a practical approach not bogged down with theory.
You will, among many other things, see how to:
Create sketches, line drawings and different kinds of tonal drawings.
Make the pencil create texture with ease.
Blend with everyday materials to lift your drawings to the next level.
And much more importantly you will discover that Perseverance triumphs over talent. It really does!
Inside this e-Book you'll find out how to approach drawing ANY animal but to talk specifics here is a list of the animals demonstrated within the ebook with notes where applicable.
Draw a simple Giraffe.
Goat Drawing. Make a line drawing with the appearance of tone.
Black Swan. Sketch it quickly.
Wallaby. A line drawing tutorial.
Simple sketch of a Chimpanzee.
Llama Group. How to quickly sketch a group of animals.
Orang-utan. Establish the form of an animal before moving onto a tonal drawing.
Domestic pig.
Prairie Dog. Use textured paper for a loose, sketchy effect.
Develop the above method with another wallaby drawing.
Tortoise. Use Blended Tones as the basis of your drawing.
Squirrel. Create Tonal effects using lines.
Squirrel Line Drawing. Use wandering lines and show the animal in its natural environment.
Dog Drawing. Learn how to make animal portraits building upon what we have practiced in earlier lessons.
Tiger Drawing. Practice the breakdown method to quickly capture this beautiful animal.
More swimming Penguins.
Swimming Penguin Line Drawing
Draw a Tortoise with line and stipple.
Goose Drawing. The Power of Blended pencil.
Antelope Group Drawing. Adapt the environment for visual effect.
Cat Drawing
Okapi. A shy and unusual looking creature.
Horse Head Drawing. Use putty eraser and pencil for realistic drawing
Jack Russell Terrier. Draw a favourite pet with lines and blending.
Draw a Dolphin.
Scottie Dog. A cute little Dog that demonstrates how fur can be drawn with line alone.
Meerkat.
Retriever. Draw a dog in profile.
Flamingo.
Indian Rhinoceros.
Seal Drawing. How to depict a seal in water using pencil and putty erasers.
Rotweiler. Learn how to render shiny fur.
A second tutorial on how to draw a seal very realistically.
Crocodile. Depict the craggy appearance of a crocodile in strong light.
Rabbits.
Kingfisher.
Another Tiger Drawing concentrating on the head.
Tiger Drawing. Match the tone to the mood of the scene.
Pelicans.
Spring Lamb. Use the viewpoint to emphasize the stature of an animal.
Duck. A complex tonal drawing
Ebook Details:

At 486 pages this book is HUGE!
Over 900 Illustrations detailing techniques and step by step drawings.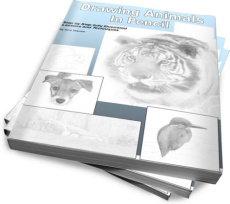 Ebook Type: PDF
Rating:
Site owner:
Put the rating form on your site!
Listing wrong or need to be updated?
Modify it.
Mistake found?
Select spelling error with your mouse and press Esc