Don't Delay Sell More Online Ebook
Don't Delay Sell More Online
Category:
E-Marketing
Title:
Don't Delay Sell More Online
Description:
Do You Want to Make More Money Online?

Don't let another potential sale or conversion escape into the clutches of your competition ever again!
Newflash! - it's not about bells and whistles it's about communication with your customers!
Fine tune your online business by making it as user-friendly as possible using my special selling strategies!
Are you losing customers and you don't know why?
Find out the flaws in your sales plan that are leading to the loss of potential customers by reading this groundbreaking e-Book...

Don't Delay Sell More Online

Are You Really Doing Every Single Thing That You Can to Make Sure You Make That Sale?

Why is nobody buying from you today? Find out right now!


Dear Fellow Internet Marketer!

Running and owning your own internet business can be a wonderful, rewarding experience, especially when you start to see the revenue from your website rolling in and paying all of the bills. This is an especially great thing to see if you are trying to personally recover from the fall-out of the world-wide recession!

If you do have a website that churns out money for you like this, then all the more power to you!

If you don't then you have landed on exactly the right page because my new e-Book can teach you how to sell even if you don't believe you could sell a glass of water to a dying man in the Sahara Desert.

If you are like most people who are having trouble selling then you probably can't see any discernable reason why your website is NOT making money. You are "Sales Blind." I can teach you to "see the light" when it comes to selling more online.


In fact, even if your website is already successful you might be very interested in seeing how you can do things more effectively by reading my new e-Book - Don't Delay Sell More Online

If your website is not raking in the money as well as it used to there are probably good reasons for it. It does not mean you are a failure or that the website is not glamorous enough.

In fact some of the most glamorous and most technically sophisticated websites online can't make money. Some of these websites have thousands, or even millions of dollars of development behind them but despite all that investment the people that run them don't know how to sell.

So why don't these big glamorous websites make money? The problem is that they can't seem to relate to the customer. There is no selling advantage to being big and shiny and MISUNDERSTOOD!

How do online businesses with so much backing, strategizing and money go so astray?

Selling is more than just "having a knack" for it. There are so many things to consider when it comes to setting up an online business in the first place. It can be hard to constantly put yourself in the customer's shoes especially when you are trying to get into the nitty gritty of learning HTML or choosing shopping carts or trying to get your site listed in the search engines.

It is all too easy to put your wishful thinking first and put the customer last!

It also does not help that the internet is a place of persistent confusing change! There is always something that needs updating, revamping and improving in the world of cyber-commerce.

In Don't Delay Sell More Online I help you shift your mentality towards successful selling and gain perspective by including -
An introduction to the ever changing nature of ecommerce and ebusiness and an explanation of why it is crucial to provide the best level of customer service to your clients possible
An explanation of why people do not want to be sold to but would rather build a relationship with someone they both like and trust and whose judgement and honesty they can rely on
How to put your customer's needs and expectations into clear focus and then strive to meet them as best you can
Why selling product online is so much different than selling in the real world
Why even the most experienced of marketers get stumped when it comes to selling sometimes and how to get over stark creative blocks to financial success
Why it is dangerous to neglect doing testing or market research when you are developing new products and trying to put together a marketing plan
Why there is a slightly increased potential for misunderstandings and disputes with your client if you are selling online
The single worst mistake you can make when you are developing a new product to sell in this economic climate
How to deal with the fact that almost everyone nowadays suffers from information overload and how it difficult for your messages to reach your customer
How to make it seem to your customer that you are intimate with them and care to communicate with them directly
Why it is absolutely crucial that you make your site as people friendly as possible
Why it's always a good idea to make sure that your telephone number, email and address is readily available to your customers right on a page on your website
How to maximize your selling ability at every single turn no matter what you are marketing or offering as a service!
Why it is a mistake to be over focused only on what you are doing and ignore what your competition might be up to --particularly in terms of product development and online efficiency
Whether you are a newbie to e-Commerce or an experienced entreprenuer you are going to benefit from reading Don't Delay Sell More Online .

You need to ask yourself the following --

Are there 'flaws' in your selling strategies and website technology that are turning off customers?

Are You READY to step into your customer's shoes and find out from their PERSPECTIVE WHY they are NOT buying from you?

As I mentioned earlier it does not matter one bit what you are selling, the key to the door of success is always going to be about the functionality and accessibility of the site.

This is because SELLING is ALL ABOUT TRUST!

In Don't Delay Sell More Online I discuss the importance of functionality and accessibility when it comes to building trust with your customer.

In my new e-Book I tell you exactly WHY you need to have an efficient sales strategy and system in place and discuss certain realities of selling online including -
The importance of having a way to send your visitors to your website that makes sense to them visually and logically or they will not trust you enough to pull out that credit card and buy!
The need for every online business to attract targeted customers rather than just attract surfers who simply take up your bandwidth and never buy!
Why you absolutely just have an email list to promote products or services to subscribers and customers
How to use "window dressing" such as a photo of yourself or your office to build up trust with your clients
The absolute must-have gimmicks and user-friendly features that your website MUST have in order to attract paying people
How to strengthen your customer's trust in you by subtly building reliability and intimacy with them
How to use the free Word Tracker keyword research tool
How to use keywords to find potential customers
How to join forums and chats in order to recruit possible customers to your cause
The type of effort that you can make to make sure that each and every customer is treated as humanly as possible even though you are on that cold and impersonal computerized place called the Internet!
How to do research for your blog using sites like Forum or Big Boards.
How you can use a video of you talking directly to the customer to increase intimacy with you as well as teach them about the product
How to use free editing software such as Wax or ZS4 to attract your customers
Where to buy a basic webcam so you can make your own very quick "talking head" style video in minutes
How to use tools like TubeMogul to upload your videos to multiple sites
How to make complete strangers more aware of your website or business and convert them into loyal buyers
How to determine who are the most "expensive" customers for you and avoid wasting your time with them
How to put an automated system in place in your business so that first time customers are encouraged to return to your site to make a second purchase
How exactly you can design a system that can squeeze every possible cent out of your customer starting with their first visit to your web page
Why it is a mistake to think that you cannot afford the time or expense required to put together a system that constantly brings back return customers
...And much more information that describes to you how to exploit every tool and resource at your disposal to keep your customers and minimize the possibility that they will escape from your site without buying!

Improve your Communication Skills and Attract More Customers?

In Don't Delay Sell More Online I get right down to the brass tacks of how to go about designing the system that is perfect for your purposes without breaking the bank.

I give you ALL of the practical information that you need to know about effectively communicating with your customer including -
How to "sow" the internet with items that might attract potential customers to visit your site
How to determine the "commitment" level of a customer to your business and decide whether or not he or she is likely to buy
How to use a subscriber newsletter to determine or increase a customer's loyalty to buying from you and only you
How to prequalify visitors to your site to create a flow of traffic that can make you very rich
How to make a customer feel at ease and welcome by writing a newsletter that truly addresses all of their needs
What persuasive writing tricks can be used to increase their likelihood of buying from you
How to set a price point that will guarantee that a customer will buy from you or return at a later date to buy from you
The truth about how many times you will have to send a prospect an email before he or she will come back to your site to buy from you!
How to present a suitably well tailored offer to people who visit your site so they will come back to you again and again
How to upsell products to your visitors without annoying them
How to catch a customer and convince them to make a purchase from you while he or she is still in "buying mode"
How to use a secret "hidden" style of communication with your customers to compel them to buy form you
Where to find a good auto responder and how to apply it to your business
How to completely automate your opt-in list and the emailing of offers and save yourself oodles of website maintenance time
Advice on how much money, if any, to spend on an autoresponder
How to establish how far each person on your mailing list is willing to go when it comes to making purchases from you
How to get around firewalls so that your sent information is not interpreted as spam by your customer's computer
How to offer additional products and services that will enhance the experience attached to buying your initial product
Why it is a good idea to make your upsell product more expensive than the original product that you are offering so you can make maximum profits
Why it is absolutely crucial for you to have a site map in place including clear, easy to find "contact us" manual
Why it may be a better idea to simply ask potential prospects for their email address rather than try to bribe them to give it to you by offering a free gift or bonus report
How to make your emails so interesting that your customers will always open them and not let them sit unopened in your email inbox
The importance of testing your landing pages before you launch your site
Where to find articles online that you can simply add to your site without having to pay one single cent.
How to give your customers and prospects EXACTLY what they want rather than suggesting that you should give them what they need!
...and much, much more about selling to your propects in a confident, self-assured way that completely engages their trust as well as takes cares of their expectations and needs of you.

Want to discover how to speak the real language of internet marketing and put it into practice for your business?

Everything is Thoroughly Explained in Simple Everyday Terms in my e-Book...

Don't Delay Sell More Online

Don't think that this ebook is just about theory. Everything in this practical, solid manual has been tested and proven!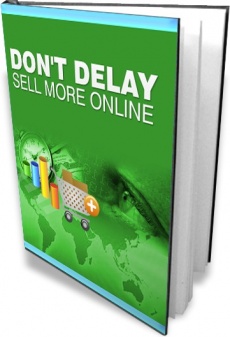 Price: $

4.95
Ebook Type:
PDF
Rating:
Site owner:
Put the rating form on your site!
Listing wrong or need to be updated?
Modify it.
E-Marketing Package!
338 E-Marketing ebooks Click here to see the full list of these ebooks
(total value $3366.90)
Buy Now
just for $49.95
$3316
off
Silver Package!
Any 100 ebooks from 2000+ titles Click here to see the full list of these ebooks
Buy Now
just for $29.95
Gold Package!
Get full access to 2000+ ebooks Click here to see the full list of these ebooks
Buy Now
just for $49.95
Mistake found?
Select spelling error with your mouse and press Esc