Do it Yourself Grid Tie Ebook
Category:
Home
Title:
Do it Yourself Grid Tie
Description:
Do it Yourself
Grid Tie
Do it yourself Grid Tie. Homemade AC Grid Tie made easily!
When it comes to reducing your power bill, some people just are not interested in big bulky battery banks and battery maintenance. They want to take their windmill or solar panels and just hook them up to their grid. Even if their power meter doesn't turn backwards, they can offset the power that they use. This ebook shows how to take a simple AC induction motor and use it to pump power back into the grid. It is a lot easier than people think. These motors are everywhere.
You can find small ones in:
blow dryers
blenders
ceiling fans
dish washers
weed eaters
vacuum cleaners
fans
You can find medium size(1/4 to 1/2 HP) ones in:
clothes dryer
clothes washer
You can find larger ones in:
attic fan motors
electric lawnmowers
air conditioning fan motors
A lot of these motors you can get for free or cheap
I know what you are thinking. Why can't you use a regular grid tie inverter like the "Windy Boy"? Well, there are a few reasons. The first major reason is simple. Because my homemade grid tie inverter is either free or very cheap. The Windy Boy inverter is $2,000 to $3500 depending on what you get.
The average small home windmill (800 - 1000 watts and 7 foot diameter blades) that hooks to a 12 volt battery bank starts charging at about 200 rpms and tops out power at about 600 rpms. That is about 15 rpms per volt. At 25 mph wind and 600 rpms, you would be producing about 40 volts at up to 50 amps or so....
This ebook will show you the following:
Charging batteries using grid tie (for emergency backup)
Use your windmill with an AC motor to "backfeed" the grid
Make a simple wind speed sensor to engage the grid tie at the right time
How asynchronous grid tie works
Make pulleys, any size you want out of plywood, super easy
Homemade grid tie inverter - solar can grid tie with this!
Make an automated Poor Man's Power Point Tracker (solar or wind)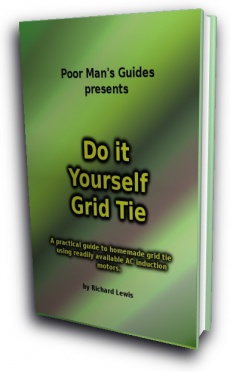 Ebook Type: PDF
Rating:
Site owner:
Put the rating form on your site!
Listing wrong or need to be updated?
Modify it.
Mistake found?
Select spelling error with your mouse and press Esc