Delicious Wine Making Made Easy Ebook
Delicious Wine Making Made Easy
Category:
Crafts
,
How To
Title:
Delicious Wine Making Made Easy
Author:
Scott Young
Description:
Who else wants to find out how fun & easy it is to make your own delicious homemade wine your friends will rave about?
Be prepared though - you are about to add a fun and relaxing hobby that you can enjoy for the rest of your life!
Here's a summary of the benefits you'll receive working with me:
Understand how to properly read a hydrometer


So that you know when it is time to move on to the next important step in the wine making process
Learn how you must clean your wine equipment


So that you avoid spoiling your batch of wine due to bacteria and other air born "pests" that can take control of your wine
Learn what to do when your wine "isn't working"
Be able to diagnose what your wine is up to so that you can bring it "back from the dead"

Learn which type of water to use with your wine kit

 


Find out if you can use water out of the tap after all!
Learn how long you should age your wine


So that even your wine connoisseur friends can't tell the difference between professionally made wines and the one you made a year ago
To filter or not to filter?
Learn what you can expect from filtering or not filtering your wine so you can decide what is right for you

Discover how to use your cordless drill

 
To ensure that your wine bottles don't explode on you in your wine cellar
Discover the best place in your house to make your wine


And what you can do to ensure that the wine remains at the optimum temperature so that the yeast "can do it's thing"
Discover the difference between aging the wine in the carboy or in the wine bottle
So that you can make an informed decision on which route you would like to go

Discover how you can make wine from items in your own backyard

 
So that you can save even more money ($70 to $150 PER BATCH!) and have a ton of fun doing it!
Enjoy the same wine making tricks and techniques that experienced home made wine makers have mastered


... and quickly and accurately use to make your own wine stress-free every time!
Find out how to properly store your wine once it has been bottled
including making an informed choice about which cork and wine bottle to use

Know in advance how air could ruin your batch of wine

 
So that you do not turn your hard work into wine vinegar
Learn how not to "shock" your wine


So that you can enjoy its taste to its fullest potential
Master the one thing that will ensure a great batch of wine every time

 
Please Note: this isn't included in your run of the mill instructions
Discover which yeast to use
Depending on the type of fruit your are using to make wine
You're getting:
Easy to follow step-by-step instructions included for every batch of wine whether it's made from fruit, from a kit or from fresh grapes!
A Glossary of wine making terms so that you can "talk the talk"
A "quick-start" reference guide to have by your side to ensure that your instructions easily available when you are making your wine
A "Top 10" list of common sense tips and tricks that will make your wine making experience a whole lot easier
A shopping list of equipment you'll need to make wine (and beer)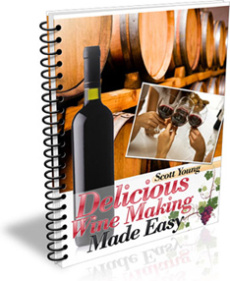 Rating:
Site owner:
Put the rating form on your site!
Listing wrong or need to be updated?
Modify it.
Mistake found?
Select spelling error with your mouse and press Esc