Cross+Lynk Ebook
Category:
Health
,
Remedies
Title:
Cross+Lynk
Author:
Christer Carlson
Description:
Discover the One-Minute Secret that will help you and your loved ones enjoy greater health and recover quicker from injury & illness with a new technique that is so safe and simple… a child can do it!
If someone you care about is suffering and you're feeling powerless to help…
If you're having difficulty recovering from an illness or injury…
If you're already involved in the health or healing profession and would like to see your clients get even better results…
If you'd simply like to feel less stress and greater vitality in your life…
If you'd just like to experience the incredibly satisfaction of being able to assist those in need…
And you'd like to be able to do all these things in as little as One Minute…
This ebook Can Help…
In short, it's a very simple and effective method for bringing balance back to the nervous system so that this innate healing ability can start working at full strength again – something it's rarely in a position to do for reasons I explain in the book.
In this ebook you'll learn …
Two simple "before & after" tests that will provide the user with concrete proof that physical changes have taken place in the body. This will also be the test to assure you that the procedure was done correctly …
The 4 points on every body that Cross+Lynk® focuses on, and exactly what to do with them to rapidly transform a person from a state of "Fight or Flight" to the opposite state of "Rest and Repair" …
The optimum position for a person to be in when receiving a Cross+Lynk® session, but why it's also perfectly okay to use other options when necessary …
Why a "disease" that affects more than one-quarter of the adult population is actually a completely normal response under certain conditions. Start addressing the possible cause of this problem and those pills you've been taking, along with their nasty side effects, might might no longer be needed …
How your body's healing ability can be severely affected by your thought patterns, and what this technique can do to help …
Why I spent thousands of dollars on an FDA approved medical device to test the effectiveness of this technique… and the ASTONISHING RESULTS it revealed! …
The simple "breathing" technique that reduces the duration of a standard Cross+Lynk® session to less than one minute, and why this should be no problem for more than 90% of the people you work with. (Even without that, it's only about two minutes long!) …
How it is virtually impossible to harm someone while using Cross+Lynk®, but there are a few important things to consider before and after the session to insure the complete safety and comfort of everyone involved …
And much, much more …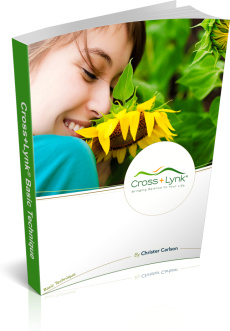 Ebook Type: PDFVideo Included,
Rating:
Site owner:
Put the rating form on your site!
Listing wrong or need to be updated?
Modify it.
Mistake found?
Select spelling error with your mouse and press Esc