Creative product creation Ebook
Creative product creation
Category:
Business
Title:
Creative product creation
Author:
Pam Renovato
Description:
Unlocking your creativity:
How to be a whole brained person:
Creativity is a powerful, unlimited resource that each one of us has. The only problem is that not all of us know how to tap into it.
As business people we are predominantly people who make the most use of the left side of our brain. Our logical side. Because of this entering into the creativity of creating our own products may seem uncomfortable at first. These are things that we need the right side of our brain for also. The creative side.
But we are smart people so these these things do not stand in our way. Just the fact that you have taken the initiative to start a business online- shows that you have creativity!
Don't tell anyone I told you this. I don't wish to offend. I have always found that it is much easier for a creative person to be logical than it is for a logical person to be creative. Would you you agree? :-)
You will find, as I have, that coming up with product ideas and Internet is the perfect union between your right brain and your left. A perfect marriage between logical reasoning and creative tendencies. It is only when we can make use of both sides that we can be a well rounded person. You are more than half there.
Smart people like us are excellent candidates for such a bond. Once we harness the power of both brains, there is nothing we cannot do. This is why I have chosen to discuss this issue with you. If you are not familiar with the details of this subject, it goes something like this.......
Your brain is divide into two sections. The right side is the creative side, and the left side is your practical side.
The right side of your brain is the side that notices colors, and sees pattern. It is the listener, the dreamer and feels it can do anything. The only downfall is that the right side of your brain can do nothing with out approval. It is often very timid.
The left side of your brain is critical, judgmental, cynical, cautious, to careful to take risks. It is also a loud mouth and very rigid. It is the giver of approval. The main downfall is that it is to cynical to give approval very often.
The reason why most people have difficulty is because for as far back as we can remember we have always had someone leaning over our shoulders. That person is usually correcting you. Most of this external pressure has been internalized by the left side of our brain.
Since the right side of our brain can not excel with out approval from the left side, and the left side is to cautious to give approval to the right side - we have a problem.
Both sides of our brain are equally important. We just need to be able to decide when each side should be dominant.
We need the right side of our brain to brainstorm and come up with ideas. We need the left side to outline and organize those ideas. How can we force both sides of our brain to compliment each other and not contradict each other?
First off we need to remember to keep creating and the business side of things separate.
Picture your self as an eight year old child. You have no pressure from adults, you are always learning new tasks. This will help to revive that "I can do it" attitude.
Don't block what you are hearing from the left side of your brain. When your left brain tells you what you are doing is not a good idea- listen. Don't fight resistance. When you surrender power, you gain it. Ask your self what it is you are afraid of. What is standing in your way?
Contents:
Unlocking creativity
Generating ideas
How to be a whole brained person
Creative Exercises
Creative Problem solving
Mind maps
Processes for problem solving
Brainstorming techniques
Other techniques
Organizing your ideas
Creating an outline
Your journal
Product formulas
Bundling
Spinoffs
Bookmarks
Tips
Questions
Research sources
Other ideas
Packaging your products
Delivering your product
Accepting credit cards for instant access
In closing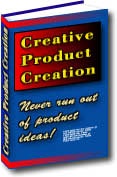 Site owner:
Put the rating form on your site!
Listing wrong or need to be updated?
Modify it.
Business Package!
137 Business ebooks Click here to see the full list of these ebooks
(total value $1427.05)
Buy Now
just for $49.95
$1377
off
Silver Package!
Any 100 ebooks from 2000+ titles Click here to see the full list of these ebooks
Buy Now
just for $29.95
Gold Package!
Get full access to 2000+ ebooks Click here to see the full list of these ebooks
Buy Now
just for $49.95
Mistake found?
Select spelling error with your mouse and press Esc