Coping With ADHD Ebook
Category:
Children
,
Health
Title:
Coping With ADHD
Description:
"Tired Of Beating Your Head Against The Wall Trying To Figure Out How To Deal With Your Loved One Having ADHD"
Don't Waste Any More Time And Money On Other Products Or Instructions That Have No Clue When Talking About ADHD.

Dear Parent:

Attention Deficit Hyperactivity Disorder is becoming one of the most diagnosed disorders among children and even adults these days. Many years ago, the acronym ADHD was virtually unheard of. When you get the word that you or your child has ADHD, you might feel overwhelmed wondering where you can turn for information on how to deal with this new thing in your life.

We can understand! That's exactly why this might be the MOST IMPORTANT letter you've ever read.

There have been as many as 750,000 children in America diagnosed with ADHD. Some say the actual number is much, much higher. Adults who are being diagnosed have probably been suffering with the disorder for years without being able to put a "finger" on what exactly has made them act the way they do.

With an ADHD child or adult, the first thing to do is to gather as much information as you possibly can. It's imperative that you understand what ADHD is, what the symptoms are, and how to deal with those symptoms.

We Have That Information You Are Looking For!

ADHD is NOT a disease. It is not an incurable illness. ADHD is a disorder that can be controlled and dealt with in positive, healthy ways. But in order to effectively control the behaviors that accompany ADHD, you need to know what exactly you are dealing with.

Our new e-book, "Coping With ADHD", is the answer to your prayers! There is a lot of information out there that can help you, but if you have an ADHD person in your life, chances are pretty good that you don't have time to go looking for what you need.

Now You Don't Have To!

The truth is that you want the very best for your child. But you worry about him or her because they don't glide through school effortlessly and they have tough times with things like following directions and sitting still. The adult with ADHD has problems finishing projects and paying attention when they should be.

Both children and adults with ADHD can thrive - when you have techniques and tips that can help you conquer the symptoms and overcome!

What's The Secret?

It starts with one universal thought that is an incredible truth - hear it and believe it! Every single person with ADHD has hidden talents and skills that he or she isn't using nearly as powerfully as they can. So why is it so difficult to find those talents?

So very often, success goes hand and hand with education. But general education teachers are pretty well trained to deliver information to students who will sit still and listen. Kids with ADHD simply cannot do this, so they miss out on what their peers are receiving simply because they don't have ADHD.

But There Is Help!

Do any of the following statements apply to your child?
They can't concentrate even while playing?
Their room is a hopeless mess with papers, toys, and clothing everywhere? This is normal for a teenager, but not so normal with an 8-year old!
They make careless mistakes while doing homework - even when he knows the material?
Your child often loses items that she needs like school supplies.
Teachers are always contacting you about your child to report "bad" behavior.
Does he always have to be standing up even when he should be sitting down?
They butt in during conversations with topics that are completely off the topic being discussed.
Your kid speaks quickly with little to no thought about what is being said.
These are all classic symptoms of ADHD. What about adult ADHD? What are the symptoms of that?
Broken promises
Unfinished tasks
Moving from job to job, often quickly
Entering into and leaving many different relationships
A tendency toward alcohol and/or drug abuse
Procrastination
A perceived sense of irresponsibility
Disorganization
When you become familiar with what ADHD is and how it presents itself, it is often easier to identify those who have the disorder. So many people have misconceptions about ADHD, and it's time to put those misconceptions in the vault and lock them away forever!

ADHD Can Be Dealt With Easily And Effectively - If You Know What To Do!

This valuable e-book can show you all sorts of amazing techniques when dealing with ADHD. If you're a parent of an ADHD child, you might initially feel like a failure as a parent.

Nothing Could Be Further From The Truth!

While many studies indicate the ADHD is genetically inherited, that has nothing to do with why your child has this disorder. Actually, once a diagnosis is made, most parents feel a sense of relief that they finally know what's wrong with their child. Once you know what you're dealing with, you can start arming yourself with coping techniques.

So what will you learn in this book? Here's a little sneak peek:
What behaviour changes need to be made
The advantages and disadvantages of medication
How families can cope with an ADHD person
Building your ADHD child's self-esteem
How to parent an ADHD child
Why your child is so angry and how to defuse that anger
And MUCH MORE!
We offer over 22 tips on how to address this disorder and overcome the symptoms that are holding you or your child back from realizing full potential. Support is out there.

This Book Is A Great Place To Start!

You need to realize that most people who have this disorder truly want to behave differently. They might not act like it, but they do. They simply don't know how. It's time for you to take action now!

With our book, "Coping With ADHD", you will learn how to teach your child to better understand the diagnosis of ADHD and why they are acting the way they are. You will learn how you, as a parent, can encourage different behaviour that will not only help your child cope, but change too.

What's the greatest advantage of all? Your home will operate more smoothly, your family will feel more at peace, and your child will finally find his or her place in society. What can be more valuable than that? NOT MUCH!

That's exactly why you should order "Coping With ADHD" today. Once you do, you'll be well on your way to learning more about this disorder and the most effective ways to combat it and overcome it!

We've put together this book using information from the experts on ADHD - doctors, counselors, teachers, and parents. There's even a section on how to educate your child's teacher about your child's problem.


Table of Contents:
Introduction
What Causes ADHD?
What is ADHD?
Dealing with Your Feelings as a Parent
Not My Child
To Medicate or Not to Medicate
Behavior Changes
Specific Medications
Families and ADHD
Your ADHD Child's Self Esteem
Parenting an ADHD Child
Anger and ADHD
Teaching an ADHD Child
Adult ADHD
Finding Support
Conclusion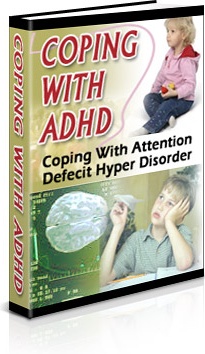 Price: $

9.95
Ebook Type:
PDF
Rating:
Site owner:
Put the rating form on your site!
Listing wrong or need to be updated?
Modify it.
Children Package!
88 Children ebooks Click here to see the full list of these ebooks
(total value $551.85)
Buy Now
just for $29.95
$521
off
Health Package!
184 Health ebooks Click here to see the full list of these ebooks
(total value $1671.85)
Buy Now
just for $37.95
$1633
off
Silver Package!
Any 100 ebooks from 2000+ titles Click here to see the full list of these ebooks
Buy Now
just for $29.95
Gold Package!
Get full access to 2000+ ebooks Click here to see the full list of these ebooks
Buy Now
just for $49.95
Mistake found?
Select spelling error with your mouse and press Esc