Cooking Library (volume 5) Ebook
Category:
Cooking
Title:
Cooking Library (volume 5)
Description:
FRUIT AND FRUIT DESSERTS
CANNING AND DRYING
JELLY MAKING, PRESERVING, AND PICKLING
CONFECTIONS
BEVERAGES
THE PLANNING OF MEALS
The fifth and final volume of The Complete Library Of Cooking, deals with the varieties of fruits and the desserts that can be made from them, the canning and preserving of foods, the making of confections of every description, beverages and their place in the diet, and every phase of the planning of meals.

With fruits becoming less seasonal and more a daily food, an understanding of them is of great value to the cook. In Fruit and Fruit Desserts, you will first discover their place in the diet, their nature, composition, and food value. Then you will proceed with the preparation and serving of every variety of fruit. Included in this section also are fruit cocktails, those refreshing appetizers often used to introduce a special meal. To understand how to preserve perishable foods in the seasons of plenty for the times when they are not obtainable is a valuable part of a cooks knowledge. Canning and Drying deals with two ways of preserving foodstuffs, treating carefully the equipment needed and all the methods that can be employed and every part of the procedure followed. The fruits and vegetables that permit of canning, as well as certain meats and fish, are taken up in a systematic manner. Jelly Making, Preserving, and Pickling continues a discussion of the home preservation of foods, showing how they can be kept for long periods of time not by sterilization, but with the aid of preservatives. Each one of these methods is treated as to its principles, equipment, and the procedure to be followed. After trying the numerous recipes given, the cook will be able to show with pride the results of there efforts, for nothing adds more to the attractiveness and palatability of a meal than a choice jelly, conserve, marmalade, or jam.
Contents of Cooking Library (volume 5)
FRUIT AND FRUIT DESSERTS
Fruit in the Diet
Composition of Fruits
Food Value of Fruits
Preparing and Serving Fruits
Blackberries
Blueberries
Cranberries
Raspberries
Strawberries
Miscellaneous Berries
Apples
Apricots
Cherries
Grapes
Peaches
Pears
Plums
Quinces
Rhubarb
Grapefruit
Lemons
Oranges
Miscellaneous Citrus Fruits
Bananas
Pineapples
Miscellaneous Tropical Fruits
Melons
Fruit Cocktails
Dates
Figs
Prunes
Raisins
Dried Apples, Apricots, and Peaches
CANNING AND DRYING
Necessity for Preserving Foods
Principles of Canning
General Equipment for Canning
Open-Kettle Method
Cold-Pack Method
Procedure in the One-Period Cold-Pack Method
Procedure in the Fractional-Sterilization Method
Steam-Pressure Methods
Canning with Tin Cans
Oven Method
Preparation for Canning
Directions for Canning Vegetables
Directions for Canning Fruits
Sirups for Canning Fruits
Canning Meat and Fish
Storing and Serving Canned Foods
Scoring Canned Foods
Principles of Drying
Drying Methods
Directions for Drying Vegetables and Fruits
Storing and Cooking Dried Foods
JELLY MAKING, PRESERVING, AND PICKLING
Value of Jellies, Preserves, and Pickles
Principles of Jelly Making
Equipment for Jelly Making
Procedure in Jelly Making
Scoring Jelly
Recipes for Jelly
Principles of Preserving
Preserves
Conserves
Marmalades
Jams
Butters
Principles of Pickling
Recipes for Pickles
Recipes for Relishes
CONFECTIONS
Nature of Confections
Composition of Confections
Foundation Materials in Confections
Flavorings
Colorings
Acids
Food Materials
Equipment for Confection Making
Cooking the Mixture
Pouring and Cooling the Mixture
Finishing Candies
Taffies and Similar Candies
Caramels
Fudge and Related Candies
Fondant and Related Creams
Miscellaneous Confections
Serving Candy
BEVERAGES
Nature and Classes of Beverages
Water in Beverages
Relation of Beverages to Meals
Alcoholic Beverages
Stimulating Beverages
History and Production of Coffee
Preparation of Coffee
Serving Coffee
History and Production of Tea
Preparation of Tea
Serving Tea
Nature and Selection of Cocoa and Chocolate
Preparation of Cocoa and Chocolate
Serving Cocoa and Chocolate
Cereal Beverages
Ingredients for Fruit Beverages
Preparation of Fruit Beverages
Soft Drinks
Nourishing Beverages
THE PLANNING OF MEALS
Necessity for Careful Meal Planning
Successful Marketing
Keeping Household Accounts
Factors Influencing Cost of Foods
Economical Buying
Suitability of Food
Composition of Food
Balancing the Diet
Diet for Infants and Children
Diet for the Family
Proportion of Food Substances
General Rules for Menu Making
Card-File System for Menu Making
Dinner Menus
Luncheon Menus
Breakfast Menus
Menus for Special Occasions
Table Service
Confections deals with that very delightful and fascinating part of cooking--confection making. Not only are home-made confections cheaper than commercially made ones, but they usually contain more wholesome materials, so it is to the cooks advantage to familiarize themselves with the making of this food. Recipes are given for all varieties of confections, including taffies, caramels, cream candies, and the confections related to them. Fondant making is treated in detail showing every step and directions for making many unusual kinds. Though beverages often receive only slight consideration, they are so necessary that the body cannot exist very long without them. In Beverages is discussed the relation of beverages to meals, the classes of beverages, and the preparation of those required by the human system, as well as the proper way to serve them. In addition to coffee, tea, cocoa, chocolate, and cereal beverages, fruit, soft, and nourishing drinks also receive their fair share of attention.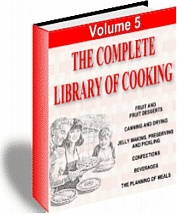 Site owner:
Put the rating form on your site!
Listing wrong or need to be updated?
Modify it.
Cooking Package!
114 Cooking ebooks Click here to see the full list of these ebooks
(total value $710.95)
Buy Now
just for $30.95
$680
off
Silver Package!
Any 100 ebooks from 2000+ titles Click here to see the full list of these ebooks
Buy Now
just for $29.95
Gold Package!
Get full access to 2000+ ebooks Click here to see the full list of these ebooks
Buy Now
just for $49.95
Mistake found?
Select spelling error with your mouse and press Esc