Children ebooks
Page 14 of 16
Category:
Children, Dogs, Humor
Title:
THE HAROLD ANGEL - The Tale of an Almost Good Dog
Author:
ELLIE CROWE
Description:
THE HAROLD ANGEL, the story of an almost good dog, is a chapter ebook for young readers. Harold wants to be good. He wants to help his family but he is always getting things wrong. When he hears the children sing "Hark the Herald Angel," Harold thinks everyone is singing about him. At last they all think he is good! An angel dog! Now he can sleep in the Dad's bed! share the Xmas turkey! But Harold is making a big mistake...

Rating:
Category:
Children, Family, Fiction
Title:
Caylee Marie Anthony: Remember me with love.My message to little boys and girls
Author:
Sala-d Malcolm
Description:
An imaginative story for kids with the late Caylee Marie Anthony reflecting on her brief life and giving you a lok into what she might be going through now. Although the circumstances surrounding her death were very tragic she still encourages little kids to learn and practice love.

Rating:
Category:
Adventure, Children, Fantasy
Title:
Mr. Planemaker's Diving Machine
Description:
pDellandEmmelisaPlanemakerhavenosoonerreturnedfromtheirspacemissiontofollowtheirdadstrailoflightthantheyareoffonanewadventureppTheycannotcontaintheircuriositywhenanotherstrange-lookingmanturnsupontheoldcomputerwarningthemnottogobacktoHardwarelandwheretheydtrainedtobecomeastronautsppAgroupofcriminalsattempttostealmoneyfromMrsPlanemakersoDellandEmmelisasetaboutlearninghowtostopthemandtheresagreatdealtolearnTheyreturntoHardwarelandtoattendcybercrimecoursestakescubadivinglessonsandundergosubmersiblepilottrainingWhentheyvepassedallthecoursestheintrepidaquanautsarereadytobegintheirnextmissiontofishoutthecybercriminalsp

Rating:
Category:
Children, Crafts, Family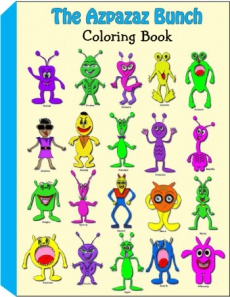 Open ebook.
Add to Wish List
+$1
Title:
Free Azpazaz Bunch Coloring Book - Free Childrens Coloring Pages - Download and Print PDF
Author:
Tracie Johansen
Description:
Have lots of fun with the Azpazaz Bunch Free coloring book. You will get 81 fun little alien characters to print and color for hours of fun. Simply choose which picture you want to color and print it, then start coloring. This is a downloadable PDF so you can start coloring in minutes.
The Azpazaz Bunch is a group of cute little aliens from the planet Azpazaz. They are silly, crazy, scary and friendly little guys and gals. You can get creative and color them any way you like. You can share them with your friends and have a good time coloring together. Mom and dad can have fun coloring too. The pictures are full page prints.
Download your free copy today and start coloring. Get out your crayons, colored pencils, markers or paints and have a good time. We have lots of activities that include the Azpazaz Bunch so if you enjoy the coloring pages and our crazy characters, you can find other activities to enjoy too.
You can color them and make your own notebook featuring all 81 Azpazaz Bunch characters.

Ebook Type: PDF
Rating:
Category:
Children, Fiction, Humor
Title:
Diary of a Wimpy Schoolgirl
Author:
A. R. Rand
Description:
The humorous tale of a third grader and her teacher when an improbable accident happens. The little girl's diary becomes her only friend as she writes about what occurred. On a typical school day, Eloisa Mae, nicknamed Beam (she's her mother's little sunbeam) is very tired after a weekend spent traveling to the home of her grandparents. Beam is barely awake when her teacher, Mrs. Binklemeyer, asks her a question. Beam yawns and yawns with such force that she sucks her teacher right into her mouth. Whoops! Naturally, the mishap shocks Beam and her teacher. Beam's parents freak out as does the principal and her classmates. Everyone in the town tries to keep it a secret. However, word gets out and reporters hound Beam. People laugh at her. Some call her a freak. Do-gooders try various ways to separate Beam and Mrs. Binklemeyer but nothing works. In their present condition, Beam will never grow up and Mrs. Binklemeyer will never teach again. Will some clever person step up to help? Hope so.

Rating:
Category:
Adventure, Children, Fantasy
Title:
Duke & Michel: The Mysterious Corridor
Author:
Elias Zapple
Description:
Follow the adventures of skateboarder Michel as his cousin goes missing and he meets up with a greedy, sarcastic, narcissistic, talking Basset Hound. Together they go on a mission to find Michel's cousin and do battle with the evil Master.
A bizarre fantasy story set in an alternate-reality all linked together by a mysteriuos corridor. Each door in the corridor takes you to an even more bizarre world such as Skaters' Paradise, Candyland, Napland and Planet Football. You'll laugh until your guts explode. Get it now before Duke insults you.
Excerpt from Duke & Michel: The Mysterious Corridor:
Duke to Michel: Even though I'm fairly certain you'd struggle in a quiz against a pigeon, you are capable enough of opening doors.
The first in the Duke & Michel series. The 2nd and 3rd books are now out!


2nd Book: Duke & Michel: The King Tingaling Painting
3rd Book: Duke & Michel: Return of the Nibbles
The final book in the series due out in 2016.

Ebook Type: Audio Included,
Rating:
Category:
Children, Education, Music
Title:
Good Morning - Along with a Song (Cris and Lou's
Author:
Cris and Lou, Illustrated by Chris Tucci
Description:
Cris and Lou's colorful and simple book about starting the day in the right way comes with the link to a free download of the Cris and Lou song: "Good Morning!" Let your little reader marvel at the beautiful illustrations by Chris Tucci as you play the engaging and catchy song along with reading - making the difficult early reading stages fun! In the book you will find a link to a free download of the Good Morning song, which allows you and your child experience how the words become alive with sound and illustrations. This book is the first in the Cris and Lou - Along with a Song series, and is very suitable for toddlers, pre-schooolers and early readers up to 8 years old. Also suitable for young English Language learners.

Ebook Type: PDF
Rating:
Category:
Children
Title:
Cat Books For Kids: Play The Kitten Game Book 2
Author:
The Animal Detective
Description:
Attention cat lovers! The Animal Detective is back again with the second book in his popular cat book for kids series entitled "Cat Books For Kids: Play The Kittens Game- Book 2". If you enjoyed the first book, you will find this second book just as much fun and challenging. In short, the aim of the game is to try and guess the name a special kitten using the clues provided, along with a choice of 3 really cute kitten pictures. Even if you guess incorrectly you will still be given more chances to discover the correct kitten. Next you will see some more facts about the kitten before you move onto the next question. There are 15 cat breeds in this book including Bombay, British Shorthair, Bengal, Toyger, Australian Mist and 10 more. Some breeds you may have never even heard of before which is what makes this game so much fun and challenging as well. You are playing and learning at the same time! Act now and get this digital book as a FREE download from the Amazon Kindle Store on Sunday, July 27th and Monday, July 28th. All that I ask in return is that you please leave me a book review about this book in the Amazon Kindle Store. Remember that you don't need to own an Amazon Kindle Reader to read this book, as you can download a free Kindle App (when you are at the Kindle Store) that will allow you to read the book on any digital device including your computer.

Ebook Type: PDF
Rating:
Category:
Adventure, Children, Young Adult
Title:
Duke & Michel: The King Tingaling Painting
Author:
Elias Zapple
Description:
The incredible sequel to Duke & Michel: The Mysterious Corridor is here and things get a lot worse for Michel.
Having returned home after his adventures in that strange universe, Michel has to return. He reunites with Duke, the talking, greedy, sarcastic, food-obsessed, narcissistic, lazy, arrogant Basset Hound. Michel's super happy to have to get Duke to join him again.
Unfortunately, they become pawns in an evil game between the Master and King Tingaling, who's still royally riled about a painting depicting him in a compromising position with his favourite pig, Buttercup.
Will Michel and Duke survive? Will Duke & Michel find out what's happened to Michel's family? Read it to find out.
Read Duke & Michel: The King Tingaling Painting already? Don't worry, the sequel, the third Duke & Michel book, is already out! Duke & Michel: Return of the Nibbles is out now and things get even worse. Will light ever shine again in Michel's world? More hilarity and adventure awaits!

Ebook Type: Audio Included,
Rating:
Category:
Adventure, Animals, Children
Title:
SAFARI TIME
Author:
LaVonna Moore
Description:
Safari Time is a wonderful and educational children's book full of amazing facts about the animals, which makes learning fun. This book is loaded with close-up color photographs taken with a special zoom lens. You will find lions, baby lions, grizzly bears, black bears, monkeys, chimpanzee, zebras, orangutans, baby orangutan, squirrel, snow leopard, cheetahs, tiger, elephant, eagles, macaws, deer, kangaroo, buffalo, and many more animals. These photographs were taken at various zoos and exotic zoos in Oklahoma and Texas. Visit a paint horse farm in The Kiamichi Mountains of Oklahoma. Take a tour of an exotic zoo in Johnson City, Texas. See the face of a stingray, a spotted stingray, penguins and toucans at The Dallas Aquarium. Next, visit The Corpus Christi Aquarium and see shark, stingrays, and a dolphin that looks like he is smiling at you. Do you know what a mandrill is? Find out in this safari adventure. There is a fun activity game at the end. This book is also available in paperback with color photographs.

Rating:
Children Package!
88 Children ebooks Click here to see the full list of these ebooks
(total value $551.85)
Buy Now
just for $29.95
$521
off
Mistake found?
Select spelling error with your mouse and press Esc