Cat Training To Stop Your Cat's Behavior Problems! Ebook
Category:
Cats
Title:
Cat Training To Stop Your Cat's Behavior Problems!
Author:
Paula Robb
Description:
"Put an End to the Stress and Annoyance of Your Cat Behavior Problems!
...AND Slash Your Cat Obedience Training Time in Half by Using Techniques That Give You Immediate Results!!"
Here's a Small Sample of What You'll Learn:
What to do when your cat exhibits fear aggression (If your cat is crouched down against the ground, ears flattened, and is growling, moments before attacking, this is probably fear aggression)
What to do and look out for when there is more than one cat in the house! Use my Top Cat Maintenance Program to keep the peace!
Tricks to STOP EXCESSIVE HOWLING... make sure you (and the neighbors!) get a good nights sleep!
The ESSENTIAL nutrients that you MUST feed your cat to ensure that he is kept in the best possible health and will live a long and happy life...
Sick of having your cat race out of doors when you open them? Read my ebook and you'll never have to worry about this again.
Separation anxiety getting you both down? Find out about the best ways to make it go away.
Is your cat frustrated? Discover how to read into this and find out what is bothering him so that he doesn't take out that frustration on you in an aggressive manner.
How to stop your cat from scratching and clawing your furniture - make your furniture last YEARS longer by putting a stop to this frustrating problem.
How to stop your cat from chewing and/or sucking on wool. Discover why your cat is doing this AND how to put and end to it.
How to stop territorial aggression. This occurs in a variety of places, such as the litter box, seats on sofa, food bowl, and so on, and can be particularly prevalent between two cats that share the same home. Time to end the frustration right now!
How to get your cat to sleep when you do! Cats are by nature nocturnal, but adapt easily to human sleeping patterns when you follow my methods.
Having trouble with your your cat getting into the trash? Find out how to stop this annoying behavior with my sure-fire technique.
Having problems with the family cat being harassed by a dog in the house? Learn an easy method to let your cat and dog live in harmony!
Hate having your cat jump up on places where you don't want him to? (counters, sofas, etc) Learn six simple techniques to stop him jumping up on places he shouldn't be ever again!
Got a scared cat? Some cats panic every time the smallest change occurs in their routine and run under the nearest bed/sofa. Discover how to teach your cat to calm down and become less nervous in such situations.
Got a dominant cat? We teach you how to deal with him.
Did you know that your cat may not know why you are trying to correct him? Learn how to make him understand. This will remove the frustration and rapidly increase the speed of your cat's learning.
All the secrets of professional cat trainers are revealed, and best of all are easy to apply!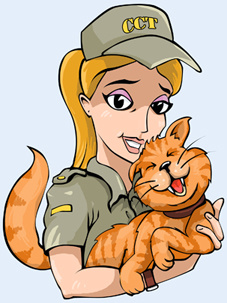 Rating:
Site owner:
Put the rating form on your site!
Listing wrong or need to be updated?
Modify it.
Mistake found?
Select spelling error with your mouse and press Esc