Caring For Betta Fish Ebook
Category:
Fish and Fishing
Title:
Caring For Betta Fish
Author:
Marcus Song
Description:
An Insider's Guide For Betta Lovers
Here's a quick look at just a few of the valuable techniques I'll share with you:
A guide to boosting your betta's life expectancy. It's normal to become highly attached to your little one. Follow these unbreakable rules and your Betta will be alive and thriving for as long as possible.
If you do decide to get your betta from a pet store (as most hobbyists do) watch for these 7 danger signs and you'll maximize the chances of bringing home a happy betta.
Good news: despite what you might have heard, bettas don't necessarily have to live by themselves, as long as you follow these 9 rules.
My very private method of giving your betta the means to live a long, vigorous life.
When you put a betta into a brand new tank, there can often be high levels of ammonia build-up, which makes your fish sick. You'll learn how to avoid that, using my very private "seeding" method.
What it means when the tank keeps getting a foul smell even though you cleaned it... and what you can do to get rid of the odor once and for all.
Give even the most aggressive male bettas the best possible life of socializing with other bettas -- without any risk whatsoever of there being a fight!
How to safely and humanely prevent your Betta from jumping out of his bowl. (Bettas must not dry out -- which is what could happen if they jump out of their bowl -- causing them to die.)
Plus... what to do if your betta won't eat. Don't be alarmed. Just follow these two simple steps.
The exact time of day, according to biologists, when it's best to feed your betta.
You an even have two males in the same tank together (and they won't fight with each other!) under these special conditions.
How to train your betta to swim around the tank in whatever pattern you command. Your friends will be dazzled!
What you must do before bringing home your new pet betta. Doing this simple series of steps can avoid having your fish die from "New Tank Syndrome."
In the Troubleshooting Guide you'll learn what it means when you see these symptoms, and what you can do to easily solve them:
A special trick to giving your betta the socialization he needs, even if he's all by himself!
Your betta has cloudy eyes.
You see split or shredded fins.
How to prevent bettas from fighting.
Does your betta need to be in a larger tank? Watch for these 3 warning signs that indicate your little one feels too confined.
Do not, under any circumstances, place your tank in either of these areas, because it could cause your betta to die.
Your betta's fins are withering away and disintegrating.
Your bettas lose their appetite and become sluggish.
Your betta's body is swollen. You may see him floating on his side at the top of the water unable to balance himself. Maybe he even has trouble breathing.
Your betta loses color or develops horizontal stripes.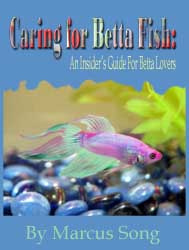 Rating:
Site owner:
Put the rating form on your site!
Listing wrong or need to be updated?
Modify it.
Mistake found?
Select spelling error with your mouse and press Esc