CARD TEARING EBOOK Ebook
Category:
Fitness
Title:
CARD TEARING EBOOK
Author:
Jedd Johnson
Description:
This is the most complete instructional reference for card tearing available!

Once you purchase this ebook today, you will learn how to impress your friends and family with this cool strength feat.
What will stronger hands get you?
Pull heavier weight in the deadlift
Do more work in the back yard
Complete more reps in the gym
Make more shots on the court
Free drinks at the bar
Get more take downs
More stick speed in hockey
Be more steady when shooting your firearm
More phone numbers from the ladies!
Hit more homeruns
Make more tackles
Add yards to your drive in golf
What Benefits Are You Going to Get out of Card Tearing
There are many benefits you will get from tearing cards:
Mental Toughness
Winning Attitude
Stronger Hands
Lots of Fun!
Stronger Wrists
Stronger Fingers and Thumbs
Why should I purchase this ebook?
Here's a sample of what you'll get in this ebook.
Avoid frustration by learning how to properly chalk your hands!
The importance of the extensor muscles and why you must train them in order to realize your full hand strength potential
The #1 way to prevent injuries from card tearing
Find out how you can use push-ups to increase your grip strength and card tearing power
Find out 4 basic card tearing techniques and 7 advanced ones, each complete with clear images and easy-to-understand directions
Discover the Card Tearing Checklist - 5 mental points to run down in order to dominate every deck of cards in your path
40+ pages of exercises that will give you inhuman levels of hand strength
Strengthen your hands while simultaneously strengthening your shoulders and biceps
Learn the recognized technique for measuring the hands
How things lying around your house or garage can be used to strengthen your hands, wrists and forearms
Instantly improve your hand health with this simple recovery exercise
Learn the 3 exerices I do week in and week out that have kept my lower arms injury free since 2006
How one simple technique can help you tear a deck of cards
Find out the card tearing hierarchy. What are the most difficult cards to tear? Which are the easiest?
Realize the Cross-over to Other Strength and Sport Movements
You may have never thought of it but the arm positioning in card tearing is nearly identical to many other strength efforts you may be involved in. For instance:
Pressing Movements: The arm positioning in card tearing is very similar to the arm position in the bench press!
Choking: The card tearing position is very similar to choking someone out on the Mixed Martial Arts mat!
Wrestling: The squeeze you put on the cards mimics the squeeze you put on your opponent's hand, wrist, forearm or ankle!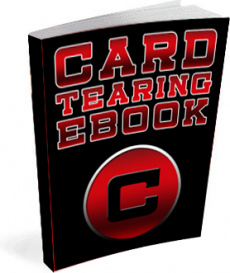 Video Included,
Rating:
Site owner:
Put the rating form on your site!
Listing wrong or need to be updated?
Modify it.
Mistake found?
Select spelling error with your mouse and press Esc