Bump to Birth Ebook
Category:
Family
,
Women
Title:
Bump to Birth
Author:
Lleaon Rao
Description:
I will show you how you can use Holistic Therapies like Diet, Supplements, Herbs, Aromatherapy, Homeopathy, Crystal Therapy and Acupressure For Common Pregnancy Ailments and Birth and have A Wonderful, Memorable Pregnancy and Birth!
This Book is written for Crunchy Mamas like you who question mainstream medicine, trust their body and instincts and take a Holistic route.
So who is this Book For?
FlowerAre you planning a Natural Unmedicated Birth?
FlowerAre You a Crunchy Mommy who wants to use Holistic Remedies During Pregnancy ?
FlowerDo you need a Guide Book that will help you deal with Common Pregnancy Ailments?
FlowerDo you want to avoid Medical Interventions and have a Natural Birth at Home or Hospital setting?
If you answered Yes to any of the questions above then This E-book is for YOU!
Why Holistic Remedies For Pregnancy and Childbirth?
FlowerDid you know that everything that you ingest reaches your Baby through the Placenta? Wouldn't it be great to give your Baby the best right from the beginning?
FlowerDid you know that "this Morning Sickness Medication" was removed from the Market because it caused Birth Defects? And the same medication is now available under a different Brand name.
FlowerDid you know you could avoid the use of unnecessary interventions during Childbirth using Natural Remedies?
I cover Common Pregnancy Ailments in this e-book so that you can deal with them using Holistic Remedies like Foods, Herbs, Supplements, Ayurveda, Homeopathy, Aromatherapy, Acupressure etc.
There are many reasons why you should buy Bump To Birth, here are some of the reasons:


Try this Miraculous Morning Sickness Tea Recipe to cure your Morning Sickness.
This Wonderful Smoothie can cure your Pregnancy Constipation and save you from taking stool softeners.
Learn why this Natural Iron Supplement (which DOES NOT cause Constipation) is better for you.
Learn how you can avoid antibiotics for UTI and Yeast Infections and treat them naturally using Foods, Herbs and Homeopathy.
Are you taking the Wrong Form of this "Vitamin" and doing more harm than good?
Prevent Stretch Marks using this Remedy instead of getting them now and treating later.
Learn how you can prevent and treat Chloasma using these GlowMama Skin Care Recipes.
Make Your own Pregnancy safe Headache Balm.
Say no to Pitocin and try these Remedies to Induce Labor Naturally.
Learn how this "Food" can Shorten Your Labor.
Don't let your doctor rush you for a C-Section because of a Breech Presentation, now you can safely turn your Breech or Posterior Baby using these Secrets.
Say goodbye to Pregnancy Insomnia and sleep like a Baby using these remedies.
Learn how you can prevent Perineal Tear (which means no Stitches and less painful" after pains")
Learn how these Herbs, Homeopathy and Acupressure can help you Deal with Labor Pain.
Bump To Birth's Miscarriage Prevention Tea Recipe and a combination of these "2 Homeopathic Remedies" can save threatened miscarriages.
Learn how to prevent and treat Postnatal Depression Naturally.
You can Reduce the chances of Postnatal Hemorrhage and even Treat it using "these Herbs and Homeopathic Remedies."
Learn how some Gemstones can make your Pregnancy and Childbirth Smooth and Beautiful
And much more…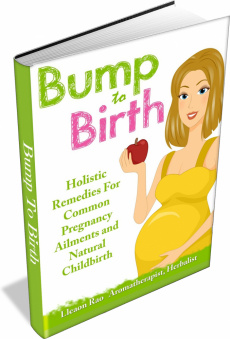 Ebook Type: PDF
Rating:
Site owner:
Put the rating form on your site!
Listing wrong or need to be updated?
Modify it.
Mistake found?
Select spelling error with your mouse and press Esc