Building Your Own Greenhouse Ebook
Building Your Own Greenhouse
Category:
Garden
,
Green Products
Title:
Building Your Own Greenhouse
Author:
Max Clarke
Description:
. . .become the envy of your neighborhood with

The Complete Guide to Building Your Own Greenhouse

Picture this. Out your kitchen window there's three feet of snow on the ground and the thermometer reads five degrees below zero. You have guests coming for dinner and you really want to impress them.
With a smile, you walk to your frig and pull out fresh lettuce, home grown tomatoes, fresh radishes and green onions. These veggies aren't pre-washed, treated with preservatives or vacuum packed for extended shelf life!
And no, you didn't get them from the grocery store where they were shipped from south or north of the equator (depending on where you live.) So where did they come from? Your own backyard!
Listen, it's amazing what inroads we've made in the growth and delivery of fruits and vegetables. Take a stroll through the produce aisles of your favorite supermarket during the winter months and you can find plums from Chile, avocados from Guatemala and ready-made salads sealed in plastic.
BUT, if you enjoy truly fresh fruits and vegetables take the step and learn how you can have these tasty commodities year round!
Building your own greenhouse may sound like a daunting task, but it really isn't.
Whether you are an avid gardener or a gardening wannabe, there is something for everyone in The Complete Guide to Building Your Own Greenhouse
How do they store heat
What is a Greenhouse
What are the different types of Greenhouses and how do they differ
Cooling and ventilating your Greenhouse
All about Greenhouse flooring - what type of floors are available and which should you use
Understanding heating methods
Good fuel sources
Energy requirements for your Greenhouse
What about watering your Greenhouse
What are cold frames and hot beds
What you can plant
Accessories and equipment
About that all important subject - lighting
What supplies will you require
Hey, we aren't saying that you will ever become a world famous conservatory. But you CAN become the envy of the neighborhood and grow your own fruits, vegetables and flowers.
Just one click away and The Complete Guide to Building Your Own Greenhouse you can discover how to build your own greenhouse.
Just picture yourself biting into fresh, juicy tomatoes that you grow yourself any time of year. Or crisp leafy salads covered in your favorite dressing.
Imagine having your very own fresh bouquets adorning your home every day of the year. And, without paying a florist to deliver them!
About The Author
Max Clarke has been a keen amateur gardener for several years.
He loves building things to help him with his hobby and has actually made several small greenhouses.
He is grateful to his friends, both amateur gardeners and commercial growers, that have shared some of their experiences and knowledge to help make his gardening and his book better.
He says that everyone should invest some time to create and maintain their own garden even if they only have a small area available.
A small garden is within almost everyone's budget and there are many rewards.
You will only really understand what he means when you start eating fresh, flavorful and inexpensive fruit and vegetables that you grew yourself.
But Max also gets great joy by sharing the produce and flowers that he grows and the knowledge from his years of experience as a gardener with his friends, family and, now, with the readers of his first book.
Table of Contents
What is a Greenhouse?
Uses of a Greenhouse
Innovative Uses of Old Greenhouses Include:
Greenhouse Types and Styles
Greenhouses for Your Area
How to Choose a Greenhouse
Choice of Greenhouse
Placement of Your Greenhouse
Framing Materials
Buying a Greenhouse
Ten Steps to Building a Greenhouse
Steps for Building Your Greenhouse
Materials for Building Your Greenhouse:
Do You Need a Customized Greenhouse?
Building Your Own Greenhouse
Important Factors
Planning a Greenhouse Business
Essential Steps in Planning Your Greenhouse Business
Which Type of Greenhouse?
Top Greenhouse Kits
Planning Your Greenhouse Location
The Best Frame for Your Greenhouse
Choose the Covering for Your Greenhouse
Footings, Flooring and Foundations
Flooring of Your Greenhouse
The Footings of Your Greenhouse
Selecting the Right Lights
Types of Lights
Light Requirements
Cooling, Ventilation and Your Greenhouse
Cooling and Ventilation by Blocking Sunlight
Cooling and Ventilation of Greenhouses by Plants
Ventilation Equipment
Automated Cooling and Ventilation Techniques
Understanding Heating Methods, Systems, Sources, and Distribution
Heating Systems and Methods
Popular Fuels:
Fuel Sources for Heating Systems
Heat Distribution inside Greenhouse
Calculating Energy Requirements for Heating Systems
Energy Requirements for Your Heating System
Watering Systems and Insulation Techniques
Insulation Techniques in Greenhouses
Greenhouse Watering Systems
Basic Greenhouse Care
Essential Accessories and Equipments for Maintenance
Greenhouse Maintenance Checklist
Maintenance Checklist for Your Greenhouse
Getting the Most from Your Cooling and Ventilation Systems
Maintaining the Heating Systems
Tips for Maintenance of Heating Systems
Control Greenhouse Pests and Diseases
Cleaning and Disinfecting Your Greenhouse
Cleaning Materials and Tools for a Small Greenhouse
Greenhouse Accessories Guide
Know Your Equipment and Supplies
Essential Greenhouse Supplies
Cold Frames and Hotbeds
Facts about Famous Greenhouses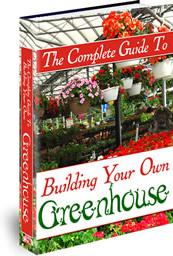 Price: $

17.00
Rating:
5

after

1

votes)
Reviewed by

Avinash Hasija

on 2018-11-02
My Rate
5
I will give 5stars to this book"Building Your Own Green House"as it tells various ways in building Greenhouse which are very helpful in living our daily routine life.
Reviewed by

Avinash Hasija

on 2018-11-02
My Rate
5
I will give 5stars to this book"Building Your Own Green House"as it tells various ways in building Greenhouse which are very helpful in living our daily routine life.
Site owner:
Put the rating form on your site!
Listing wrong or need to be updated?
Modify it.
Mistake found?
Select spelling error with your mouse and press Esc