Build Your Affiliate Army Ebook
Build Your Affiliate Army
Category:
Affiliates
Title:
Build Your Affiliate Army
Description:
"Wouldn't You Love To Kick Back, Relax And Let Someone Else Make Your Sales For You?"

Have you been staying up till four in the morning sending out emails, driving traffic and trying everything you could possibly think of to make affiliate sales?

Do you wish there was an easier way to make money online? Don't you wish that there was a way to make people make your sales for you (while you keep all the proceeds)?

Well, I'm almost scared to tell you, but there is a way. I've discovered an easy way to make hundreds of sales a day without doing a stitch of work...and if you read on, you'll discover how to do it to.


You know, I used to be like you. I used to be a working sap who spent every free second trying to make just one more sale. I spent years of my life selling products and seeing only a small percentage of the money I worked my butt off to get customers to spend (and yes, 50% is a small percentage). I struggled and I never made the money I was promised when I started doing Internet marketing.

I was an affiliate, you might even call me a super affiliate, but I wasn't making the kind of money you think super affiliates make. I was making chump-change, but even worse, I was working my butt off for it.

Since I was a high traffic wielding affiliate, I got to know some of the big Internet guru's. You know which type of people I'm talking about. The ones who really do make the big bucks and the ones who really do drive fancy cars, live in huge mansions and the ones who barely work a 10 hour week.

I met a lot of them and I talked to them online all the time. I was so jealous of them.

I knew that they made their money off because people like me worked our butts off, but I didn't know how I could do what they do for myself.

So I did what any good fan did, I pay attention and took careful notes.

I already knew lesson number one before I started taking notes. I knew it the same way that you already know it. The only way to make money online is to develop an army of affiliates ready to work as hard as they possibly can to make as many sales as they can make. That part is obvious. The part I didn't yet know was how to make affiliate want to sell for me....this is the part where most people fall flat on their faces.

So I started my education already knowing my goal. I pursued my dream with the endgame already finalizing. All I was missing was the steps I needed to take to accomplish it.

So I set out on a very unwise path of trial and error.

Initially I asked these guru friends of mine to help me build my own army, but it wasn't in their best interest and they all gave me the run around. It might not come as a surprise to you, but I was shocked to find out that these world-renown guru's wouldn't help me. I'm not going to say all of them were unhelpful, but some specific people who I personally made a fortune for dismissed me like they couldn't find the time.


This led me to rule number two. Never expect a favor from people when starting a business, especially when the people you are asking are your potential competition.

One of my guru friends told it to me straight. He told me from the beginning that building an army of affiliates will be an uphill battle because if I'm successful that means there'll be less sales for everyone else. He told me I could expect harsh treatment from fellow marketers and resentment from my peers. Despite this, I struggled on.

I started creating my own IM products and creating affiliate resources to manual people to help sell them. I listed my products on ClickBank, PayDotCom and the other affiliate websites.

I was working hard, but no one was interested in selling the products I was creating.

I knew that my products needed to be better, but I had no idea what I was doing wrong. I was dying to ask one of my guru friends for help, but I knew how that conversation would end.


Then a magically thing happened. One of my guru friends actually called me, asking me a favor. I was so excited that I said yes immediately. I knew that as soon as I helped him, I could ask him to help me in return.

And that's exactly what happened. I helped him out and he begrudgingly helped afterwards. He showed me exactly what I was doing wrong and how to instantly do things correctly.

I was skeptical of his methods are first, but the first product I launched with his help was a success. I had dozens of affiliates making hundreds of sales for me. I couldn't believe it. My automatic money making system was in place and it was finally paying off.

I quickly created more products and launched them with shocking results. I was making money without doing any of the hard work. I was sitting pretty and I couldn't believe how simple it was to discover.

I know how disappointing it can be working for days making sales for other people. I'm here to show you a better life.

This is why I took all the advice my guru friend told me and compiled it in this ebook. Build Your Affiliate Army was written to teach you how to build your own army of affiliates who's sole goal is making you money.

"Lead Your Own Money-Making Team Of Super Affiliates!"

Money may not grow on trees, but affiliates sure do. There are tens of millions of affiliates out there waiting to pounce on the next product that'll put money in their pocket. They scour the Internet looking for products that they can convince their lists to buy and if you know how to attract affiliates to your products, then there's no amount of money you can't make.

Affiliates can be drawn like bees to honey, and this ebook, Build Your Affiliate Army, will show you how. You'll discover the very techniques that most guru's use to guarantee affiliates will climb over each other for the ability to sell their products. There's an art and a skill to creating affiliate products and no other ebook on the market will teach you absolutely everything you need to know.

You need affiliates to expand your business and you know that you won't be able to find the army of them you need on your own. Build Your Affiliate Army is your best chance to earn the real money online.

Build Your Affiliate Army will give you the tools you need to create an irresistible opportunity to the millions upon millions of affiliates out there. Don't waste another second, discover how to build your affiliate army today.

Build your army right now. Discover how.

Build Your Affiliate Army Will Help You...
Understand How To Use An Affiliate System So You Can Sit Back And Let Someone Else Do All The Work!
Create Your Own Products That Affiliates Will Want To Sell!
Attract Millions Of Dedicated Affiliates!
Create Outstanding Affiliate Resources!
Find Home Run Ideas Through Simple Keyword Research!
Leverage Your Power To Find Even More Affiliates!
Don't Be A Sucker, Let Others Do Your Work For You!

No one wants to spend their lives working for someone else. Isn't that the reason you came to work on the Internet? So you can work for yourself and not have to forfeit a chunk of your profit to someone else?

If you dreamed of working for yourself and living the easy, profitable life, but have been disappointed to find that things just don't work that way online....this is the product for you. Finally you'll be able to sit back, relax and let someone else make all those tough sales that you break your teeth trying to make.

Build Your Affiliate Army isn't one of those products that'll say a lot, but won't tell you anything useful. Build Your Affiliate Army is jam packed with the most helpful advice so that you can go out and start letting other people make money for you immediately.

Don't waste another second, Build Your Affiliate Army is the one ebook you need to read right now. It's sitting there waiting for you, all you need to do is click the buy now button this second.
Table Of Contents:
Introduction
You do the work once
Why create your own product
You build your long-term business future
You make more 'upfront' money
You've got your product - what next7
It's all about conversions'
Give them the tools for the job'
What affiliate system to use7
Running your own affiliate program
Using network sites
Use both'
Using Clickbank - step one
A 'Moth to a flame' - landing massive numbers of affiliates
Using PayDotCom -step two
Free in-house affiliate program software
Moving in-house - step three
Attracting even more affiliates
Write and submit articles
Through forum sites
Affiliate program directory sites
Find potential affiliates using keywords
Advertise your affiliate opportunity
Use Amazon.com
Leveraging the power of eBay
Create a viral ebook
Hire an affiliate program manager
Who wrote their testimonials7
Steal your competitors' affiliates'
Using affiliate finder software programs
Conclusion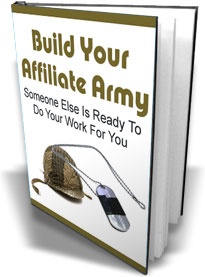 Price: $

4.95
Ebook Type:
PDF
Rating:
Site owner:
Put the rating form on your site!
Listing wrong or need to be updated?
Modify it.
Affiliates Package!
28 Affiliates ebooks Click here to see the full list of these ebooks
(total value $205.30)
Buy Now
just for $27.95
$177
off
Silver Package!
Any 100 ebooks from 2000+ titles Click here to see the full list of these ebooks
Buy Now
just for $29.95
Gold Package!
Get full access to 2000+ ebooks Click here to see the full list of these ebooks
Buy Now
just for $49.95
Mistake found?
Select spelling error with your mouse and press Esc