Beginners Guide to African Cichlid Success Ebook
Beginners Guide to African Cichlid Success
Category:
Fish and Fishing
Title:
Beginners Guide to African Cichlid Success
Author:
Craig Wrightson
Description:
African Cichlid Success - Secrets Pet Store Owner's don't want you to know!
Some amazing facts about African Cichlid care... and why you shouldn't even think about setting up an aquarium until you read every word of this letter!
Freshwater animals thrive when their water conditions are "just right"... Unfortunately there is a ton of *wrong* information out there on how to do this.
Caring for African Cichlids can be a challenge. But really it's a lot easier than you might think . . . When you know how, when and what to do!
An African Cichlid Aquarium is a wonderfully satisfying hobby that will not only provide you years of enjoyment, but also provides a calming affect on you after a hectic day at work, and a beautiful addition to your home!
There are essentially 4 main things you need to know about Freshwater aquarium care:
How to maintain quality conditions in your tank.
How to setup your tank properly, from the word go.
How to keep your African Cichlid's interested in the environment around him; happy and healthy.
How to avoid your fish getting sick and how to cure your African Cichlid's should they fall ill.
"Beginner's Guide to African Cichlid Success" covers all of this, and a whole lot more.
When you read it, you'll be BLOWN AWAY with how simple it really is to set up and maintain your beautiful African Cichlid Aquarium.
Here's just a taste of what you'll discover...
The different types of macronutrients your freshwater plants need and why.
How to tell if your freshwater aquarium is experiencing "algae bloom" and what to do about it.
A crash course on the most important equipment your tropical freshwater aquarium needs before you put a single fish in it.
Step-by-step instructions on how to choose and set up your african cichlid aquarium.
An entire section devoted to feeding your African Cichlids properly.
All about the health of your African Cichlid's and your Aquarium eco-system, including tips on how to recognize and avoid some of the more common diseases and problems.
Which fish you should never add to your Freshwater aquarium. This is an important one! Put the wrong fish together and they could eat each other alive!
How to choose the righ African Cichlid's for your tank.
How to recognize a healthy fish when you see one. This one section alone is worth downloading the African Cichlid Success system.
Instructions on just how often to change the water in your freshwater aquarium and why.
A complete guide to water conditions and how to easily maintain proper water quality.
Why substrate matters! This ebook also explains what substrate is and what exactly it means to your fish.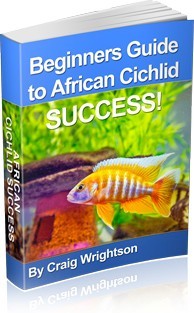 Ebook Type: PDF
Rating:
Site owner:
Put the rating form on your site!
Listing wrong or need to be updated?
Modify it.
Mistake found?
Select spelling error with your mouse and press Esc