Becoming God's Masterpiece Ebook
Becoming God's Masterpiece
Category:
Christian Books
,
Spirituality
Title:
Becoming God's Masterpiece
Description:
Yearning For More of God's Spirit In Your Life?
Open The Door For God To Transform Your Life In Just 10 Short Weeks...
Find out why Satan doesn't want you to feel forgiven, and how to truly see yourself as righteous (Week 8).
Find out how to force your thoughts and emotions into submission to the Holy Spirit of God and His will for your life (Week 10).
Learn the names of God used in the Bible, and what each one reveals about His desires for you and your destiny in Him (Week 3).
Learn why Satan would rather have you try to hide life's pains deep inside your heart than confront them head on (Week 7).
Discover the two fastest ways to enter into the presence of God (Week 6).
Invite God's Spirit Into Your Life - And Be Transformed!
"...let the Spirit renew your thoughts and attitudes. Put on your new nature, created to be like God-truly righteous and holy" (Ephesians 4:23-24 NLT).
How This Program Can Change Your Life...
Discover what it really means to be a living sacrifice, and exactly how to do it (Conclusion).
Discover the true purpose of your creation, and how to fulfill that purpose on a daily basis (Week 2).
Find out how to forgive the unforgivable, and open up the door for God to heal the wounds they caused (Week 9).
Uncover why Adam really hid himself in the garden, and find out if you may be hiding from God without even knowing it (Week 7).
Find out if your relationship with your earthly father may be hindering your relationship with God, and how to stop it once and for all (Week 5).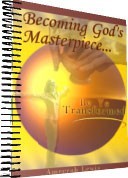 Rating:
You Can Write Books
Category: For Authors
Price: $15.99
Save Your Christian Marriage
Author: H. Baucom
Category: Christian Books
Price: $49.97
Selling Books on Amazon
Author: Larry Scott
Category: E-Marketing
Price: $17.00
History of the Christian Church
Author: Philip Schaff
Category: Christian Books, Religion
Price: $3.00
The Bible, Sex, And This Generation
Author: Monicque Sharman
Category: Christian Books, Relationships, Religion
Price: $0.00
Holy Bible
Author: King James Version without Apocrypha
Category: Christian Books, Religion, Spirituality
Price: $0.00
Holy Bible, New Testament
Author: King James Version
Category: Christian Books, Religion, Spirituality
Price: $0.00
Using The Internet For God
Author: Rob Cross
Category: Religion
Price: $19.95
Site owner:
Put the rating form on your site!
Listing wrong or need to be updated?
Modify it.
Mistake found?
Select spelling error with your mouse and press Esc