Category:
Beauty
Title:
Beauty Chat
Author:
Karen Maitland
Description:
This is a collection of my beauty tips and tricks from my You Tube channel (Mrs Gingers beauty channel) and many more that I haven't yet shared there! I've also included all my current favorites and talk about skincare, haircare, makeup, self tanning, and more.
I'm 43 years old and live in the beauty Scotland, UK, and I found that a lot of reviews and tutorials related to makeup and skincare etc, were geared towards younger women. "This concealer won't sit in your lines" I heard them say. "What lines" I thought, noticing the lack of lines on their smooth twenty something skin lol.
I've always loved writing and for the past year I've been jotting down the tips and tricks that I've shared on You Tube, knowing that I'd want to put a book together at some point. I have recently also written a healthy meal ideas cookbook which I thoroughly enjoyed writing (and eating lol) but thought I'd offer this one for free to let people know about my blog and website.
Come and tell me what you think of it on social media - you'll find me everywhere as mrsginger2013
Oh, and come see my website mrsginger.com
Enjoy. Karen x

Ebook Type: PDF
Rating:
Category:
Beauty, Health, Green Products
Title:
All About Sulfate Free Shampoos And Natural Hair Care
Author:
Samantha Wright
Description:
"All About Sulfate-Free Shampoos and Natural Hair Care" is a free, 68-page pdf-ebook that shares everything you need to know about sulfate-free shampoos and natural hair care products.
The ebook covers many different topics. Learn what you must know about sodium lauryl sulfate (SLS) and sodium laureth sulfate (SLES), the history of shampoo, all about Aloe Vera shampoo (plus a DIY Aloe shampoo recipe), what you need to know about sulfate allergy to name a few.
"All About Sulfate-Free Shampoos and Natural Hair Care" also contains several in-depth guides for choosing and using sulfate-free shampoos, hair conditioners, soaps, laundry detergents, toothpaste, face washes and body washes.
This ebook also contain several DIY recipes for making your own spa quality shampoos and soaps at home using only natural ingredients.
You will also learn where to get the best sulfate-free products and what you absolutely must avoid.
This ebook is one of the best out there that talks about natural hair care. Download it now!

Ebook Type: PDF
Rating:
Category:
Beauty, Women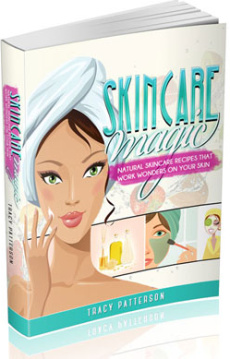 Buy this ebook here
Add to Wish List
+$5
Title:
Skincare Magic: Natural Skincare Recipes That Work Wonders On Your Skin
Author:
Tracy Patterson
Description:
This is really a treat.

I interviewed dozens of women, and got them to open up about what stopped them from using completely natural solutions to beautiful skin even when they produce the same results.

These interviews revealed that women think it is more expensive or too hard to do.

So show you how easy it is for you to clear away dying skin cells, nourish and reveal healthy new perfect skin…

…I compiled recipes of my famous home-made scrubs and masks.

You can control of what you put on your skin.

There are no artificial "rare" chemicals that companies try to make you feel you need to pay and arm and a leg for.

You will know exactly what you're putting in. And they are all superfoods.

No more artificial fragrances, colors, preservatives.

Masks like the Firming Face Mask, that is pennies to make, and tightens and firms your skin in as little as 15 minutes…

…the Anti-wrinkle mask that speed up the process of your vanishing facial lines.

For those of you who might be suffering from adult or hormonal acne, there is the Acne Clearing Mask in there as well.

And I haven't even gotten into the scrubs that exfoliate your skin and keep it plump, fresh and bright.
Bonus to the "The Beauty Food Bible"

Rating:
Category:
Beauty, Beauty, Body
Title:
Casual Plus
Author:
irenebryant
Description:
The Casual Plus is about the Plus Size Clothing in which many things are involved like how to dress up yourself in the best way. Even you have plus size body you will look beautiful because you should have confidence in yorself. Its not about the what you are wearing, its about how you carry yourself.
First, when you carry yourself be confident on it.
Second, Always try to wear clothes which suits to your body.
Third, You need to always wear a skinny wear, before you wear any dress.
Fourth,You need to wear jewelry.
Fifth,You always have to carry handbags.
Sixth, Try always wear jackets,it covers all your body fat.
Seventh,Wear knee length or full length dresses, this types of dresses will cover your heavy portion of your body.
Eight, Try to wear pencil heels, falts or platform heels.It gives you curvy figure.
Nineth, If you wear a jeans try to carry it with shrugs,it also cover some fat from hip portion.
Hope this will helps you.
If you want some more details about this you can click here also: casual-plus.com

Ebook Type: PDF
Rating:
Category:
Beauty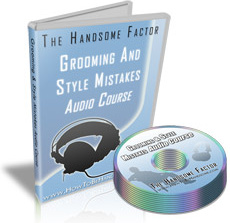 Buy this ebook here
Add to Wish List
+$5
Title:
Grooming & Style Mistakes
Description:
You're a busy person, and you probably won't always have time to sit down and read. That's why I created the "Grooming & Style Mistakes" Audio Course.
This ebook covers ten of the most common grooming and style mistakes in depth. The three full-length audio sessions are packed with useful info that will save you from embarrassment time and time again.
In it, I discuss major errors you should avoid in areas such as fashion, hairstyle, hygiene, grooming, and body hair removal.
The best part is that you can take this course anywhere. Listen on the couch, in your car, or even while jogging on the treadmill.
Bonus to the "The Handsome Factor Appearance Transformation System"

Rating:
Beauty Package!
12 Beauty ebooks Click here to see the full list of these ebooks
(total value $86.80)
Buy Now
just for $17.95
$68
off
Mistake found?
Select spelling error with your mouse and press Esc