Beating Procrastination Ebook
Category:
Psychology
,
Self Help
Title:
Beating Procrastination
Author:
Jack Webster
Description:
Finally Uncover How You Can "Be Happier and Achieve More!"

"Set Yourself On the Road to Success by Beating Procrastination Once and For All!"

Change is difficult, but the rewards are so worth the effort!

Nothing is more destructive than procrastination. It's an insidious practice that slowly but surely eats away at our goals and dreams in life. It doesn't seem like a "big deal" when it's just one or two small things that get put off or totally missed.

However, like any other repeated behavior, before you know it you've got a new highly destructive habit!

It doesn't have to be that way! Now you have a tool that will help you changed that learned behavior once and for all! Step by step you will uncover the secrets to beating this dream stealer and eradicating it from your life.

If you are skeptical about just how important beating procrastination can be, take a look at your surroundings. Do you have children? Think about how destructive it would be for you to encourage your son or daughter to put off studying for their final exams until the night before the test.

No parent who genuinely loves their children would give him/her that kind of advice. Our role as parents are to help our children grow and develop into successful adults.

Yet, each time they observe you putting off a task until another time or failing to ever "get around to it" we are reinforcing bad behavior just as though we were encouraging them to fail!

Unleash Your Potential Today!

"Beating Procrastination" will teach you the skills you need to tame this beast once and for all. Stop being a slave to a bad habit and see what "Beating Procrastination" has in store.
Discovers why you procrastinate
Teaches how procrastination begins
Uncovers the signs of procrastination
Exposes the steps to recovery
Ferrets out the effects of procrastination
Learn how to focus on minor tasks and face interruptions. One of the most difficult tasks is knowing how to change your mindset. This is such an important topic that there is an entire chapter devoted to it.

Jack's list of quick procrastination reducers is a goldmine of information. This is worth the minimal cost of "Beating Procrastination" all on its' own.

Look, the bottom line here is that unless you are successful beyond your wildest dreams; have everything you've ever wanted in life; or never, ever put anything off until "later" then you need this tool.

Even if you have any doubts, rest assured that you have absolutely nothing to fear because there is a 100% money back guarantee if you find that "Beating Procrastination" does not work for you!

So there. It's totally risk free. Don't put THIS off!
About The Author

Jack Webster

Jack Webster has worked in various sales and advertising positions. A couple of years ago he recognized the effect that his procrastination was having on his progress in business and also his personal life.

Jack found it difficult to work up from his situation at that point. But, he knew that he had little choice unless he wanted to give up on ever reaching the goals he had set for himself. Jack worked through his own problem but confesses that it was not easy or a completely smooth path.

He found that many people had old and discredited ideas about the causes of procrastination and those who suffered from it. He tried a variety of methods. Some were more useful to him than others. So, he started writing this book to help other people by sharing his experience and explain the problem without technical language or untested theory.

He shares the tips and strategies which helped him over the rough spots to his present situation with a much better job and, he feels, almost unlimited prospects for the future. Jack understands how hard it can be to break through procrastination when it has affected our self-confidence and caused damage to our personal relationships and business prospects. He has been there and can show you the methods which can help you and those you care about. He goes beyond the usual "break big tasks into

Jack shows you how he dealt, mentally and physically, with his procrastination and how he can help you to break its hold and reduce it to just be a memory.
Contents

Introduction
The Truth about Procrastination
There's no Cure for Procrastination
What we Feed our Children
How Procrastination Starts
Why do we Procrastinate?
Signs of Procrastination
Interruptions
Focus on minor Tasks
Waiting for the Right Moment
Last Minute Dash
Effects of Procrastination
The Rocky Road to Recovery
Don't let Regret hold You Back
Please Adjust Your Mindset
Handling the Bumps
Change the Message
Quick Procrastination Reducers
Last Minute Lift
Do it for Just 20 Minutes
Compare the Benefits
Avoid Negative People
Reduce Your Load
Switch off your TV
The Power of Simple Processes
Multi-tasking
Taming Your Environment
Exercise: Review a "Busy" Person's Day
The "Busy" Person's Schedule
My Suggestions for Improving Their Day
Your Health
Lists and Schedules
Whittling away Writer's Block
Your Legacy
Last Word from Jack Webster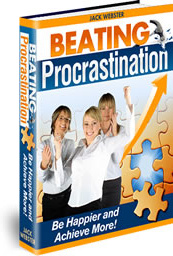 Price: $

17.00
Ebook Type:
PDF
Rating:
Site owner:
Put the rating form on your site!
Listing wrong or need to be updated?
Modify it.
Mistake found?
Select spelling error with your mouse and press Esc