AutoResponder Secret Courses Ebook
AutoResponder Secret Courses
Category:
E-Business
Title:
AutoResponder Secret Courses
Author:
Teresa King, Patty Baldwin
Description:
Learn The Way To Put Your Business On Autopilot...
Step by Step

With 7 Pre-Written AutoResponder Messages

Okay, you've bought your domain name, built your web site, placed some ads and now you're ready to have the profits come rolling in, right? Or maybe you've been online for a little while and are getting frustrated with the never ending task of following up with your prospects? Maybe you aren't following up at all?

Because there is so much to discover, many new webmasters are totally overwhelmed with how-to information. There really is a learning curve to doing business online, but all the time and money involved in preparation mean nothing if you are not following up.

Statistics say that it takes at least 5 times for a potential customer to see your advertisement before they act on it. You must follow up or perish! The question is where to start?

That's where the award winning "AutoResponder Secret Courses" comes in. These ladies know their stuff. What they know about marketing, advertising and sales hasn't even been written yet!

However, what they have done for you, is put together a comprehensive manual so you can put your business on autopilot with simple steps for you to follow.

"AutoResponder Secret Courses" takes you, step by step through the process of setting up an automated delivery system for your product or service. In just a very few minutes you can be on your way to building one of the most crucial parts of your Internet career.

Here's a sample of what you'll discover:
How and Why they Work
What are AutoResponders?
How and When to Use Them
Where to Get Them
How to Write Them
How to Design Them
Cron Tab - What is that?
How to Set them Up
Pre-written Courses with images and a hot headliner that you get to use as is or change to your needs and you sign your name to them!
Here are a few of the 7 titles you will find for the pre-written Secret Auto Responder courses:
Three Lessons to a Healthier, Happier You
How to Improve Your Ad Campaign in 5 Easy Lessons!
Easy Steps to Building Your Own Opt-in Newsletter
Offering a free course on your web site is very important. Having a picture of your product
increases your chances that they will sign up for your course. Patty Baldwin and Teresa
King know what it takes to get your customers to act on your Advertisement!
Follow-up is such a crucial part of your online journey! You deserve an Automated Delivery System! You can be reading this award winning e-book in less than 5 minutes.
CONTENTS
LEGAL STATEMENT
HOW TO SEE THIS EBOOK
ABOUT THE AUTHORS
HOW AND WHY THEY WORK
WHAT ARE AUTORESPONDERS?
HOW AND WHEN TO USE THEM
THE 7 ESSENTIALS FOR WRITING AUTORESPONDER FOLLOWUPS
HOW TO WRITE AUTORESPONDER MESSAGES
WHERE TO GET AUTORESPONDERS
HOW TO SET-UP YOUR AUTORESPONDER
HOW TO DESIGN YOUR AUTORESPONDER
WHAT THE HECK IS CRONTAB?
AUTORESPONDER SECRET COURSES
QUICK OVERVIEW
IMPROVE YOUR AD CAMPAIGN IN 5 EASY LESSONS
THREE LESSONS FOR A HAPPIER HEALTHIER LIFE
7 EASY STEPS TO BUILDING YOUR OWN NEWSLETTER
HOW TO USE YOUR COMPUTER IN 3 EASY LESSONS
7 DAYS TO START ANY ON-LINE BUSINESS
FIVE SIMPLE WAYS TO USE E-BRANDING TO YOUR ADVANTAGE
5 DAYS TO LAUNCH A SUCCESSFUL MLM BUSINESS
ENCOURAGEMENT FROM THE AUTHORS
APPENDIX - RECOMMENDATIONS
Get "AutoResponder Secret Courses" Now!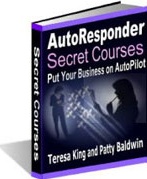 Site owner:
Put the rating form on your site!
Listing wrong or need to be updated?
Modify it.
Mistake found?
Select spelling error with your mouse and press Esc