Astounding Secrets Ebook
Category:
Mystery
Title:
Astounding Secrets
Description:
There is way to much information in this Ebook! Just look at what you get . .
How to Bend keys and spoons with "your mind"
How to "out psychic" the pros, (Television Psychics?). Tell fortunes, analyze handwriting, do astrological forecasts. Predict the future!
How to control another person through ordinary conversation!
How to have the ladies fighting to get close to you
How to amaze, astound and totally freak people out!
How to go to almost any bar and never buy another drink again. Everyone else will be HAPPY to.
How to walk into a room and own it!
This is truly an incredible collection of knowledge. In the Psychic section you'll learn how to:
In the Mystic section, you'll learn how to "stop" your heart.
Secrets of telepathic drawing. Reproduce a drawing made by someone else by "reading their mind."
The biggest man won't be able to lift you once you learn the "secret pressure point."
It borders on mind reading, yet it is a simple, proven, physical manifestation that can tell you when a person is lying, when they desire something and even when they are sexually interested in YOU!
The party is a little slow. Liven things up by showing how a person can be "levitated" or lifted with just a few fingers!
Delight people by balancing a glass of water on the edge of a playing card!
Strength challenges where you can beat the strongest man in the room, no matter what your size.
Bend keys and spoons with "your mind."
Imagine people's surprise when you challenge someone to balance a coin on the edge of a dollar bill, and then you proceed to show them!
What will they think when you rub your fingers together and make smoke come from your fingertips!
"Melt" spoons with your mind and watch them break in two.
How to seemingly block pain and do very weird things to the body.
How to keep someone a prisoner in a chair with just one finger.
How to have a seance and make a table "dance," sometimes clear across the room.
Move things with your "mind."
The secrets of Meditation and more!
The section about Fortune Telling will have you behind a crystal ball in no time.
Various mind reading and telepathic methods that will convince people of your "powers."
In Strong Stunts you'll learn how to tear an apple in half with your bare hands (try it, it's tougher than it sounds).
And more. That's just the Amazing Stuff!
Amaze and stun everyone with your psychic knowledge and your ability to tell a person about their Past, Present and Future.
Learn how to do horoscopes, read palms, read tea leaves, bumps on the head, whatever.
Make a compass move just by concentrating on it?
How to lay on a bed of nails unharmed.
How to charm a cobra! (Rattlesnake bonus)!
Spin a coin and control the way it lands!
Be just like John Edward. The techniques of what is known in the trade as a "cold reading."
You can actually drive a nail with some bottles. Imagine their astonishment when you break the bottom out of a soda or beer bottle using just your hand!
How fakirs are buried alive for days and even weeks.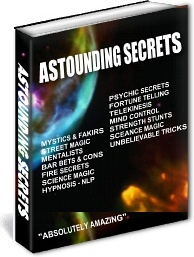 Rating:
Site owner:
Put the rating form on your site!
Listing wrong or need to be updated?
Modify it.
Mistake found?
Select spelling error with your mouse and press Esc