Anti-Aging Fitness Program Ebook
Change Your Body and Be Admired
Category:
Fitness
,
Health
Title:
Anti-Aging Fitness Program
Author:
Dov Oshri
Description:
Anti-Aging Fitness Program provides cutting edge techniques to boost energy, skyrocket libido, lose weight without dieting, get fit, improve health and look years younger. Anti-Aging Fitness Program leverages mind motivators, fitness, nutrition and supplements.
Here are the highlights of the Anti-Aging Fitness Program
Your time is valuable. This program was designed for corporate executives that travel frequently and have very limited time for fitness. But you may have so much fun that you'll workout longer than needed! The workouts are pleasurable because of the endorphins and pheromones that flood your bloodstream.
You get 100% alternative anti-aging at its best - no potentially unsafe Hormone Replacement Therapies (HRT) and no miracle pills. All recommended supplements are mainstream, over the counter, in line with the American Academy of Anti-Aging Medicine. You must give a try to the 4-shield proprietary supplement program. You can get amazing results with inexpensive supplements that you can buy in your health shop, so don't be fooled by other programs that try to sell you fancy pills you don't even need.
You can succeed in this progressive program in any shape and any age. The program consists of 3-4 levels of progress based on the 4 pillars of "Anti Aging Fitness" - Mind, Fitness, Nutrition and Supplements. Think of it like a 4 wheel drive vehicle. Each one of the wheels adjusts to the surface and the vehicle conditions. Take one wheel out and the vehicle will stop. The same happens if you drop one of the 4 pillars of "Anti Aging Fitness." Each component is necessary for your success.
The program is very effective. If you follow the program you'll see substantial changes in a few weeks.
One of the 4 levels will absolutely fit your needs. And no previous experience is needed. You'll get impressive results just by following the 4 pillars of the program. Remember, thought, that your body is unique and not all programs fit your body type. Run away fast from any program that offers one solution for all. It's not for you. Discover your body type and customize your nutrition plan to your body's needs.
Lose weight without diet. You'll never be hungry again for a single moment. Find out eating secrets that you've never heard before. Eat as much as you want of the right food as many times as you want. Abundance of food is the only way to manipulate your body resistance to lose fat.
It's simple and easy! Anti-Aging Fitness is a very practical program; straight to the point, brief, and easy to follow. You won't find hard-to-understand professional language designed to impress you as you might find in other books.
"Anti-Aging Fitness" is the only program of its kind in the world...the only holistic approach that connects mind and body for ultimate body change. You will achieve tremendous results in the shortest time possible.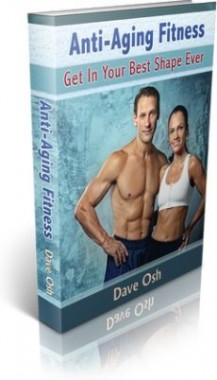 Rating:
Site owner:
Put the rating form on your site!
Listing wrong or need to be updated?
Modify it.
Mistake found?
Select spelling error with your mouse and press Esc