Animals ebooks
Page 8 of 10
Category:
Animals, Horse
Title:
The Secrets of Riding Saddle Horse
Description:
You see, Prof Jesse Beery also wrote a course on the secrets of saddle horse riding.
Including...
The characteristics you should select in your ideal horse. These critical tell-tale signs indicate your horse's powers of endurance, indicate his ability to maintain a balanced gait and cope with hard riding...without injury or mistakes.
The correct use of the reins...and the secret of getting the reins into position quickly. Adopt this routine and the action becomes automatic to you.
The one position you must master that most of your security and skill in the saddle comes from. Adopt this and you instantly assume the classical riding pose.
How to successfully vault onto your saddle from the ground. This trick leaves bystanders open mouthed.
And many more tips, techniques and insider secrets designed to make you a better rider.
Bonus to the "Prof Beery's Illustrated Course In Horse Training"

Rating:
Category:
Animals, Cats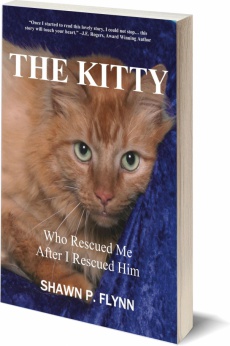 Buy this ebook here
Add to Wish List
+$1
Title:
THE KITTY Who Rescued Me After I Rescued Him
Author:
Shawn P. Flynn
Description:
2017 Readers' Favorite Award Winner in the "Non-Fiction - Animals" Genre

Award-Winning Finalist in the "Animals/Pets: Narrative Non-Fiction" Category of the 2017 International Book Awards

Shawn Flynn and his fiancée are excited to start their new life together. They are planning a wedding and have bought a new home. The last thing the two of them need right now is a new cat.

But their recently purchased house seems to come complete with a stray orange feline—a cat with a vibrant personality and a talent for mousing. So Shawn soon finds himself with a regular companion. Little does he realize that this cat will shortly become more important to him than he can possibly imagine.

As Shawn's personal life begins to shift in ways he never saw coming, Kitty remains a constant source of stability and comfort. Shawn gave Kitty a home, and now Kitty gives Shawn the love he needs to heal.

In the spirit of James Bowen's best seller A Street Cat Named Bob, THE KITTY is a touching and inspiring story of heartfelt companionship that offers an uplifting perspective on what it means to find true friendship in this world. Anyone who has ever shared a meaningful connection with a pet will fall head over heels in love with Kitty and Shawn.

As Shawn discovers, sometimes we don't even realize we need to be rescued—until we are.

Perfect for fans of Gwen Cooper's Homer's Odyssey: A
...
Click here to read the full description!

Ebook Type: Other
Rating:
Category:
Animals
Title:
Ferret Care
Description:
Ferret Care Interviews Transcript
Introducing The "Ferret Care Interview" - The Complete Guide For Keeping Your Ferret Happy & Healthy By Learning Everything You Need To Know About Ferret Care
Here's just a fraction of what you'll discover in the "Ferret Care Interview"
Can you describe, in detail, the different ferret breeds and their respective markings?
How much, on average, does a ferret cost if I am purchasing the ferret from a pet store?
I've decided to get a ferret. Where should I begin?
I've been thinking about getting a ferret. What are the pros and cons of owning a ferret?
Are there any places where owning a ferret is illegal or a license is required?
Bonus to the "Ferrets As Pets"

Rating:
Category:
Animals, History
Title:
The Horse Training System
Description:
This is the system by which Prof. Carroll was able to "cure the most vicious horses of the habit of balking or kicking; also the habits of shying, running away, pulling at the halter, jumping fences or pitching under the saddle. It will enable anyone to ride any horse or mule without saddle or bridle with perfect safety; also to drive without bridle or lines."
Here's just a taste of what else you'll find inside:
Revealed: the mechanical advantage whereby you can compel a horse to stop instantly at your command, with only a few pounds of pressure!
How to gain the confidence of a horse so "as long as you are with him he feels no fear."
How to manage a wild or vicious horse and even those that are quite old before they are first handled.
How to cure a horse of jumping and fence breaking so thoroughly that he will happily stay in almost any kind of enclosure.
Secret ways of "jockeying" a horse to make him appear to be other than what he is, eg. blind, lame, sick, unwilling eat or drink and how to remove a brand.
Bonus to the "Horse Training Secrets Revealed"

Rating:
Category:
Animals, Horse
Title:
How to Choose a Healthy Horse
Description:
It takes into consideration common faults of conformation, common unsoundnesses that impair a horse's usefulness and serious faults of temperament or training.
The ebook is illustrated with valuable photographs and diagrams and guides you through the examination in a logical sequence.
Here's a sample of what you'll discover inside:
How to spot stable vices and other vices that mean you should look for a different animal.
How to tell a horse's age by its teeth so you know just what you are getting - with step by step photos included.
How to check for all manner of diseases - both common and not so common so you can be sure your horse is healthy.
How the muzzle can indicate a possible lack of vigor or the presence of a bad habit.
The type of tail that indicates spirit and vigor in the horses that you are looking at.
Indications of normal health in the horse which allows you to choose the best of the bunch.
How to test a horse's eyesight. If you see a certain behavior you should suspect blindness or a bad temperament (and THIS has nothing to do with the eyes).
Indications of desirable temperament that mean you'll go home with a happy and well adjusted horse.
If you want to get the best, healthiest, most suitable horse for you, then take this ebook with you and you'll have a step by step, systematic approach that will ensure you choose the best
...
Click here to read the full description!

Rating:
Category:
Animals
Title:
Everything About Ferrets
Description:
Introducing "Everything About Ferrets" - The complete guide on everything you need to know before you buy a ferret.
Here's a small taste of what you'll learn in this amazing 29 page power packed eBook.
Unique Ferret Facts I know You Don't Know?
6 Formulated Ferret Foods You MUST Have?
What Makes a Healthy Ferret Diet?
Before You Buy, What You MUST Know
6 Fabulous Training Tips That Work Guaranteed!
Bonus to the "Ferrets As Pets"

Rating:
Category:
Animals, Horse
Title:
How to Break and Train Colts
Description:
Photographs accompany the text and the principle element behind the methods that are described in this ebook is "kindness to the horse" - this is ALL about getting the horse to do what you want, while being gentle with him.
Here's just some of what you'll discover inside:
How to handle older, unbroken horses.
How to cure balkiness.
The best ages for the phases of breaking/training.
How to throw a horse.
The most valuable gait for your horse to do and how to do it.
The 2 main factors you have to deal with when training a horse.
The one thing you MUST do before approaching a horse.
How to minimize the risk of bucking when you ride him.
How to stop obstinacy when training your colt.
Bonus to the "Horse Training Secrets Revealed"

Rating:
Category:
Animals, Horse
Title:
Horse Medical Records
Description:
A quick and easy way to keep track of all your horse's important medical and treatment records.
A set of simple to use forms which let's you keeps track of your worming or vaccination requirements and dates, together with any medication and treatment he may have had. A great way to keep all his medical information in one place, ready at hand whenever it is needed
Bonus to the "Introduction to Horseback Riding"

Rating:
Category:
Animals, Horse
Title:
How to Make Money Horseback Riding
Description:
Imagine being able to turn your new found riding skills into a source of income. Did you ever wonder how you could turn your hobby into something that you can actually get paid for. This ebook will tell you exactly how you can start earning money with your horseback riding knowledge.
Bonus to the "Introduction to Horseback Riding"

Rating:
Category:
Animals
Title:
Black Beauty
Description:
Anna' Sewell's timeless classic; Black Beauty is an autobiography of a horse.
For many years this beautiful story has delighted millions of readers. All who read it will find that with the passage of time it has lost nothing of its original charm
Bonus to the "Introduction to Horseback Riding"

Rating:
Animals Package!
26 Animals ebooks Click here to see the full list of these ebooks
(total value $170.50)
Buy Now
just for $26.95
$143
off
Mistake found?
Select spelling error with your mouse and press Esc