African Dwarf Frogs as pets Ebook
African Dwarf Frogs as pets
Category:
Animals
Title:
African Dwarf Frogs as pets
Author:
Elliot Lang
Description:
Are you thinking of raising an African dwarf frog?

Discover How To Keep An African Dwarf Frog!


African dwarf frogs are not your average pet – they live their entire lives under water and they are incredibly entertaining to keep. These little frogs will delight and amaze you by dartling around the tank and floating on one leg.
Here's a peak at what is inside the ebook!

Common questions people have about African dwarf frogs and keeping them.
What is the proper care and feeding of my dwarf frog? (This is all covered in detail as well as tips to buying frog food and how to keep it fresh.)
What do I need to bring my dwarf frog home? Simple travel tips for your dwarf frog.
What are the different species and types of African dwarf frogs and where do the come from?
Can I mix male and female frogs together? What happens if I do?
How do my dwarf frogs breed and make babies? How do they lay eggs and hatch as tadpoles? What type of care do I need to give them?
What size aquarium do I need and how much space is needed per frog?
Do African dwarf frogs make good pets? Yes, they do!
How do I know if a pet store or a breeder of African dwarf frogs or African clawed frogs is selling me a healthy frog? What do I watch out for?
I read I can buy a complete dwarf frog kit online? Is this a good thing to do?
Dwarf frog diseases are covered in detail in the book, you get in depth descriptions of diseases, and proper care and quarantine.
How often do I need to clean the tank and clean the filter? What type of filters and how often should I replace them?
What type of sounds does my dwarf frog make and why?
Do I buy baby dwarf frogs or adult dwarf frogs?
I heard dwarf frogs are social creatures. Do I need to buy more than one? How many should I have?
What can I add for tank decorations inside my tank? What is good to use? What do I need to be careful of not to use?
How dwarf frogs have babies, and how to keep baby tadpoles safe and why.
Where should I locate my frog's tank? Does adding a light matter to the frog? How long should a light be on per day and why?
What do I feed my dwarf frog, and how often?
Find out how to socialize your dwarf frog and what your frog likes to be happy.
What type of water should I use and ph should the water be?
How to choose a dwarf frog and where to buy them. Read all about this in the ebook.
How do I know my African dwarf frog or an African Clawed frog is sick?
How long to African dwarf frogs live? (You'll be surprised at the answer.)
What type of tank heater, and filter are best and why?
What is the best type of dwarf frog to buy and why? Should I buy an African dwarf frog or an African clawed frog? What's the difference and how do I tell?
How do I tell a male from a female dwarf frog?
I want to add some fish to my aquarium. What type of fish do well with my African dwarf frog and why?
Do I need to get a permit to own African dwarf frogs? If so, how do I get one?
Can African dwarf frogs live in a standard fish aquarium? If I want to buy a tank, is glass, plastic or a nano tank best?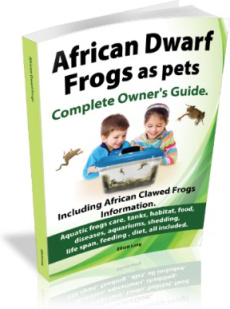 Rating:
Site owner:
Put the rating form on your site!
Listing wrong or need to be updated?
Modify it.
Mistake found?
Select spelling error with your mouse and press Esc