Affiliate Program Management Training Guide Ebook
Affiliate Program Management Training Guide
Category:
Affiliates
Title:
Affiliate Program Management Training Guide
Description:
Your Step-by Step Guide to Getting Started
Here's How to Multiply Your Marketing Efforts And Accelerate Your Business Success... And You Only Pay After You Get Results!
This ebook takes you through the process and planning of:
Keeping Your Affiliates Happy: Incorporate these best practices to help ensure your affiliates promote your product, instead of your competitors.
Must-Have Features in Your Affiliate Program: Affiliate systems are not created equal. Find out exactly what you need included in your top-notch affiliate program.
Getting Affiliates to Take Action: Your work isn't quite done once they say, "Yes". Use these easy-to-follow steps to motivate them into taking action and start promoting your product.
Choosing the Right Affiliate Manager Software System for Your Business: Learn what you need to know to make the best decision for an affiliate program that will serve you long into the future.
Finding Potential Affiliates: 8 sure-fire methods to finding plenty of highly-targeted affiliates that will love your product.
Creating the Affiliate Promotional Tools Your Affiliates Are Craving: Website owners have basic needs... and you can fulfill them with your affiliate program.
Dealing with the Bumps in the Road: If it's not always smooth sailing, this section will help you deal with spammers, other unscrupulous affiliates and the unexpected.
What Exactly An Affiliate Program Is And Why You Need One: Find out why an affiliate program can be more powerful than ANY form of advertising that you can buy.
How to Contact Your Potential Affiliates: Avoid the common mistakes so many product-sellers make when contacting affiliates and get more "yes's" from your potential affiliate partners.
Training Affiliates: Even if it sounds daunting to train affiliates, there's good news. This package includes access to a fully-customizable affiliate training manual. Just fill in the blanks and you're ready to go.
Why So Many Affiliate Programs are Doomed to Failure: I reveal one of the biggest mistakes affiliate program managers make and how you can avoid it.
How to Pay Your Affiliates: There are a number of ways to ensure your affiliates get paid, but this guide gives you a clear recommendation for the best way. It's cost-effective and your affiliates will appreciate it.
How You Can Start a Profitable Affiliate Program, Even if You Don't Have a Product: Yes, it's absolutely true. You don't have to sell your own products to benefit from your own affiliate program.
Two-Tier Affiliate Programs: Why they're not all they're cracked up to be, but an IMPORTANT reason why you may want this feature available in your affiliate system.
Effective Follow-Up: Strategies to encourage your potential affiliates to accept your offer, without shoving it down their throats and sending them running the other way.
Paying Your Affiliates: Maximizing your profit, offering competitive commissions and other important things to consider.
What Types of Affiliate Programs You Can Run: And which types of programs or combinations inspire the greatest loyalty from your affiliates.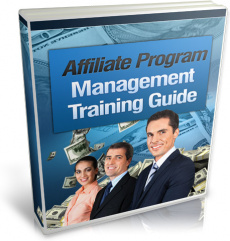 Rating:
Site owner:
Put the rating form on your site!
Listing wrong or need to be updated?
Modify it.
Mistake found?
Select spelling error with your mouse and press Esc