Acquire An Honest Attorney! Ebook
Acquire An Honest Attorney!
Category:
Law and Legal
Title:
Acquire An Honest Attorney!
Description:
How To Recruit An Honest Attorney And Protect Your Intellectual and Financial Property

How To Find A "Pit-bull" Attorney That Will Fight Like An Animal For Anyone Trying To Go Up Against Your Business!

Discover How To Find The Most Reputable, Honest & Brutal Attorney To Fight On The Good Side: Yours!
Have you ever thought of the fact that you may need an attorney in the future for a business situation?
Have you ever considered the fact that most last minute attorney choices are always bad ones?
What would you do if someone sued you and you had absolutely no idea what to do next?
If you've ever had one of these questions race through your head along with visions of losing everything you've worked for, this letter will help you gain "peace of mind"...

Take Back Your Business & Asset Security And Protect Yourself From A Business Disaster!


Dear Friend,

This letter is going to go over an often neglected and always underestimated tool that you need to have in your business no matter how big or small.

Did you know that business disasters happen every day to good people just like me and you?

This doesn't make us a bad person but what happens when a legal issue comes into play is usually a pretty sad and gut wrenching experience.

More often that not, business disasters result in the business owner losing everything! I'm not just talking about the business and all their inventory.

I'm talking about their home, cars and even the money directly out of any retirement, savings or investment accounts that they may have had.

In many situations people are left with less than nothing.

How can something like this happen?

The business owner didn't have any legal advise or anyone looking out for them and their interests! And even if they do get legal representation at the last minute, the attorney is usually not a very good one and just the slickest advertiser that got their attention.

I'm here to tell you that this doesn't need to happen to you! You can find a legal advisor that will protect you 24 hours a day and you don't need to pay him until you use his services! Even if you never use him, you still have him there ready to pounce like a pit-bull.

A good Internet business attorney is your ticket to helping you protect the money and the time you've already put in to your business now and in the future!

And...

Everything You Need To Know About Business Attorneys Is Contained In My New Manual!

What exactly should you be looking for in an attorney?

There are many characteristics you should be searching for when choosing an attorney

You are about to discover the most important information you could possibly get your hands on when beginning a business! "Acquire An Honest Attorney" shows you step by step exactly how to find these incredibly important facts you must know, when talking to prospective attorneys and how to make those facts work for you in the form of a competent, professional attorney that will do a great job for you.

Are you ready to discover exactly how to protect YOUR money & your business?

Then you're ready for "Acquire An Honest Attorney!"

You may have never thought about needing a lawyer, but I promise that by the time you finish this ebook you will be an expert at finding one, using one effectively, and letting them go if you find they're not working for you.

Before this ebook came along, people just like you were using basic ways to find a lawyer... like the Yellow Pages. They were even taking the first attorney they talked to. Then they wonder why their business is in legal hot water down the road.

YOU DON'T HAVE TO FOLLOW THAT SAME DIFFICULT ROAD; WHY WOULD YOU WANT TO WHEN THIS SIMPLE MANUAL IS SO EASY TO UNDERSTAND AND USE?

Everything you need to know is contained in "Acquire An Honest Attorney" so why wait any longer?

Acquire An Honest Attorney Contains The Step By Step Guidance That Will Protect Your Business!

Inside this amazing ebook you will find a complete collection of information you need to find and retain a great attorney, such as:
Selecting the best one for your business...
Understanding what a good attorney does...
The most common mistake people make when selecting attorneys and how to avoid it...
The most important steps to avoid in working with an attorney...
Exactly what an attorney can do for your business...
This is just a sampling of the critical information NOBODY ELSE CAN PROVIDE!

Only "Acquire An Honest Attorney" contains EVERYTHING you need to get started, choose the right attorney, and run your business effectively!

Other manuals might promise to teach you about using attorneys, but they simply cannot deliver on that promise in the same way that "Acquire An Honest Attorney" has been tested and proven to deliver. In other words, their promises are misleading and empty.

Do you want to know the real truth?

Do you want to discover the how, why, and what about attorneys and what they can do for you?

Can An Attorney Really Help Me? And Can This Manual Really Show Me Every Thing I Need To Know?

The answer is Absolutely, Positively, Completely, YES!

Before you do anything, though, there is one very important thing you MUST understand:

This is NOT a substitute for real legal advice from an attorney.

There is no one that is qualified to give legal advice besides an attorney. That's why you need one.

The truth is that with the right information and the right guidance you can make THE RIGHT CHOICE using this ebook to find and retain an excellent attorney for your business.

Are you ready to achieve success?

Are you ready to protect your business?

Then I'm ready to show you step by step exactly how to get there. It's easy, it's interesting, and it's a lot of fun to see just how much an attorney can help you.

Let's not waste another moment - get started protecting your money right away!

What Valuable Secrets Are Contained In Acquire An Honest Attorney?

Just take a look at the actual Table Of Contents from this amazing ebook..
Table Of Contents:
Introduction

Chapter 1 - Why a Lawyer?
They Know the Drill
Why Does My Business Need a Lawyer?
They Are Professionals
They Keep Good Records
They Take Care of the Paper Work
They Can Help You Avoid Trouble
They Are Available for Consultation
They Can Help You Hire Others
They're Up On Financial Matters, Too
Chapter 2 - What Type of Lawyer Do I Need?
Business Litigators
Business Lawyers
Transactional Lawyers
Environmental Lawyers
Go For A Firm
Intellectual Property Lawyers
The Types of Services You May Need
Labor and Employment Lawyers
Chapter 3 - Where To Look For An Attorney
Hit The Web
Go To Those You Know
Contact Your State Bar Association
Good Old-Fashioned Print Directories
Legal Assistance Services
Chapter 4 - What To Look For In An Attorney
Are Your Opinions Respected?
Are You Comfortable?
Do They Know What You Need?
Have You Looked Around Enough?
Are They Flexible?
Do You Know What They Will Be Doing?
Do They Get Back To You Quickly?
Are They Open With Information?
Are Their Fees Reasonable?
Chapter 5 - Interviewing Potential Attorneys
Do You Have Any References?
Questions To Ask When You Meet
How Long Have You Been Practicing?
Do You Have Specific Experience Related To What I Need?
What Are Your Areas of Specialization?
Have You Ever Found Yourself Subject to Disciplinary Action?
What Sorts of Fees Will I Incur?
How Long Will This Case Take?
How Often Will I Be Billed?
How Often Will You Keep In Touch?
Will I Be Charged For Phone Calls?
Avoiding Bad Lawyers
Chapter 6 - Developing A Working Relationship
Be Courteous
Be An Effective Communicator
Be Prompt
Evaluating The Work You're Buying
Be Specific.
Their Willingness To Talk To You
Request Copies of All Paperwork
Presentation of Work Completed
Their Ability to Follow Through
How They Notify You of Your Options
How They Notify You of The Timeline
How They Bill You 22
What To Do When It Doesn't Work Out
Chapter 7 - It's Time To See A Specialist
Why Are Specialists Beneficial?
When Do I Need A Specialist For My Business?
They Understand Your Situation
They Have Knowledge
They Have Focus
Chapter 8 - Doing Your Own Footwork
One-On-One Legal Training
Benefits of Getting Involved
Gain A Better Understanding of Your Business
How You Can Become Involved
Save Money
Write Your Own Contracts
Maintain Control
Research Your Legal Decisions
When To Back Off
Chapter 9 - Saving Money On An Attorney
Types of Attorney Fees
Determining Attorney's Fees
The Hourly Rate
The Contingency Fee
The Flat Fee
Referrals
Don't Be Afraid To Negotiate
How Can I Save Money?
Find An Expert
Hire Them As A Coach
Take On Some of the Work
Be Completely Honest
Keep In Contact
Make Use of Your Time
Pay Close Attention To Your Bill
Chapter 10 - Information Resources
Why Should I Use These Resources?
What Are Attorney Information Resources?
Where Do I Find Attorney Resources?
Here's just some of what you're going to discover...
The Relationship - The relationship you have with your attorney is crucial. If you can't work with the person you select, you'll only be hurting yourself.
Why You Need An Attorney - Using real life examples, we'll show you the value of having an attorney on board.
Select The Right Provider - With those things in mind, what kind of attorney would work with you and your business?
The E-Course - This is a tested and proven strategy for building a relationship with your attorney.
The All-Important First Impression - The initial meeting with your prospective attorney is the most important!
The Importance Of Extra Value - What should your lawyer be doing for you? What should you be expecting?
I'm sure you can see the huge benefits to having a good attorney and using him to help with the legal aspects of your business. Are you ready to take the easy steps necessary to make the choice to protect your assets??

Acquire An Honest Attorney is jam packed full of the kind of priceless information you have only wished you knew to start protecting yourself now!

Everything you need to know is in this incredible ebook, laid out for you in a logical, easy to follow series of steps so you simply cannot fail.

Don't you deserve to be protected?

Don't you deserve to live the life of a successful business owner?

Of course you do!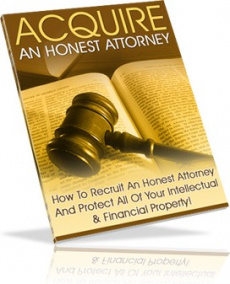 Price: $

7.00
Ebook Type:
PDF
Rating:
Site owner:
Put the rating form on your site!
Listing wrong or need to be updated?
Modify it.
Law and Legal Package!
3 Law and Legal ebooks Click here to see the full list of these ebooks
(total value $14.00)
Buy Now
just for $6.95
$7
off
Silver Package!
Any 100 ebooks from 2000+ titles Click here to see the full list of these ebooks
Buy Now
just for $29.95
Gold Package!
Get full access to 2000+ ebooks Click here to see the full list of these ebooks
Buy Now
just for $49.95
Mistake found?
Select spelling error with your mouse and press Esc