Absolute Beginners Guide To CGI Ebook
Absolute Beginners Guide To CGI
Category:
Computers
,
Programming
Title:
Absolute Beginners Guide To CGI
Author:
Radhika Venkata
Description:
Finally, A TRUE Beginners Guide to CGI!
Can you count the number of hours you have sat in front of your monitor trying to figure out what CGI means, let alone what it does?
Well, you're not alone and someone has finally done it and here it is!

The Absolute Beginners Manual to CGI!

This is not just another jumble of cgi scripts that have been thrown together in a hasty attempt to increase page count or add value to a poorly written product.

The Absolute Beginners Manual to CGI! literally takes you by the hand and manuals you step-by-step through the mysterious land of scripting. And, it is written in a style that guarantees understanding by any novice.

Here's a sample of what you'll find:
What is a cgi-bin?
What is CGI and how does it work
What to look for when buying a script
Where to find scripts
How to install a cgi script
What is Perl
Telnet explained
What are file permissions
What is SSI and what does it mean to you
Common errors and debugging.
Written specifically for the novice, The Absolute Beginners Manual to CGI, even provides you with charts and graphs that explain how the flow of information integrates through your browser.
This is a definite "must-have" addition to the arsenal of any webmaster. All too often seasoned veterans forget just how daunting a task it is for the novice to sail through the murky waters of scripting. A beginners manual is just the ticket and much simpler than lengthy explanations.

Beginning immediately you can finally discover how to create your own contact forms, counters, date and time display and much, much more.
Table of Contents
What is a cgi-bin?
What is CGI?
How CGI works?
Check these things before you buy a script
Selecting a Web Hosting Company
Check these things before you install a script
Installing a Script
Where to look for cgi scripts?
File permissions
Common Errors and Debugging

Free utilities that help in debugging
'Error 404' File not found
'Error 403' Forbidden
'Error 500' Internal Server error
File does not exist
'Error 501' "Cannot post to non-script area...."
Document contains no data

What is SSI? How it works with CGI?
Telnet
Security Issues Associated with CGI
Inform upgrades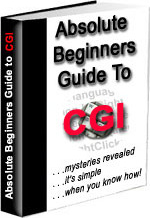 Site owner:
Put the rating form on your site!
Listing wrong or need to be updated?
Modify it.
Mistake found?
Select spelling error with your mouse and press Esc