About Niches - A 6 Step System Ebook
About Niches - A 6 Step System
Category:
E-Business
Title:
About Niches - A 6 Step System
Author:
Patty Baldwin
Description:
How To Sell Anything To Anyone
Discover How To Sell The Way Your Customer Wants To Be Sold & You Will Open The Floodgates On Niche Marketing!
How many emails did you get today from people trying to tell you how to sell online?

That's not a "trick" question. There are thousands of people on the Internet trying to tell you how to sell.

Have you ever asked yourself how many of them have actually sold anything in the real world. . .ever? Not to mention selling to niches.

Everywhere you turn you are reading, "target this or target that," or "niches equal riches." Yes, niche marketing is important. The truth of the matter is that ALL marketing is niche marketing if you are doing it right!

Back in the olden days

Sometimes we get so caught up in the "newness" of the internet that we forget how business used to be conducted. I'm talking about back in the days when sales people weren't afraid to admit that they sold stuff for a living and actually went out in the world and met people and made sales. What a concept!

Have you ever heard the term, "natural born salesman?" Or maybe it was, "she could sell ice cubes to Eskimos?" There are people who seem to have a natural talent for selling anything to anyone. They have no trouble selling to a niche.

Learning how to sell anything to anyone doesn't require a magic wand. Nor is there any "divine intervention" that determines that one person will become a successful sales person and another will fail.

If you take a long, hard look at the really successful marketers online you will learn that most of them sold stuff in the brick and mortar world before they ever took their businesses online.

There's a real hidden message there if you think about it. People come online, see the hype and think they are going to become wealthy overnight. It just ain't goona happen folks!

Would you like to know the real secret?

It's simple. Good selling is all about filling a need, satisfying wants or solving a problem. The only thing you have to do is crawl inside the customers head and figure out what those needs, wants and problems are!

You have to know your customers business as well, if not better, than the customer does. And, you have to know how they think. A good salesperson does their homework and they do it very well! This is the touchstone to selling to niches.

That shouldn't be difficult. All you have to do is spend the next few years learning about every possible type of business imaginable, discover how more than 6 billion people on the planet think, put it all together and you can make a sale. Not a very viable option, is it?


What if you could sell to them the way they want to be sold?

You need to discover how sales professionals sell offline to business niches. You need to discover what the wants, needs and problems of specific types of business and you also need to discover how to sell to different types of buyers.

Once you discover how to do that, then you can convert that knowledge for use online and watch your sales skyrocket!

There are plenty of people out there who want to buy what you have to sell. Your job is to discover how to sell them what they need and to discover how to speak their language.

That's where The 6 Step System comes in. Not only will you discover a basic system for selling with honesty and integrity, you will also discover to sell to buyers the way they want to be sold!
Let's take a look at what you discover:
Maximize your presentation efforts
A ready reference manual to defining your target market
Pinpoint the needs of your customers
Answer questions before they arise
Develop a more informed approach
Acquire an understanding of the concerns of your customer
Foster an awareness of the needs of your customers client base
Communicate more confidently the features and benefits of your offer
Prepare more productive recommendations
Discover how to develop a business description
Build personal credibility
Discover how to prepare a profile of your prospects business
Outline the prospects products and services
Gain a better understanding of how their business functions
Develop probing questions
Reinforce the value of your offering
How your client generates income
Define his/her problem areas
Create a strategy for your offer
Overcome objections before they appear
Define your prospects customer concerns
Discover the prospects business terminology
Help your client overcome the objections of their customers
Shows that you've done your homework
Provide them with solutions
Define your prospects needs
Learn specific action questions
Use hot buttons specific to their industry
Establish a mental dialogue
Stimulate thought processes
Get of sense of other revenue sources
Discover about related fields
What is the best time to present
Pinpoint information sources
Maximize your selling time
Improve your understanding of their industry
Sell to them the way they want to be sold
Discover how to THINK like your prospect
About Niches - A 6 Step System will show you how to sell anything to anyone. What you do with that knowledge is up to you.
You discover how to create your own product
In summary, here's what you get:
You discover a simple 6 step approach to sales
Discover what you need to research about a business niche
Discover how to construct need development questions
Each topic has step-by-step manual on how to define a niche
How to detect different buyer styles to sell how they want to be sold
Dissect sample business categories
Discover the lingo of the niche marketer
Ask any direct salesperson and they'll tell you this information is priceless! In fact, when surveying the viability of this entire project, one internet professional called it a "gold mine". You won't pay a king's ransom for it, however.
About The Author
Patty Baldwin
Patty Baldwin is the co-author of two very popular e-books. The first is the award-winning "Autoresponder Secret Courses" and the second is "Wise Women Win." About Niches - A 6 Step System is her first ebook that pertains directly to her passion which is sales training.
Throughout her career, the focus is sales, marketing and "value - added service." Specifically, assisting small to medium size businesses succeed during start-up and ongoing promotion.
She served within the Better Business Bureau system for upwards of 15 years as Vice President of Membership Development for the Better Business Bureau of New Mexico and Regional Manager for the National Council of Better Business Bureaus in Washington, D.C.
After leaving the non-profit arena, her experience led to the field of small business promotion and advertising. She accepted the challenge of advertising director for a small, start-up, community newspaper in her local area. In six months the paper grew from a bi-weekly to a weekly publication, increasing revenues by over 400%!
Currently she operates several successful online businesses including About Niches, a site where members can receive ongoing sales training. You may reach here at: patty@aboutniches.com.
Her experience serves as a testimonial to anyone who chooses to transition from the standard corporate world to working at home.
In her own words, Patty firmly believes that, "The Internet is making the largest change to the way business is being and will be done in the future. Companies ignoring this paradigm shift will simply be left behind and many will go out of business."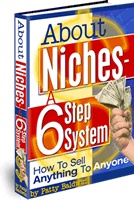 Site owner:
Put the rating form on your site!
Listing wrong or need to be updated?
Modify it.
Mistake found?
Select spelling error with your mouse and press Esc