97 Marketing Secrets To Make More Money Ebook
97 Marketing Secrets To Make More Money
Category:
Business
Title:
97 Marketing Secrets To Make More Money
Author:
Sandy Barris
Description:
Now, If You'll Permit Me, I'll Show You:
Why you should always read your sales letter out loud...and even have your 12 year old nephew read it before you ever use it to sell anything...
Why you must pick a niche or multiple niches to market to
Why the use of "image advertising" is a complete waste of time and money yet over 90% of business people swear by
When it makes sense to fire a customer and how to do it properly
Using power referrals to create a flood of additional leads for you and your business
The unique power of Google adwords...
The secrets to capturing hundreds, even thousands of fresh leads of eager buyers of your product or service...
The one word that can never be overused whether in a headline, subhead or body copy...
The one person who must be responsible for the marketing of your business
The important questions you need to ask yourself about your business...
Simple ways to get tons of referrals...and how to systematically keep getting more and more referrals...
How you can save thousands of dollars on research
How to write great headlines and ad copy...
How to use, almost free, classified ads to attract a flood of sales leads to your business...
How to tie your marketing in with current events...
How to offer guarantees that will increase your sales by 25% or more
How to make powerful offers that no prospect in their right mind could possibly refuse...
How to make it as easy a possible for your clients to buy more of your products and services...
How to get people to buy more and think they are getting a bargain! (Retailers use this pricing ploy very successfully...
How to get free advertising and PR for your products and services...
How to get a 175-1,533% greater response without spending an extra cent on your marketing efforts...
How to gather all the testimonials that are worth their weight in gold...
How to ethically "bribe" prospects (who otherwise would not be interested) to buy from you by using a simple offer!
How to create the right image for your business...
How to create strategic alliances and joint ventures that bring business to your door automatically...
How to combine online and offline media to get up to a 7 to 1 return on investment!
How a few small simple improvements in your marketing can change your life forever...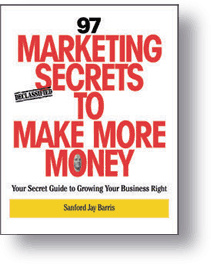 Rating:
Site owner:
Put the rating form on your site!
Listing wrong or need to be updated?
Modify it.
Mistake found?
Select spelling error with your mouse and press Esc