5 Ways to Kill Your Business Ebook
5 Ways to Kill Your Business
Category:
Business
,
E-Business
Title:
5 Ways to Kill Your Business
Author:
Brian Schaeffer, Brenda Schaeffer
Description:
Many internet marketers and "online gurus" are still using made up numbers to scare new business entrepreneurs into purchasing their business building products.
They state that over 95% of small businesses fail and they have the "secrets" to being in the other 5%, but this 95% number was actually picked out of the hat as a marketing ploy and is in no way approaching reality.
I n fact, we were recently investigating one such site touting four sure-fire business strategies for a successful business. This particular author cited the same old 95% scare tactic in his online sales letter webpage.
Our first reaction was that if he got this statistic wrong (or perhaps deliberately using it), what else in his eBook is incorrect or misleading?
By the way, he was selling his eBook for $97 - a guaranteed waste of money for new-to-the-net folks, but a whopping money earner for him!
Was it an incorrect statistic or an immoral duplicity?
Only the author can answer for sure, but our best educated guess is that it was a "scare-them-into-buying-my-product" marketing scam; something that is unfortunately quite prevalent online these days.
The Real Deal -
According to the U. S. Small Business Administration (SBA), the real number of small business failures, over a period of the first five years of business life, and sustained by the most current and rigorous scientifically based research studies, indicate that the failure rate of small businesses is closer to 66%.
This means that almost two in three small businesses will ultimately fail within five years!
That's a staggering number to be sure, but not the almost invincible 95% used to market $97 eBooks.
The good news here is that about 34% of small businesses do not fail - not the 5% claimed by the hucksters.
AND rigorous research has now zeroed in on why they don't go under!
We're sure that you want to know, like we did, how to stay in that 34% category.
What serious business owner wouldn't?
The Five Biggest Business Killers -
A majority of small business owners can kill their businesses in five ways:
They Lack a Business Plan & Have I nferior Business Management
They Have the Wrong Motivation for Starting & Working a Business
They DO Not Provide Marketable Merchandise or Services
They Do Not Have an Online Presence
They Do Not Secure a Reliable Product Supplier
A lack of attention by a business owner to any one of these, or any combination of them, will surely kill a business just as dead as if the owner was deliberately trying to sabotage it.
Does that seem like a bold statement to you?
Perhaps so, but it I S true nonetheless and the research is now proving it out.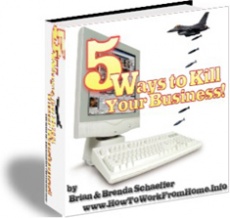 Site owner:
Put the rating form on your site!
Listing wrong or need to be updated?
Modify it.
Business Package!
137 Business ebooks Click here to see the full list of these ebooks
(total value $1427.05)
Buy Now
just for $49.95
$1377
off
E-Business Package!
455 E-Business ebooks Click here to see the full list of these ebooks
(total value $4723.45)
Buy Now
just for $49.95
$4673
off
Silver Package!
Any 100 ebooks from 2000+ titles Click here to see the full list of these ebooks
Buy Now
just for $29.95
Gold Package!
Get full access to 2000+ ebooks Click here to see the full list of these ebooks
Buy Now
just for $49.95
Mistake found?
Select spelling error with your mouse and press Esc