21 Days To Healthy Eating Ebook
21 Days To Healthy Eating
Category:
Health
,
Weight Loss
Title:
21 Days To Healthy Eating
Author:
Carolyn Hansen
Description:
Discover The Joys Of Healthy Eating And Rebalance Your Appetite For Automated Fat Loss
What's Inside 21 Days To Healthy Eating?

All of the truly important facts about this subject have been distilled and presented in a format that will make it easy for you to get started on what might otherwise be a fairly challenging process.

1 - You Really Are What You Eat
This is where you discover that the old maxim You Are What You Eat is not only true, it is frightening in the context of today's appallingly low food quality.

2 - Both Calories And TOXINS Make You Fat
Would you be surprised to learn that the total calorie count of the food you are eating is not the only thing that is making you fat? It is true.

3 - How Clean Eating Speeds Your Weight Loss
This is the core of the book - an introduction to the concept of clean eating.

4 - Banishing HFCS And Trans Fats From Your Diet
Prepare to take control of your shopping cart as we work to eliminate the most harmful foods from your pantry.

5 - Become The Architect To Your Weight Loss Goals
Now it is time to begin using our newfound knowledge of natural and processed foods to make decisions on how to select the foods that best suit our goals for maintaining a healthy body weight.

6 - 21st Century Nutrition
Now that we have mastered food selection we can start to build meals that solve the problems that others fall prey to using the unguided approach to meal preparation.

7 - Planning For Weight Loss - One Meal At A Time
The haphazard approach to anything in life tends to lead to unpredictable results.

8 - The First 7 Days To Fat Loss - Reinventing Breakfast
This is the section of the book where we dedicate the first 7 days of our 21 Days To Healthy Eating looking at how breakfast can be restructured to fit in with our new rules for eating.

9 / 10 - The Second 7 Days To Fat Loss - Let's Do Lunch / Final 7 Days To Fat Loss - Dinners That Delight
I continue to slice and dice both lunch and dinner meals for you so that you can do likewise. These two chapters cover the remaining two-thirds of our 21 day plan to restructure your meals and bring you into the healthy eating fold.

11 - The Challenges Of Eating Clean
It's not easy being green. Or eating clean. At least, not all the time.

12 - A Firm Toned Body Is Your Ticket To Fat Loss
Finally, in the last chapter we take a quick look at the other major factor that determines how your health progresses as you age.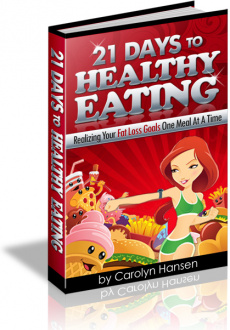 Rating:
Site owner:
Put the rating form on your site!
Listing wrong or need to be updated?
Modify it.
Mistake found?
Select spelling error with your mouse and press Esc