101 Ways to Boost Motivation Ebook
101 Ways to Boost Motivation
Category:
Self Help
Title:
101 Ways to Boost Motivation
Description:
A Simple, Straightforward Guide to Help You Reach Your Goals and Achieve More than You ever Thought Possible... Starting Today!
I wanted to give you just a sample of what's inside this transformational course, so that you can see for yourself exactly how it will have a tremendous impact on your motivation level (and help you sustain motivation long-term to achieve more than you ever thought possible):
You're going to learn the simple tricks for busting out of your "comfort zone" and getting what you want... even if you've been stuck in your own self-imposed "thought prison" for years!
You're going to discover the key empowering questions you need to ask to almost instantly rev up your motivation and get excited about virtually any project or task!
You're going to find out the best ways for keeping track of your progress (which, by the way, is critical to sustaining your motivation levels)!
You're going to discover how to instantly turn frustration and anger into powerful, positive tools you can use to knock out tasks like never before.
You're going to learn how you can go to bed each night entirely satisfied with what you've accomplished that day!
You'll master the one practice you must use first thing every morning to get the most out of each day - miss this, you might as well spend your time eating junk food on the couch!
You'll find out the one common "flaw" in your thinking that is keeping you from mustering motivation (even though this "flaw" disguises itself as a good thing)... and how to overcome it starting right now!
You'll learn how to use one overlooked "reframing" technique to keep others from sapping your time and energy... and to go "full force" with any task or project you want!
You're going to discover how helping others achieve their dreams can actually help you get to your own goals more quickly... and give you the motivation to tackle even bigger aspirations!
You'll learn how to clear unnecessary tasks and items from your life that are distracting you from your goals and robbing you of your motivation!
You'll find out how to visualize your success the right way to send your motivation level soaring in a matter of seconds!
You're going to discover the simplest strategy for "overhauling" your habits... so that the things you automatically do every day keep your motivation levels high!
You'll find out how traits you've always seen as your own "weaknesses" can actually propel you to unimaginable success... and how to tap into their surprising potential instantly!
You're going to get an effortless technique for banishing fear and anxiety that could be ruining your motivation... no matter how long you've been struggling with these achievement crushers!
And much, MUCH more!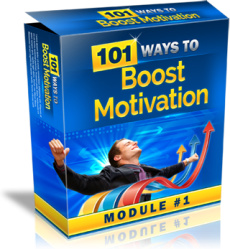 Rating:
Site owner:
Put the rating form on your site!
Listing wrong or need to be updated?
Modify it.
Mistake found?
Select spelling error with your mouse and press Esc