101 Ways To Hypnotize Anyone Ebook
101 Ways To Hypnotize Anyone
Category:
Psychology
Title:
101 Ways To Hypnotize Anyone
Author:
Steve G. Jones
Description:
"Learn The Same Secrets That Professional Hypnotists Have Been Using For Years To Direct The Thoughts Of Others With Ease"
This exclusive secret manuscript contains over one hundred hypnosis strategies for you to use and enjoy for whatever purpose they may suit you.
In this ebook you will iscover:
Hypnosis isn't a form of magic either – though some people think it is a little magical because it works so beautifully when the practitioner is able to use the proper techniques.
The truth behind hypnosis and why popular depictions of hypnosis are not only false but largely useless if you want to actually practice hypnosis on yourself or someone else. Hypnosis cannot be forced on someone who doesn't want to be hypnotized in the first place!
How to use a simple and straightforward technique to create goals for yourself as a hypnotist. This technique can also be used during a hypnosis sessions to enhance the effectiveness of your hypnotic suggestions.
How the subconscious mind actually works with the conscious mind when a person needs to think, speak and act. The subconscious mind is not a slave to the conscious mind. In fact, recent studies show that the subconscious mind is actually the leading component of the human mind. The conscious mind is actually following the whims of the subconscious!
The different ways that you can benefit from hypnosis yourself. Remember: you can hypnotize yourself and those around you to accomplish specific goals. Don't feel left out – try self-hypnosis if you want to boost your confidence level or even erase bad memories.
How internal representations can be used to communicate with the subconscious mind of people. The human imagination speaks a different language – find out how you can send clear messages directly to a person's subconscious mind during a hypnotic trance.
Hypnotists must be able to speak as though the subject wholly depends on the hypnotist during the hypnotic trance.
The difference between merely saying and stating as a fact.
How you can become effective and authoritative during a hypnosis session. If you are not authoritative, your subjects may not respond well to what you want them to think or do.
How you can prepare a person adequately so that he becomes an ideal hypnotic subject. Not all hypnotic subjects are responsive; you can avoid this problem by following this simple preparation process.
The oldest and most effective way of hammering new truths into the subconscious mind. This technique has nothing to do with the swinging pendulum or the weird hand gestures of the hypnotist!
How you can induce hypnosis without using anything but your voice. I will reveal to you the quickest and most powerful hypnotic induction techniques known to man. Use these techniques ethically!
How you can utilize visualization techniques so you can enhance a subject's hypnotic trance.
Use deepening scripts to ensure that the hypnotic subject is deeply immersed in the trance before you start giving hypnotic suggestions.
And many, many more!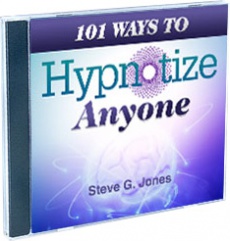 Ebook Type: Audio
Rating:
Site owner:
Put the rating form on your site!
Listing wrong or need to be updated?
Modify it.
Mistake found?
Select spelling error with your mouse and press Esc