101 Ways To Build Happy Lasting Relationships Ebook
Build Happy Relationships
Category:
Relationships
,
Women
Title:
101 Ways To Build Happy Lasting Relationships
Author:
Dennis Lively, Gene Barry
Description:
Dating and marriage is different than it was twenty years ago. In today's society, more than 50% of all marriages fail for one reason or another. Just thinking about that makes "commitment" seem scary. It seems that when relationships are faced with challenges, people quit trying. Dating is more like a marathon, trying to date as many people as possible, instead of taking time to get to know someone at a deeper level. For married couples, divorce is not biased. Whether married for thirty years or eight months, the outcome can be the same.
The fact is that relationships, whether dating or married, are hard. Things do not always go perfectly, fighting does occur, and it takes a 100% commitment from both parties to make it a success. Often when people break off a relationship, they feel as though something is missing. The "spark" has gone, leaving one or both people feeling inadequate and unfulfilled.
However, even though the odds are not very good, healthy, and long-lasting relationships are definitely possible and proven by many people. Look at Paul Newman and Joanne Woodard, Danny Devito and Rhea Perlman, or Nancy and Ronald Regan. What secrets do they possess? The answer is that they all work hard at their relationship. They made a decision of choosing to love their mate rather than relying on the "warm and fuzzy" feelings, which everyone knows will fade. By making love a choice you are making a decision that even in the bad times, you stick it out.
Think of it like choosing a car. You pick out the make, model, year, color, and features that you believe are best for you. After driving your car for a couple of months, you realize that perhaps you should have purchased a larger car, or that maybe the leather seats would have been better, or on hot sunny days, the sunroof would have been nice. However, it is now too late so you choose to keep your car and make it work. It is the same for marriage. Not everything will be perfect and there will be major obstacles to overcome but you have made your decision and now you choose to make it work.
There are hundreds of things you can do to better your relationship. To help get you headed in the right direction, we have chosen 101 ways to build, strengthen, and enhance your relationship.
Remember, little steps taken every day will add up to big successes.
Table of Contents:
Schedule Time
Start Over
The Power of Touch
Needed Space
Surprise
No Debates
Re-establish Old Traditions
Filler Talk
Predictability
Communicate
Lighten Up
A Night of Passion
Happy Birthday
Dinner Party
Secret Getaway
Just Because
Special Greeting
Say it with Words
Breakfast in Bed
Cuddle Time
Make the Men Feel Good
That Kiss
Make the Women Feel Good
Be Kind to One Another
Listen - Really Listen
Special Hobby
Be a Kid
Showing Love
All Decked Out
Split the Responsibility
Be Yourself
Love Means Having to Say You Are Sorry
Maintain Your Health
Realistic Expectations
Compliment - A Lot
Leave the Baggage Behind
Go on a Date
Do Not Repeat, Do Not Repeat, Do Not Repeat
Memory Box
Listen to How You Talk
Keep the Kids Out of It
Making Love
Follow Tradition
Turn the Computer Off
Control Your Anger
I Forgive You
Financial Woes
Fighting No-No
Mentoring
Strong Family Ties
Calendar
Favorite Meal
Something Handmade
Trip to the Pound
A Walk in the Park
Day at the Movies
Name a Star
Dinner by the Fire
Coupon Ebook
Scavenger Hunt
The Art of Gift Giving
Photo Album
Family History
Charity
A Day at the Spa
Thunderstorms
No Jealousy Allowed
Take Pride in Yourself
Keep in Touch
Special Music
Host a Halloween Party
New Adventures
Getting Married
Adopt a Family
Motivate Each Other
Reap What You Sow
Embrace Change
Board Games
Adore your Mate
No Interference
Follow Your Instincts
Make Eye Contact
Be Creative
Discover More about Your Mate
Dance
Change Routines
Sunrise/Sunset
To Tell or Not to Tell
Explorations
Respect Privacy
Open Your Eyes
No Place for Abuse
The Grass is NOT Greener!
Be Flexible
Start a Journal
Cut out the Excuses
Discover to be Successful
Spirituality
Work and Home Do Not Mingle
Confidentiality
Encourage Friendships
As you can see, relationships take work. However, with the right attitude, a lot of hard work, and some unique ideas on how to make is successful, couples can have a strong, lifelong relationship!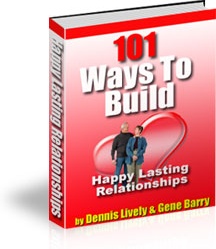 Site owner:
Put the rating form on your site!
Listing wrong or need to be updated?
Modify it.
Relationships Package!
70 Relationships ebooks Click here to see the full list of these ebooks
(total value $545.45)
Buy Now
just for $29.95
$515
off
Women Package!
45 Women ebooks Click here to see the full list of these ebooks
(total value $457.30)
Buy Now
just for $29.95
$427
off
Silver Package!
Any 100 ebooks from 2000+ titles Click here to see the full list of these ebooks
Buy Now
just for $29.95
Gold Package!
Get full access to 2000+ ebooks Click here to see the full list of these ebooks
Buy Now
just for $49.95
Mistake found?
Select spelling error with your mouse and press Esc