101 Scrapbooking Tips! Ebook
Category:
Hobbies
Title:
101 Scrapbooking Tips!
Description:
Give Me Five Minutes and I'll Have You So Excited About Creating Your Own Scrapbook...You'll Start Immediately!
Don't let it happen!

Memories are the easiest things to lose. It's so hard to hold on! Don't forget your memories - CELEBRATE THEM!

Maybe you remember the last time your family got together for the holidays. You can remember whose house everyone met up at. But can you tell me what your little nephew was up to all night? Do I have to remind you of what your Aunt did to make everyone burst up with laughter?

Of course these are hypotheticals, but we both know I'm on the right track. No one can remember every single fun detail that life brings us.

Unless we let these memories live on in Scrapbooks!

People have been creating scrapbooks for ages! And they've come a long way. The scrapbooks made by professionals are truly amazing...

...And now you can create scrapbooks with that same professional feel with...

101 Scrapbooking Tips!


Greetings Friend,
Who else wants 101 tips and tricks for creating a professional scrapbook full of memories? Tell me something right now...
...Who do you know that would appreciate a scrapbook made just for them? I bet you could name several people.
A completed scrapbook is one of the most cherished items anyone can have. Honestly, if there's a fire, the first possessions people usually grab are photographs. And definitely a book full of them!
There's no better way to remember a trip then to take it again, page by page. There's no better way to remember a childhood or life, then page by page.
Scrapbooks are captured memories - which make them a powerful thing.
If you're going to put memories in a book, you're going to want to do it in the best way you can. After all, you're going to be sharing this with countless friends and family.
If you've ever had a chance to see a professionally made scrapbook, then you've probably said to yourself, "THAT'S what I want to make."
Well now you can, because in "101 Scrapbooking Tips," you'll find...
"...Secrets of Creating Scrapbooks Like the Pros!"
A professionally made scrapbook can be expensive. But VERY nice. When you have been working with scrapbooks for a long time, you gain experience and pick up lots of tips and tricks on the way.
You do not have to become a professional scrapbook maker in order to learn what they know! "101 Scrapbook Tips" is over 100 pages full of tips and tricks from people who've done all the research for you. But now YOU get to take advantage.
Just look at SOME of the information you will find inside:
Learn to create "Photograph Mosaics" for a "funky" look.
Realize that you do not need a lot of supplies to start your first scrapbook.
Understand what to consider when adding puzzle pieces to your pages.
Learn how to correctly add dried flowers to your pages for a "homey" look.
Learn how to correctly add feathers to your scrapbook for an exotic look.
Discover how tags can add a sense of professionalism to your project.
Find out how to use glass marbles to create a unique magnifying effect.
Learn what you can do to fix mistakes... WITHOUT starting over!
Learn how to "tie-dye" with wax paper.
Discover the usefulness of magnetic sheets for ever-changing scrapbook pages.
Learn to create embossed foil for an antique look.
Discover the unique look Shrink Paper can have on your photographs.
Learn how to change the tint of photographs without a computer.
Learn how to smudge your scrapbook...on purpose!
Realize that some markers bleed and will ruin your scrapbook - learn which markers are best for your project.
Learn to create pockets to keep precious items temporary members of your scrapbook.
Discover the usefulness of wax pencils.
Learn to add the technique of Faux Painting to your designs.
Discover how to create a rusted metal appearance without using rusted metal.
Find out how to give a chalk appearance without dealing with the mess of chalk.
Find out how to highlight certain objects with Drybrushing.
Realize that some photographs contain chemicals that might spell disaster for your book.
Understand the importance of a color scheme and how it will affect YOUR scrapbook's appearance.
Understand that chronological is not the ONLY choice when selecting order.
Learn how to add "curled edges" to your scrapbook for a unique effect.
Find out what you need to consider when adding text.
Learn how to make your scrapbook capture an "antique" feel.
Discover the art of weaving photographs for a 3D look.
Learn how to add "Macaroni Art" to your scrapbook with out the hassle or mess.
Discover how to add "Popcorn Garlands" to your Christmas scrapbook.
Discover the wonders of Moldable Foam.
Learn to create Pop-Up Windows for an interactive scrapbook.
- Learn some tips for "embellishing" your scrapbook.
Discover two unique substitutes for ribbon and lace.
Learn to choose the layout that works best for you. (Think shapes.)
Learn how to use Embroidery Cotton to enhance your scrapbook.
Discover why old glue and paste methods are a thing of the past.
Understand how spacing can effect the feel of your project.
Learn to create homemade paper for use in your scrapbook.
Find out how to add a look of elegance to your project with "Leather"
Find out what "punching" means... It's not violent, I swear!
Discover how to use chalk to accent photographs.
Learn how to protect your scrapbook when including newspaper articles.
Discover what elements you need to pay attention to in order to keep your scrapbook from aging.
Find where you can find graphics for your scrapbook for free.
Learn how to effectively add book jackets to your project.
Learn how to use Vellum to create shadows and shade changes.
Discover a type of tape that will instantly add dimension to your pages.
Discover different types of paper that can add a unique feel to your project.
Learn how to effective use Hemp to add a "Western" feel.
Learn to create woven backgrounds for a natural feel.
Learn the little-known secret for effectively adding glitter to your pages.
Learn to use painted tissue paper to add a colorful flair.
Rediscover a technique you probably last did in elementary school to create great designs.
Discover how you can use Kool-Aid to dye fabric. Brilliant!
Learn to create accents with acrylic paints.
Find out how "painting with heat" can create an awesome metallic effect.
Find 3 questions to ask yourself when selecting a theme.
Discover 4 cheap items that can help turn you into a scrapbook-ing pro!
Learn when to use stickers and when they need to be LEFT OUT.
Find out that "tearing" can actually be a good thing.
Discover what you can do with rubber stamps... or even cotton balls to spice up your pages.
Discover how to create a childlike look with beads.
Discover the use of Stained Glass Mosaics to add an elegant or religious feel to your project.
Discover how to create your own fabric flowers.
And there's MUCH more - guaranteed!
"Are You Ready to Start Capturing and Storing Your Memories?"
"Can you think of a better family project than a scrapbook?"
It's fun for the whole family. Take photos from your last family vacation. Split up pages evenly - and then just let everyone bring their own personality to the project.
And here's a good tip: Have everyone make a page dedicated to someone else in the family! An instant family classic!
With "101 Scrapbooking Tips" we'll give you enough ideas to fill 20 family heirlooms! Just TRY and use them all - it'd be nearly impossible!
"Think of That Someone Special That You'd Love To Surprise With A Scrapbook of Shared Memories!"
What better way to relive past memories... then page by page, memory by memory?
When you haven't seen someone in a long time, it can be nice to let him or her know that you haven't forgotten them. That you still cherish the times that you've had together in the past. And that you're looking forward to the times that are yet to come.
Or maybe a good friend's birthday is coming up, and the perfect present only can be time spent making the best scrapbook possible.
There's no better way to show you care.
Getting "101 Scrapbook Tips" today will show you how to start crafting scrapbooks like a professional tomorrow. Hours upon hours of research and experience have been brought together to help friends and family share their memories in the best way possible.
If you've ever seen a professional looking scrapbook, you know what I mean.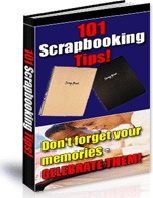 Site owner:
Put the rating form on your site!
Listing wrong or need to be updated?
Modify it.
Hobbies Package!
32 Hobbies ebooks Click here to see the full list of these ebooks
(total value $191.65)
Buy Now
just for $25.95
$165
off
Silver Package!
Any 100 ebooks from 2000+ titles Click here to see the full list of these ebooks
Buy Now
just for $29.95
Gold Package!
Get full access to 2000+ ebooks Click here to see the full list of these ebooks
Buy Now
just for $49.95
Mistake found?
Select spelling error with your mouse and press Esc