1001 Newbie-Friendly Tips Ebook
1001 Newbie-Friendly Tips
Category:
E-Business
Title:
1001 Newbie-Friendly Tips
Author:
Bob McElwain
Description:
from STAT News
To all seeking success on the Web:
I hope these notes help you achieve your personal and financial goals, and make it easier for you to do so.
-- Bob
Table Of Contents
Introduction - How To Use This Ebook
Chapter 1
Stake Your Claim
How Do You Define Success? - While making a million bucks is unlikely, you can make a good living.
What's It Cost To Start An Online Business? - There are costs in starting any business, online or offline.
One Path To Online Success - There are lots of paths leading to success; this is one of the best.
Niche Finding Made Easy - Niche marketing is the only way to go.
Define A Niche, Then Conquer! - Success depends upon defining a niche within which you can dominate.
Knock Off The Guru! - If you find a guru dominating the niche you want, see if he or she can be toppled.
The Vortals Are Coming! - If you have found a niche, but lack a great product, consider building a vertical directory.
Who Do You Want To Sell To? - The key question may not be what to sell, but who to sell to.
Plan Your Way To Success - Without a solid business plan, you are doomed to fail.
Discover How To Win - Many willing to do the work required are not prepared for the associated learning task.
The Ultimate Shoestring Startup! - Follow this plan to start a business without spending a dime.
Chapter 2
Getting Your Site Right
Website Baseball - You're Out! - A website is also governed by rules and the umpires are your visitors.
If You Want A Website, First Comes HTML - A free way to discover HTML, the language in which web pages are written.
Conventional Formats Work - A website should follow certain conventions, as do all publishers.
Boring Is Best - Before deciding on the basics for your site, look at what others are doing.
Make Your Own Rules! - There are a lot of rules about site building. Select the best among them.
The First Fold Makes Your Site! - The first fold may matter more than the rest of the site combined.
I Built It, But Nobody Came - If a site fails, it suggests the lack of a sufficient structure and business plan.
Are Free Graphics Really Free? - As with a lot of things on the Web, it takes time to find the right graphic.
Take Credit Card Orders On The Cheap - An inexpensive way to begin taking credit card orders right now.
Choose Your Merchant Account With Care - When it's time to get a merchant account, be sure to ask the right questions.
Expand Your Business To The Web? - The only reason for a website for your business is to increase profits.
Chapter 3
Website Basics
Reversing Surfer Mania - How to slow those surfers who arrive as over-opinionated maniacs.
Who Do I Believe? - Here are things that lead to failure of a website. But can you believe these arguments?
Building Consumer Confidence - Without a storefront and tangible goods, online businesses are at a disadvantage.
How Do I Sell Products Produced By Others? - The best way may be the indirect or soft sell.
Can You Risk Supporting An Affiliate Program? - You may find you can not afford the risk of supporting one.
Does Your Site Tell The Truth? - A alternative to great advertising copy is to tell the truth.
Is Your Site Ready For This? - Ahead is a truly awesome change. Can you deal with it?
Chapter 4
Promoting Your Site For Greater Profits
Want A Million New Targeted Visitors? - Link swapping can make it happen.
FFA (Free For All) Sites: Do They Work? - Most classified ads sites no longer work.
The Other Side Of Headlines - Effective use of headlines can drive away non-targeted traffic.
Beg For Questions; It Works! - If you can get questions, your answers can generate customers.
I Need Help Right Now! - Maximize support to maximize sales. Costs will be covered by increased profits.
Do Your Pages Download Fast? - You can easily answer this for yourself. Much is beyond your control.
In Search Of Speed - Given a good host, not overloaded, it is unlikely you can gain much in moving.
Testing Your Way To Success - Use this tried and true advertising tactic on your website.
Chapter 5
The Search Engine Game
Are You Losing The Search Engine Game? - You are, if you're sweating to get and hold #1 positions.
The Magic Keywords - One approach to finding keywords. then finding even better ones.
The Keyword Lottery And How To Win - Pages that rank well are no help unless somebody enters keywords used.
Spider Friendly Content Pages - Content is king! Great content must be central to your site.
Chapter 6
Ezines And Your Bottom Line
Do You Publish An Ezine? - It's a great way to stay in touch with customers and it lends credibility to you.
Growing Your Subscriber List - As with all else in growing a website, be prepared to spend some time.
Free Emailing Services And Passwords - The four free services require a password and confirmation, which can hurt.
Chapter 7
Odds And Ends
Cherish Fear - Harness your fears, then give them free rein. If you listen closely, you can discover.
Criticism Is Gold! - There is little to be learned from nice things said. Criticism is another matter.
Give Away Gross For Increased Profits - You can increase profits by letting others sell it for you.
Writing Skills Matter - Website content is communicated with words. Use them wisely.
Want Site; Can't Write! - There are simple ways to grow your skills to a surprising degree.
I Hate Writing - If it's so, it's probably because you don't do it well. But you must.
Does Your Email Look Like Junk? - You can't afford to let your email look like the junk mail received.
Email: Do It Right! - What is needed in responding to email is to turn queries into orders.
Chapter 8
Product Reviews
Dance With Your Customers - The best ebook on copywriting I have found: "Make Your Words Sell" by Joe Robson.
"Make Your Site Sell" by Ken Evoy, MD. - I have never see a better ebook about selling on the Web.
Windows For Newbies - A pictorial description of howWindows works and just what it can do for you.
"Make Your Knowledge Sell" - To produce a profitable information product, here is everything you need.
The Perfect Price! - If you have a product or are planning one, you can now find the Perfect Price.
Chapter 9
Great Deals
The HTML Editor - This one has it all. It is intuitive, and a snap to use. Beginners will love the tour.
All About Kate At KateKreates - Here I share my enchantment with this remarkable graphics artist.
"BookJones" by Rosemary West - Here's an effective e-book compiler that is truly easy to use.
Web Express - If you understand the basics of HTML, and now want a web page editor, this is a dandy.
Manage Your Mailing Lists The Easy Way - Easy Mail Plus provides all you need to maintain mailing lists.
Appendices
Appendix A - For loads of great stuff to help build or improve your site, subscribe to "STAT News." It's FREE!
Appendix B - Reseller Rights: Sell "1001 Newbie-Friendly Tips" at your price, then tuck it all into your pocket.
Appendix C - STAT SE Notes. Learn how to submit simply and correctly to search engines. Save $20.00!
Appendix D - Want To Double Your Profits In One Year? Here's how to get it done. Save $70.00!
Appendix E - Want A Successful Online Business? Learn how to get it right the first time. Save $100.00!
Appendix F - Reprinting Rights: You may reprint any article in this work. Click here for details.
Appendix G - Articles Available From Autoresponders In Text Format For Easy Printing
Appendix H - Master HTML In 4.5 Hours with the Web Page Starter Kit. It's FREE!
Appendix I - Credits And Contact Information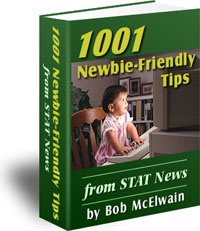 Site owner:
Put the rating form on your site!
Listing wrong or need to be updated?
Modify it.
E-Business Package!
455 E-Business ebooks Click here to see the full list of these ebooks
(total value $4723.45)
Buy Now
just for $49.95
$4673
off
Silver Package!
Any 100 ebooks from 2000+ titles Click here to see the full list of these ebooks
Buy Now
just for $29.95
Gold Package!
Get full access to 2000+ ebooks Click here to see the full list of these ebooks
Buy Now
just for $49.95
Mistake found?
Select spelling error with your mouse and press Esc