"Go West," They Told Themselves and Took to Troubled Waters – The Third Book of Evlampia Ebook
"Go West," They Told Themselves and Took to Troubled Waters – The Third Book of Evlampia
Category:
Fiction
,
History
Title:
"Go West," They Told Themselves and Took to Troubled Waters – The Third Book of Evlampia
Author:
Demetrios S. Theodoropoulos, MD, DSc
Description:
Short description: No one sets out to test the borders of sanity, no one wants to challenge the limits of fate; but it happens, and when one arrives there he seldom realizes it. One say, measure, proportion and reason have suddenly evaporated; resolve has given way to abandonment. And it turns out it was surprisingly easy: a few years of disturbed sleep, a season of postponed happiness, a line of unheeded signs - and one false step.
About the series: "Go West," They Told Themselves and Took to Troubled Waters - The Third Book of Evlampia is the third book in the tetralogy of Evlampia. The tetralogy of Evlampia is based on the tetradic idea of the four basic elements of the natural space - air, earth, water, and fire.
This e-book is available for purchase for $4.00 in PDF, EPUB (iBooks, Kobo, Nook, Android, Sony, and other eReaders), and MOBI (Amazon Kindle Devices) format.
Short excerpt from Chapter 1 - A day like a thousand years: Saturday, the twenty-seventh of August 1922, on Saint Poemén's Day, a Turkish army began marching unto Smyrna. Days before, the last Greek regiment had been ordered out. The French, Italian and British Allied Forces stationed in Smyrna had already made sure there would be no escape routes - and where was one to go anyway? The bloodiest week of the twentieth century was about to begin; another one followed, and then another. These were bad times. Sunrise after sunset, revolutions were dying and other revolutions were being born, but after that week, the cry "Smyrna is burning" became the returning death that rises every morning. Millions of people, that is, those who survived the massacres, were, at a stroke of a pen, delivered to exile; on one shore of the Aegean or another, on one side of the Atlantic or the other. So it began, and it never ended; their children's ordeal is still going on. In the turmoil of endless wars and revolutions, a woman perished, and of her memory little is left other than a name, the name of her city, and, perhaps, one little icon that might have been hers. Nothing could she have ever known of the forces that had determined the course of her short life or the horrors of her end. Little would she ever be able to suspect of the deals that had already forecast the fates of her children and grandchildren, all of them now scattered to the four corners of the horizon; now did she ever dream of her granddaughter or granddaughter's granddaughter, both named after her, who, in other lands and different times, were destined to live anew the facts and the recurrences of her legacy. Where she is now, time is different. In her gaze, the years are weighed and the days; and everything that the centuries and their revolutions can bring about is but one hazy picture. And if in God's eyes one thousand years are the same as one day, stories of forced relocations, sudden separations and irreparable defeats can certainly become one paragraph, a phrase, or a single name.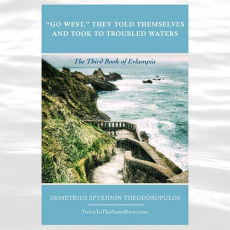 Ebook Type: PDF
Rating:
Site owner:
Put the rating form on your site!
Listing wrong or need to be updated?
Modify it.
Mistake found?
Select spelling error with your mouse and press Esc